-----------------------------------

Photo Albums

Links relating to
my trip

Egypt...

My Egyptian Experience...


Highs:
Diving in the Red Sea; Dahab; watching the sunrise on top of Mt. Sinai; the Pyramids in Giza;
Egyptian Museum; fresh mango juice; Zamalek area in Cairo; felucca experience; Luxor Temple at
night.


Lows:
Getting bug bites; getting ripped off with purchases I made; overnight trains.


Best Moment:
So far it was spending time in Dahab (I was getting quite used to being a Dahabian).


Smells:
Sea; our dinner being cooked on the felucca.


Sounds:
Waves of the water; horns honking; Egyptian music; prayer calls.


Sights:
Underneath the Red Sea; cats
everywhere
; males greeting each other with a hug and kiss
on both cheeks; barely any local females; camels on the beach; Egyptian Museum; Pyramids; belly
dancer; watching paper being made out of papyrus; Aswan Dam (about as fascinating as it sounds);
Abu Simbel; Karnak Temple; Luxor Temple (at night); Valley of the Kings; sailing on a felucca down
the Nile.


Tastes:
Egyptian moussaka (very similar to ratatouille); grilled calamari; mango shakes; freshly
pressed mango juice;
fuul
; pastries; Fayrouz (a malt beverage soda--without alcohol--that comes in
many different flavors and is quite tasty).


Purchases:
Pure perfume oils in 'Lotus' and 'Arabian Nights' with small perfume bottles; two small
paintings done on papyrus; wooden boxes.


Street Food:
Fuul; falafel; breads in different shapes; fruit juice.


Fun Food Finds:
Pepsi Gold (though I won't try it because the gold color scares me); Twinkies
filled with chocolate cream.


Western Companies Out Here:
McDonald's; KFC; Hardee's; TGI Friday's; Fuddrucker's;
Gold's Gym.




Other General Info...



Visa needed?
Yes. I got it at the border in Nuweiba for $15 US (they did not accept Jordanian
dinars).


Type of currency?
Egyptian Pound (EP). One U.S. dollar is ~5.75 EP.


Transportation:
From Dahab to Cairo: a minibus (7 hours) for 100 EP.


Things Egypt Is Known For:
Constantly trying to rip people off; Pyramids; the Red Sea;

baksheesh
(basically this is what they say when they are asking for a tip); temples such as Abu
Simbel and Karnak.


Religion:
Muslim.


Costs:
$890

Waiting for the sunrise at Mt. Sinai.

May 19 - June 1, 2006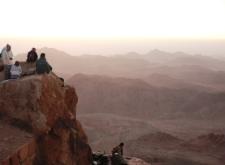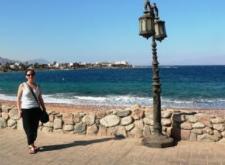 Along the coast of Dahab.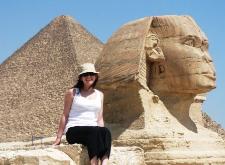 The Sphinx and Great Pyramid at Giza.

Egypt Journals