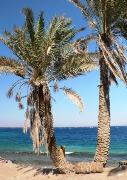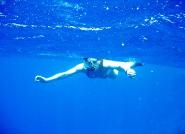 Soakin' Up the Sinai...

Snorkeling in the Red Sea.

May 21, 2006


In my mind, I knew what I was going to do when I got to Egypt. Having checked hotels online, I saw there was a 5-star Hilton
for $75 a night that was calling my name. All I would need to do would be to hop on the 2 ½ hour bus ride to Sharm el Sheikh
from the port at Nuweiba.

I just wanted to spend a few nights there, relax and be able to wash my hair with the provided shampoo and conditioner
(something I previously viewed as 'standard'—from the past three weeks of traveling, I now know it to be a 'luxury'). I would
just make the hotel my home for the next three days and three nights.

As luck would have it, there was a detour before I would head off to Sharm.

My new Aussie friends (Danielle, Isaac and Lynn—Danielle's mom) were going to Dahab from Nuweiba. Since this is on the way
to Sharm, I went with them to stay in Dahab that night and would then head off the next day.

We checked into the really cute Penguin Village that is on the beach. My great-sized room (with a bathroom) was 40 Egyptian
pounds. Let me do the math for you…this equals less than $7 US. The restaurants on the beach are fantastic and they are
practically on top of the sea. Dinner the first night consisted of about seven of us: some of whom I had known for days; others of
whom I had known for minutes. In total, there were four Aussies, one Canadian, one German and one American. It was a great
bunch and it was a great time. The atmosphere was beautiful and the food was delicious...and it set me back a mere $4 US.

Plans of abandoning Dahab for Sharm were off. I knew I would definitely be spending several days here…

I decided to go diving right away upon arriving here (see '
Diving into Dahab
'). I signed up for my dive with refresher course
(which would cost a bit extra). The total amount (including equipment, dive and refresher skills) was 170 Egyptian pounds – less
than $30 US. Simply unbelievable.

I was famished after diving and somebody at my hotel recommended a fish restaurant. I went and got a fish soup, salad, rice,
pita, baba ghanouj, eggplant, grilled calamari and a soda...all for $3 US.

Afterwards, I decided to take it easy and wander along the pathway that goes up and down the coast. It was perfect just zoning
out and taking all of the scenery in. I was unable to take my eyes off the different shades of blue in the sea. I am trying my best
not to take any of these moments for granted. I realize how lucky I am to be able to experience something new each and every
day during this year-long trip.

Even though we're on the east coast of Egypt right now, the sunset still brought beautiful colors of a pale rainbow over the land
that we view across the sea. This land mass (that was now a shade of lavender due to the colors in the sky) is even more
impressive simply because it is a country that none of us will probably ever step foot on (unless you're my friend Ann who lived
there as a child). This land that we look directly onto from Dahab is Saudi Arabia.

Today we did a snorkeling trip to the Blue Hole (in contrast to scuba diving, it was nice not having to lug around tons of gear). To
get there we practically had to go four-wheeling—this was not for people who get motion sickness. One great sight was seeing
camels walking along the beach. It seems like some sort of contradiction, doesn't it? But the desert is merely meters away from
the sea.

Once we got there, we got our equipment and were ready to dive in until we realized a misconception we all had. For some odd
reason, we had assumed that the Red Sea would be warm. We were wrong. Instead of 'diving in' it was more a matter of inching
my way in. Unfortunately, much of the coral was dead but there were still some parts where it was more colorful. The
impressive thing was the color of the water – it was seriously electric blue. This was intensified even more as schools of bright
orange fish would swim by. We decided to go in again a bit later and it was suggested that we walk further out (where nearly
anybody was) and then let the current take us along the reef and end up back to where we did our first snorkel. We saw many
more colors in the reef and a larger variety of fish. All in all, it was a nice outing and a nice way to see more of the sea.

I am about to take my nap right now because: a) I'm tired; b) my body is exhausted; and c) I'm going on an 11:00pm trip
tonight to hike Mount Sinai to watch the sunrise.

The coast of Dahab.