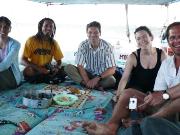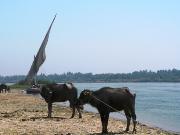 Cruising the Nile
Felucca-Style...

Feluccas in the Nile River.

My sailing mates.

One of our docking stations.

May 29, 2006


One of the things I set out to do while I was in Upper Egypt was to spend some time on a felucca (for those who don't
know, feluccas are the sailboats in Egypt). I wanted the
real
felucca experience. One hour wasn't going to be enough. Nor
was two hours. I signed up to do a two day/two night trip. All I knew going into this was that I was going to be spending
the nights on the boat. Easy enough, right? (It's important to keep in mind that I camped for the first time in my life two
weeks ago in the Wadi Rum.)

After getting back from Abu Simbel I was taken off to my felucca. There I met my fellow felucca-mates. I'm going to
have to stress the fear that comes along with this. These are the people that you are spending the next 48 hours with…on
one small boat…with no escape (unless you're willing to swim in the Nile to the closest Nubian village). I had just spent
the morning with
the
most irritating woman in the world on my bus to and from Abu Simbel (she was the same person I
was lucky enough to
also
have been on my Aswan High Dam tour with--the one who took ten minutes worth of photos of
a statue). I'm not a violent person but believe me when I say that I was ready to turn around and hurt her. After being
exposed to this type of person, you can understand the reason for my worry.

I was relieved when I saw a boat full of <gasp> normal people. After a sigh of relief, I met three Colombians (Nelson,
Alexandra and Andrea), one American (actually, a fellow San Franciscan- John) and one Aussie (Lucky). A couple hours
later we met up with a Canadian (Jahani) and a Kiwi (Sharon). I felt confident about this being a good group of people.

While it went without saying that we weren't going to be taking showers, you have to understand the degree of self-
disgust you feel when you are in 110 degree heat for over two days.

There were many cruise ships in the Nile. People on these were having fun snapping pics of our cute little felucca. I
couldn't help but have a little bit of envy as I saw them standing outside of their staterooms where they had the comforts
of air-conditioning and showers...especially considering our 'facilities' that we were going to have for the next couple days.

At one of the first stops we made, we were told that there were 'toilets'. Wonderful. I saw this as a good time to use the
facilities. I got off the boat and started looking for the toilets. Where were they? It was then that I became aware that my
definition of 'toilets' and our felucca driver's definition of the same word differed quite a bit. I now knew that I was
walking back and forth all along the 'toilets' for several minutes now. I know this is going to be TMI ('too much
information') but I have never really done this before. Literally, I had logged in only one experience in college during a
game of sloshball. Now I would have the next two days to become a pro at this. I will have to admit that it did not come
naturally. My first experience was looking at a road of cars. This definitely elicited some stage-fright. My next experience
was in a Nubian village. I was starting to get a bit more comfortable with the idea. The third experience was in an area
with lots of cows. In fact, one cow was no more than ten feet away from me. At this point, I wasn't quite a vet but I was
not a rookie any more. While the cow looked at me wondering what the heck I was doing, I looked right back at it with a
look saying "Can I just have a moment of privacy? Geez." The last time I christened a mango tree. I would also like to
prove the theory 'mind over matter'. Only in this case, I prefer to call it 'mind over bladder'. We had docked on our last
day at around 5:30pm. This is where we were going to have dinner and where we were going to sleep. We would be
leaving the next morning at around 7:00 am. A couple of people from my boat went to use the facilities and came back
with slightly disgusted looks on their faces. Turns out every inch of this area was covered with poop. I draw the line
somewhere and this was it. I quickly reverted back to rookie status. Despite having a soda, water and several cups of tea,
I willed myself to not have to use the 'toilet' at this stop. My mind is an amazing thing as it prevented the need for the
next fourteen hours.

Apologies for the previous paragraph. I just wanted to show more proof of me stepping outside of my comfort zone while
I check out the world. What can I say…I'm pretty proud of myself.

Back to the felucca experience…

After the first night, our Colombian friends left as they only signed up for one night. Now we were down to five.

We all had things we wanted to do while on the boat since we all knew we would have more than enough time. Write
postcards. Do journal entries. Read some books. Oddly, none of us had time to do any of these things. Our time was
completely consumed by talking and eating. Talk about meeting some interesting people. Lucky has been traveling the
world for three years and has some incredible stories (I'm just concerned that his nine lives are running out). John,
having never traveled at all, decided to sell all of his stuff and leave two months later (he is now four months into his
travels). Sharon is married but took a four month trip around the Middle East to places like Iran, Syria, and the West
Bank (amongst other places) as a lone female traveler. I was fascinated hearing about their experiences.

Before we knew it, our second night had ended and I was watching the sunrise from my mattress on the boat. Not a bad
way to end my time on the Nile. We got off at Kom Ombo and then boarded a microbus that would take us to the temple
at Edfu and would then drop us off at our respective places in Luxor. The thought of Luxor couldn't have excited me
more knowing that I was going to be having a shower and a change of clothes waiting for me. I had been in the same
clothes since Abu Simbel (59 hours; 43 of those in extreme heat).

I can attest that it's the people you are on the felucca with that make up the experience. I just feel so fortunate that I
never had even the slightest desire to jump overboard into the Nile.