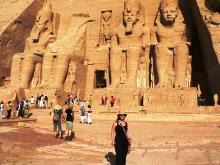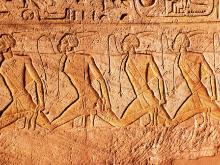 The Temples of
Abu Simbel...

One of the reliefs.

May 27, 2006


Knock knock knock. Knock knock knock. Knock knock knock.


Somebody was knocking on my door in my dream. Yes, that had to be it. It was in my dream.


Knock knock knock.


Oh crap. This is not a dream. This is my 3:00 am wake-up call for Abu Simbel.

I immediately shot up. After all
everybody
is getting identical wake-up calls (or I should say 'knocks' as most hotels in
Aswan do not have telephones) at their respective hotels and the police convoy isn't going to wait for anybody who
wanted just ten more minutes of sleep.

I need to restate the insanity of the Abu Simbel outing that I was about to embark on. Three hours of driving down
there, two hours at the temple, and then a three hour bus ride back.

This is the temple that everybody went on and on about. They couldn't stop raving. They all said it just must be seen.
How many times am I in Egypt? When might I ever see it again? Okay, I must make the effort to go see it.

While this temple was built between 1274 and 1244 B.C., it was lost and rediscovered by chance in 1813. The main gist of
this temple was to demonstrate how powerful and strong Ramses II was. There are pictures inside depicting his victories
in battles, etc. Both temples (there is a large one and a smaller one) are covered with hieroglyphs and reliefs all
symbolizing different things.

This temple was another rescue project by Unesco. It was rather recently that they cut Abu Simbel into over two
thousand pieces underwater to move to higher ground in order to save it from being lost forever.

On a side note, I do have to report that I experienced the best public restroom facilities here. There was air-conditioning,
marble-like floors, real toilets and toilet paper. In case you can't tell, these are luxuries in this part of the world.

Considering this was only my second temple, it was still quite impressive. However, if someone were to ask me if they
should go, I would definitely not tell them that they 'must'. But this is just my opinion and there are hoards of people who
feel otherwise. That being said, I guess people do need to go just to form their own opinion…

In front of the Great Temple of Ramses II.