Thou Shall Not Miss
Mount Sinai...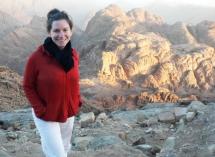 May 22, 2006

Much like Moses was told to go up this mountain to receive the Ten Commandments, I was told to go up to receive a beautiful
view of a sunrise.

Easy enough, right?

Wrong.

As my luck would have it, I started to receive the 'Battle of the Bulge' a few hours before our 11:00pm departure. While I have
re-named my trip to be Eating My Way Around the World, it wasn't that kind of 'bulge' that I began to experience. It was the
bulging of the discs in my lower back. This is a recurring problem that I experience and I knew it was bound to happen at some
point this year. Three weeks into my trip, however, was much sooner than I had planned. I really wanted to do the hike so
backing out wasn't an option (I'm just stubborn like that). I ended up throwing on my back brace that I brought (am I well
equipped or what?), popped some ibuprofen and hopped on the bus that brought us out to Mount Sinai around 1:00 am.

For those of you paying attention, this hike means that in lieu of one night of sleep, we're hiking in the pitch black. With my torch
in hand (actually, my underwater scuba flashlight), we began our uphill trek. People can alternatively take camels up the
mountain (the Bedouins are constantly offering this option)…but where's the sense of accomplishment there???

It is quite interesting doing a hike where you can't see any of the scenery. Every now and then my flashlight would discover
camels sitting on the side of the trail. I highly enjoyed these moments. There were about four rest stops during the seven
kilometer hike. But the hike didn't end there…we still had about 750 steps to climb. At around 4:30am, I was on top of the
mountain with just an hour or so to go until the sun would make its appearance. In the meantime, sitting up there in darkness
was quite beautiful. Far in the distance, there was a snake-shape of little lights that were shining from people's torches.
Overhead, there was a sky full of stars and a beautiful moon.

In a mere sixty minutes, the amount of people on top of the mountain increased exponentially. And for the first time, we could
see the scenery that we had just spent a few hours hiking. It was beautiful watching the sun rise over the terrain and it was
made even better when thinking about the historical importance of where we were standing.

I opted for the Steps of Repentance to make my way back to ground level. Three thousand, seven hundred and fifty steps. Two
hours later, I made it back without any falls or slips to report (quite a feat, I must say). This Mt. Sinai trip was work but
definitely worthwhile.

The sunrise from Mt. Sinai.

At. Mt. Sinai.