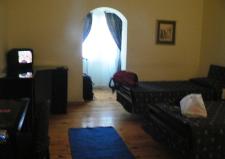 Kickin' It in Cairo...

Entrance to the Egyptian Museum.

Upgrading to a $40/night room.

May 24, 2006

I arrived in Cairo in less-than-wonderful physical condition yesterday. We were on an overnight small minibus from Dahab to
Cairo (any time somebody tries to put a positive spin on one of these over a large bus, do not believe them). It should go without
saying that not much sleep was had. In addition, we didn't get any sleep the night before since we were hiking up Mount Sinai.

With two sleepless nights and bulging discs in my lower back, I checked into my hotel at 7am. I still had five hours until my room
would be ready.

After reading and updating my website a bit, I decided to head out. I wasn't quite sure what to expect from Cairo based on what
I had heard from others. My first impressions were great! My hotel rocked (this was a 'splurge' for me--yet still only $42/night
with breakfast). I first went to a bakery. Saw something I liked. I only had a large bill though and they didn't have any change. I
gave him the pastry back and said it was okay. He insisted I take it and pay him back at some other point when I passed by.
How sweet is that? I picked up a bottle of water. Nobody tried to rip me off for that. Jumped into a cab and told the cab driver I
would pay 5 Egyptian pounds and it was agreed upon instantly. Is this really the place that people told me I would be haggling
over the price of a bottle of water for five minutes???

Next stop was the Egyptian Museum. What a pleasant break from the European museum monotony of one baby Jesus after
another (in the words of Seinfeld '…not that there's anything wrong with that.'). Let me start by saying that I'm not some
Egyptian art buff. But you don't need to be to appreciate what this museum has to offer.

The main treat here is the Tutankhamun Galleries. And the crème de la crème in here is Tutankhamun's solid gold death mask.
We're talking about just over 24 pounds of gold. This mask covered the head of the mummy. The mask is what he looked like as
a young pharaoh and all of the detail is done with different stones (i.e. quartz, lapis, etc.). His body was placed in a series of three
sarcophagi. Only the smaller two sarcophagi are at this museum (the largest one remains at the Valley of the Kings in Luxor
along with his mummified remains). The smallest sarcophagus is solid gold and weighs over 240 pounds and has beautiful stones
incorporated into it. Can you imagine??? 240 pounds of solid gold… Wowsers.

There are also rooms with mummies, animal mummies (kind of funny in a not-so-funny way), ancient Egyptian jewelry,
sarcophagi, statues and the different inscriptions on many of the artifacts. Some of these items date back to 2600 B.C. yet are in
such great condition that you would never know it. I loved all of the inscriptions…it took me back to when I was a kid and we
were studying Egypt.

After leaving the museum, I got some fuul and headed back to my hotel. To sleep. This was just what the doctor ordered. My
back thanked me as well. I rewarded myself with a nice dinner in Zamalek.

I woke up feeling ten times better this morning and went out to the Pyramids. After that, I wandered the streets of downtown
Cairo, got my new student card and then went with Ahmed (the guy I met on the street) to find a tour company to put together
a budget trip to Upper Egypt (i.e. Luxor, Aswan and Abu Simbel). I was originally opposed to this but it's so darn hot that I don'
t mind somebody being there to pick me up in an air-conditioned vehicle. Altogether, I'm getting a first-class train ride to
Aswan, a hotel in Aswan, a tour guide in Aswan, transportation to Abu Simbel and a tour guide, a two-night felucca ride in the
Nile and a tour guide, transportation to Luxor and a tour guide, a hotel in Luxor and a first-class train ride back to Cairo all for
$300. Doesn't sound like a bad deal at all!

Afterwards, we went to Ahmed's family's shop. His brother used to live in Minneapolis and work at the Body Shop. He now has
an operation in Egypt where he takes just the flower oils (as they aren't allowed to use alcohol since it's a Muslim country) and
exports them to different countries so that they can make the perfumes. Because Ahmed was so helpful, I couldn't help but buy
some. I bought 'Arabian Nights' (made sense since I was in the Middle East) and 'Lotus' (one of the main two flowers of Egypt—
the other one being papyrus). I also got little perfume bottles. On my way to checking out, I was then shown how papyrus is
used to make paper. Though I have absolutely no place for such items in my future home, I ended up buying two. How often am
I in Egypt, right???

When I was at the tour office, they also suggested a Nile River dinner cruise. I took the bait since it was only about $20. A pretty
small price considering that the dinner was pretty tasty, we got entertainment (Egyptian music, a belly dancer and a Whirling
Dervish-type of guy) and I got the nice cool breeze when going upstairs to appreciate what the Nile had to offer. Mahmud (from
the tour company) came with me and we had a good time. Totally funny guy who was great to hang out with.

Tomorrow my day revolves around going to the Khan al-Khalili. This is where there's shopping to be done!