-----------------------------------

Photo Albums

Istria (Croatia)


Croatia
-
I have to
apologize. I put all of these
into one album. It's pretty
big...but I feel it's worth
looking at! (I'm biased,
though.)

Links relating to
my trip

Accommodations


We stayed in a room in
people's home. We
inquired about this when
we arrived in each town.



Other Sites


Jadrolinija - The Croatian
ferry company.


Persistil Hotel
- The hotel
that our favorite
restaurant (Tifani) was
attached to.

Croatia...

June 21-27, 2006

My Croatian Experience...


Highs:
The coastal town of Rovinj; bus and ferry rides; Trogir; Brac (specifically Bol); food; entering
air-conditioned spaces (believe me that these moments were beyond appreciated).


Lows:
Experiencing 'gelato envy' when my sister got a far better flavor that I did.


Best Moment:
Arriving in Rovinj and seeing the colorful buildings and the Italian influence.


Smells:
Grilled fish being served at the restaurants; lavender in the markets (that comes from the
island of Hvar).


Sounds:
Waves crashing in the sea; Vespas weaving their way down the small streets; people
cheering while watching the World Cup.


Sights:
Colorful buildings of Rovinj; amphitheatre in Pula; the Croatian coastline; vineyards;
Diocletian's Palace; island of Brac (specifically Supetar and Bol); island of Trogir; wonderful views of
Split both from the tower within the walls and from the park on the outskirts of the old part of the city.



Tastes:
Gelato; grilled calamari; Teran wine (in Istria); excellent produce; Plavac and Posip wine (in
Dalamatia); cuttlefish-ink risotto; Suvarnik (almost like a spinach pizza); cookies and pastries;
strudel; brandy; a specialty cheese (I forget the name--it tastes like a Petit Basque); spaghetti with
seafood.


Purchases:
A pair of pants and three shirts. (I also tossed a pair of pants and two shirts. I gave my
sister a pair of pants to take home with her.)


Street Food:
Paninis; gelato; pizza.


Fun Food Finds:
Can't really think of any.


Western Companies Out Here:
McDonald's.




Other General Info...



Visa needed?
No.


Type of currency?
Croatian Kunas. Almost six kunas equal $1 U.S.


Transportation:
We're using buses to get to different locations. Ferries are used to get from
island to island. Buses aren't very cheap - they're about the same price as ferries. Low-cost airlines
are available within the country as well as to other destinations. We're flying on Sky Europe from Split
to Budapest.


Things Croatia Is Known For:
Large amount of islands in the Adriatic; figs; the civil war in
1992; wine; honey; olive oils; brandy.


Local Spelling of 'Croatia':
Hrvatska


Religion:
Catholic.


Costs:
About $500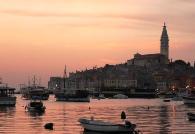 Watching Rovinj's sunset at dinner.

My sister and I atop of Rovinj.

Nighttime in Split.