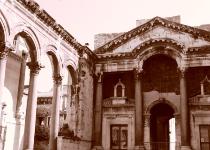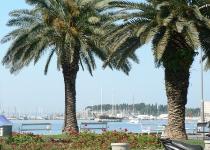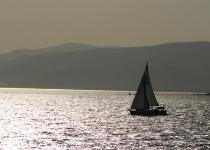 A Great Hub to
'Split' for the
Islands...

The ruins of Diocletian's Palace.

The promenade in Split.

Our ferry ride back to Split.

June 27, 2006


Is this a great place for a vacation? No.

Is this a great place to base yourself out of while you visit other places? For sure.

We actually spent a good little chunk of time in this city. If we knew what we know now, we would have spent a night in Opatija and
one less night in Split. Since we weren't the highly knowledgeable individuals before our trip that we are now, this would not be the
case.

This was also the point in my trip where I would officially welcome my sister to my world. Well, what has been 'my world' for the past
two months.

It was hard to believe that Michelle took her very first overnight bus ride on our way down here. In fact, she's never even taken an
overnight train ride. I could barely fathom this when she told me. She did a great job though. As I struggled the entire ten hours to
get comfortable, every time I looked over at her she appeared to be sleeping like a baby. One word crossed my mind. Since it was not
a very nice word, I will not write it in this journal (simply because there are kiddies I used to babysit that read this). In an effort not
to curse, I will say that 'Brat' was the word that crossed my mind.

Locals flocked to us like we were superstars when our bus arrived in Split. They all had pieces of paper in hand. Well, we were not so
much superstars as much as we were their prey. They all bombarded us in an effort to get us to stay at a room in their house. I hate
to say this…but this is when appearance is important. I went by instinct of what these people looked like and how clean they were.
We opted for Guy #2. It was at this point that Guy #1 and Guy #2 got into a Croatian verbal spat with one another. Once that
concluded, we were on our way. Since it was so early in the morning, other people were still there (they were leaving later that
morning). No problem as we were able to leave our stuff there and come back later. The business card that we were given showed us
pictures of a beautiful room—almost bungalow-like. It also showed a pristine bathroom. We were more than confident that we did not
need to check things out before heading out on our way.

After spending the day on the island of Brac, we were more than ready to come back to our room, jump in the shower and shed the
layers of sweat that coated our bodies. We got to our room. Has anybody ever been to the most humid place in Africa in the middle of
summer? Okay…I haven't either. But after entering our room, I can now say that I can imagine what it would be like. We now had
new sweat melting our old sweat. The good news was that there was an air-conditioning unit in the room. The bad news was that we
had no way to turn it on. I went downstairs to find the guy. He wasn't there but his wife called him and she told me he would be back
in five minutes. She notified us of the heat wave in Split as if she was telling us information that we had no idea about. We assured her
that we were well aware of this. Once the guy got back, a few words were exchanged. Well, very few to be exact. Neither of us could
really understand each other's language. But, in a nutshell, we made it known that as long as we were in the room, the air-
conditioning was to be turned on (for the duration of our stay I left him notes specifying approximately when we would be back). The
air-conditioning wasn't the only problem we were having. Our 'bungalow-room' was about the size of a kitchen pantry. The two twin
beds were millimeters away from being on top of one another. We literally had to climb over a bed to get to the sink in the corner.
Sounds lucky to have a sink in the room, huh? Not when the sink spews out brown water when it is turned on. I had to ask the guy
what happened to the pictures on the business card that he gave us. He then notified us that those were at some apartment on an
island.
Huh???
My sister was ready to fly the coop the next morning (we had already paid for the first night so out of principle she
was not going to find another place that night). I tried to rationalize that as long as we had air-conditioning, we could make it work.
After having a nice sleep in a well cooled room, she was okay without pursuing a search for another room. I was very proud of her as
she made it very clear that these were the worst sleeping conditions that she had ever been in. If only I could be so lucky to say the
same thing. Split is where my sister would get her first taste of 'budget traveler'. The only problem was that she had absolutely no
desire to get this taste. The 'planner' in her had to be pushed aside for a few days simply because a) Croatia is a country that is hard
to reserve rooms unless you want to spend a pretty penny and b) her sister was not willing to pay this amount.

The good thing about having a less-than-stellar room is that it definitely gives you that push to not linger in your room and get back
out into the city. We found a great restaurant (Tifani) within the ruins near the tower of Diocletian's Palace. We loved it so much, we
even went back the next night after our day in Trogir. On the second night, we ended up getting chatty with two rounds of our next-
table neighbors (could have
possibly
had something to do with the wine).

Round 1: A couple (Peter and Melanie) who ended up also being from the Bay Area. Pretty small world considering there aren't tons
of Americans over here. Before they left, we exchanged information and they asked my last name to which I told them 'Nathan'.
Then he said "Oh, you're an NJG." I know acronyms for lots of things. But not this. I had to ask what it meant. He seemed shocked
that I didn't know…but seemed just a bit hesitant to tell me. After a few seconds, he said 'Nice Jewish Girl'. I was really surprised he
could tell this just from hearing my last name. Once again he said that he couldn't believe I had never heard that before. I told him
the only Jewish-related acronym I knew was JAP (Jewish American Princess). Well, I now have a new one to add to the repertoire.
Thanks, Peter!

Round 2: I'm not sure how we started talking to James and Orla…but we did. And it ended up with all of us shutting the restaurant
down. Even our waiter had changed and gone home for the evening. James and Orla were great—they're engaged and live in Dublin,
Ireland. They met while Orla was bartending in Thailand for a couple years. James is from England but ended up moving to Ireland.
They were awesome. James was a big fan of India and was excited to tell me all about it. Especially Hampi. If I am to see the name of
that town when I am over there, there is no way that I can't now associate it with him.

On Day #3 we would actually spend our time in Split. We did an early morning urban hike just outside the main part of the city. Most
of our day revolved around 'Operation: Avoid the Sun'. We went up the tower just within the walls to see great views of Split and the
sea. We walked through the streets within the walls that were so narrow that they helped shield us from the sun. We went into air-
conditioned stores and they served a dual purpose as I realized that there was no time like the present to buy some replacement
clothes. After the mandatory daily gelato break, we went on to explore the basement walls of Diocletian's Palace. Did we have a great
interest in these ruins? No. Did we have a great interest in the natural cooling system that existed down there? You know it. We even
learned a little something while we were down there. Allow me to shed some light on my new knowledge.


Diocletian's Palace was built in the 3rd century.



The city of Split was initially all built within Diocletian's Palace. It wasn't until more and more people started moving that they


had to start building out beyond the walls.




Diocletian's Palace boasts that it is one of the best-preserved Roman ruins. But let's face it…doesn't it seem like almost

every




Roman ruin says that it is one of the best preserved?




Of course there is more but I'm not a historian so if you're really interested about this stuff, you should consult some book about this
topic (definitely not my little non-technical journal).

We had one last excellent Croatian dinner of cuttlefish ink risotto and then headed to our favorite restaurant that we went to the first
two nights for one farewell glass of Plavac wine.

Today we spent our last Croatian hours on a ferry taking in the Adriatic for the last time before heading out to the airport. Our final
farewell would be from the plane as we spent a few minutes flying directly over the sea. But then the plane started heading east. All
you can do is hope that they will change their flight pattern. That they will fly over the entire coast of Croatia. That the pilots will give
everybody just a few more minutes to say good-bye to Croatia. But this is obviously not the case. At least it's not a permanent 'Good-
bye'. It's just a 'Good-bye until next time'…