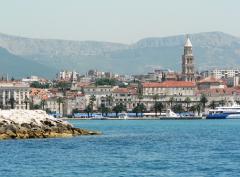 Croatia From Behind a Bus
Window...

The coastline as seen from the plane.

Split seen from the ferry.

June 24, 2006

Situation: Overnight bus ride from the Istrian coast to the Dalmatian coast.
Assumption: This would be extremely painful.
Reality: This was one of the prettiest drives…ever!

Every time we board a mode of transportation over here, we end up being treated to a wonderful surprise. Yesterday would be the
surprise of the overnight bus ride.

It's clear that age is sneaking up on me as my memory is not quite what it once used to be. I was in Croatia not even three years ago
yet I managed to forget how absolutely gorgeous this country is. While I knew I loved Rovinj immediately, I forgot about what the
rest of the country had to offer. This long bus ride reminded me.

One thing that we had on our side was that days are lasting longer right now. Because of this, we got to enjoy the coastal scenery for
several hours before the sun would disappear for the night. Words can not describe how amazing it was. The word 'stunning' does not
even describe it. There were dramatic views at every turn as we drove along curvy roads that were perched upon cliffs. The bright
blue Adriatic waters literally glistened. Towns were sprinkled throughout the drive—each one having a majority of orange-hued
rooftops and slightly off-white buildings looking even more beautiful with the contrast of bright blue from the sea in the background.
In addition, each town offered their own character. We actually came across one in particular (Opatija) that we were sorry that we
did not make part of our itinerary. This one appeared to be one of the more elegant and sophisticated towns.

This drive was also when I remembered how beautiful this entire country is. While I fell in love with Rovinj the other day, now I have
to spread that love to the entire country of Croatia.

It was not long before I had an epiphany—an epiphany of another trip I need to add to my 'Places To Go and Things To See in the
Future' list. I am going to fly into Trieste (Italy), rent a car, and spend a few weeks driving down the coast and do some town-
hopping and island-hopping all the way to Dubrovnik. I am currently taking requests for a traveling buddy for this trip. Just
advanced warning that this Adriatic adventure won't be in the works for at least the next few years. I'm just planting the seed in
your minds right now.