-----------------------------------

Links relating to
my trip

Accommodations


Hotel Emonec -
Our hotel in
Ljubljana. We really enjoyed
it. In addition, the location was
perfect (right in the center of
town).


Hotel Jelovica -
Our hotel in
Bled. Perfect location to the
bus station and extremely
close to the castle.




Other Sites


Slovenia Facts

Photo Albums

Slovenia...

June 18 - 21, 2006

My Slovenian Experience...


Highs:
Lake Bled; the market in Ljubljana; viewing the landscape and small towns from the buses
and trains; cafes and restaurants galore.


Lows:
Can't think of any.


Best Moment:
The boat ride out to the island in Lake Bled. It was peaceful and gave a great
opportunity to enjoy the scenery.


Smells:
Can't think of any prominent smells.


Sounds:
Bells tolling at the churches; people on the streets enjoying themselves.


Sights:
Castle in Bled (6 Euros), island in Bled (10 Euros), castle in Ljubljana; green landscape.


Tastes:
Cream cake in Bled; risotto with cuttlefish ink; strukji (stuffed dumplings); strudel.


Purchases:
A pair of pants.


Street Food:
Ice cream.


Fun Food Finds:
McDonald's sundaes with cherry topping; Light Fanta Lime soda.


Western Companies Out Here:
McDonald's.




Other General Info...



Visa needed?
No.


Type of currency?
Slovenian Tolars.


Wallet Friendly?
It is decent. Food is reasonable for a good meal in a good location. Internet was
pricey. Hotels were pricier than we were expecting.


Transportation:
I took the train from Vienna, Austria. It was about 6 hours. We are taking the
bus to go onto Croatia.


Things Slovenia Is Known For:
Crystal.


Religion:
Catholic.


Costs:
About $300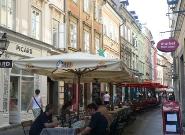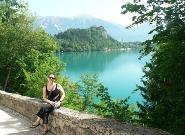 The Triple Bridge in Ljubljana.

Sitting in front of Lake Bled..

Cafes along the street in Ljubljana..