-----------------------------------

Photo Albums

Links relating to
my trip

Accommodations


Hotel Budapest -
Helloooooo tour buses!
Totally painful.



Other Sites


Monarchia Galeria -
Where I bought a beautiful
perfume bottle.


Mokka Restaurant
-
Delicious!!!


Karma
- Another great
restaurant

Fresca - And another great
restaurant

Hungary...

June 17, 27-30, 2006

My Hungarian Experience...


Highs:
The Danube River at night; the Synagogue; views from Buda Castle; Eger; Andrassy Street;
our meal at Mokka.


Lows:
Proving my non-savvy Orbitz capabilities by choosing a hotel that catered 95% to mass
tour-bus groups (absolutely painful!); an extremely dry and stale pastry at a highly recommended
patisserie.


Best Moment:
My day in Eger.


Smells:
The different wines.


Sounds:
The downpour of rain.


Sights:
The Synagogue (about $3); the Market Hall; Danube River; Chain Bridge; the town of Eger;
the Valley of Beautiful Women in Eger (where the wineries are); Szentendre (a town just outside of
Budapest); the baths at Szechenyi Furdo (about $8).


Tastes:
Gazpacho; strawberry soup with cottage cheese dumplings (delicious!!!); carpaccio
bruschetta; pancakes filled with peaches and cottage cheese with vanilla sauce; paprika chicken with
gnocchi; sour cherry soup with yogurt; Gere Cabernet Sauvignon (from Hungary) that was one of the
best I have ever tasted.


Purchases:
Bekivar ('Bull's Blood') wine; a beautiful perfume bottle.


Street Food:
Baked goods.


Fun Food Finds:
Peanut-flavored Cheetos (more 'weird' than 'fun'); paprika-flavored potato
chips.


Western Companies Out Here:
McDonald's; Burger King; Pizza Hut.




Other General Info...



Visa needed?
No.


Type of currency?
Hungarian forints. About 210 make up $1 US.


Transportation:
Though the train is probably one of the most common and easiest ways to get
here, we flew into Budapest from Split (Croatia) on Sky Europe.


Budapest Airport:
Free wireless internet.


Things Hungary Is Known For:
Goulash; wine; porcelain; thermal spas; paprika.


Religion:
Roman Catholic (the majority) yet there are several forms of Christianity.


Costs:
About $400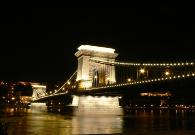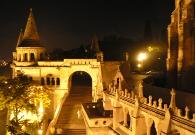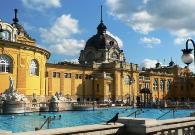 The Chain Bridge.

The Szechenyi Furdo thermal baths.

On Castle Hill.