-----------------------------------

Photo Albums

Links relating to
my trip

Accommodations


An apartment in Prague near
the river in between the new
and the old quarters. It was a
great location!




Other Sites


Coffee and Cigars - the
great cafe/bar/restaurant
with Wi-Fi. They also have
a dj spinning some of the
best music that I've heard
in a while.


Czech Republic Facts

Czech
Republic...

June 14-17, 2006

My Czech Experience...


Highs:
Making it out to Cesky Krumlov; visiting the ossuary church in Kutna Hora; exploring
Prague without feeling the need to follow a guidebook.


Lows:
I can't think of any.


Best Moment:
Cesky Krumlov and being on the Charles Bridge before the masses of people were
even awake.


Smells:
Hot dogs and sausages being sold on the street.


Sounds:
Bands playing on the street; people cheering on their teams in the World Cup in the main
square in Prague; concert in the Spanish Synagogue in Prague.


Sights:
The ossuary church in Kutna Hora; Cesky Krumlov; Charles Bridge at sunrise and sunset;
going to a concert.


Tastes:
Apple strudel; some good local wines; 'Budvar' beer while watching World Cup; goulash;
knedliky (dumplings).


Purchases:
A cheap pair of sunglasses.


Street Food:
Sausages; beer.


Fun Food Finds:
Haven't seen anything too interesting or different in the grocery stores.


Western Companies Out Here:
This is basically the western world out here. You can find
high-end designer stores (in Josefov), McDonald's and KFC, H&M, etc.




Other General Info...



Visa needed?
No.


Type of currency?
Czech crowns. About 25 make up $1 US.


Transportation:
Train. I got a cochette in an overnight train from Krakow.


Things the Czech Republic Is Known For:
Bohemian glass and crystal; marionette
puppets; amber and garnets (I'm assuming since they're sold everywhere here); beer.


Religion:
Catholic (the majority).


Costs: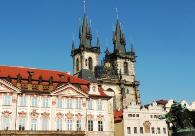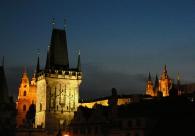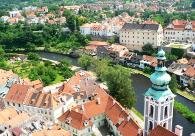 The main square in Prague.

View from the tower in Cesky Krumlov.

The Charles Bridge at dusk.