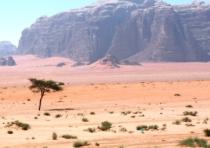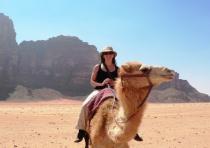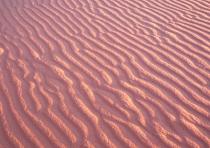 Living the
Bedouin Life
in Wadi Rum...

The different colors of sand in Wadi Rum.

My tour guide through part of the desert.

The patterns in the sand.

May 19, 2006


I wasn't quite sure what to expect when going to Wadi Rum. I had heard of people with amazing experiences and I had also heard
of people who had unpleasant memories based on their tour guide choice. We got a recommendation from our hotel in Petra and I
couldn't help being a bit skeptical. But in the end, I just needed to get over it and get excited for what lied ahead…

For those who don't know, Wadi Rum is a desert in southern Jordan which is known for having some of the most superb desert
scenery. It is also known for 'Lawrence of Arabia' (i.e. T. E. Lawrence).

Let me first start by saying that this place is
huge
. Massive. Enormous. To get the full experience, there's only one way to do this
right and that is by camping overnight (no need to clean your glasses or re-read that…I did, indeed, say
camping overnight
).
Having never camped a night in my life, I have to admit that I was really looking forward to this. Another item on my 'list of firsts'
during my year of traveling.

It will not be shocking at all that I opted for the two hour camel ride in the desert. The scenery from the top of the camel's hump
was great. It was hard to count the different shades of sand out there…so many different colors. The rock formations were both
impressive in size and in pattern. Since I started my Wadi Rum experience with the camel ride, this was my first impression. Not
bad…not bad at all.

It was now time to hop into the 'open-air vehicles' we were going to be riding in (basically, we were in the back of a Toyota pickup
truck). And off we went…

Holy desert safari! I truly felt like I could have been on a safari in Africa except for the fact that it was different terrain. Every
now and then we would see camels both far and near…on their own turf…grazing and doing their thing (as opposed to the ones
that are dressed up for tourist photo ops).

Now, my friends, it's time for a 'Jen analogy'...

Imagine taking the SATs and the question comes up: 'A camel is to the Wadi Rum as:'

What would your answer be?

The correct choice would be 'A giraffe is to the Serengeti'.

They both are about as beautiful as can be (yes, camels can be beautiful). Seeing them in their natural habitat only enhances this
beauty. Their colors blend in with the scenery and they appear very calm and peaceful. They both tend to just do their thing and
graze. Both seem very mild-mannered. And it doesn't hurt that they both have long necks.

I know, I know…you're impressed by my analogical skills. Don't worry—I will now get back to Wadi Rum.

There was a point where we came across a canyon and Mdullah (our guide) dropped us off and drove to the end of it where we
were going to meet him. The walk was about one hour. One hour of sweltering heat. I think it was decided that if Mdullah decided
to bail on waiting for us, we were going to suffer a short death because it wouldn't have taken too long just to melt into the ground.
And a leisurely walk, it wasn't. We had to walk through sand the entire time meaning you had to use effort to pick your foot up
every step you took (luckily, I got a bit distracted for a few minutes since we were walking a few feet away from the camels). The
only way I can describe exactly what I felt and looked like was from that scene in
National Lampoon's Vacation
when Chevy
Chase is roaming around the desert.

At least there was a light at the end of the tunnel (technically I should say 'desert') and that was seeing our Toyota pickup truck.
Ahhh…

Our lunch in the shade had been set up and we were all more than ready to chow down. Even though I haven't even been
traveling for three weeks yet, my standards have changed. A lot. When I was back at home, if flies were sharing my lunch with
me (so to speak) I would have just been disgusted and opted not to touch the food. Here, it's a whole different story. Flies were
everywhere and it did not phase me one bit. While their buzzing and presence was annoying, I didn't hesitate to eat the food that
they had already dove into. As I said, my standards have dropped incredibly in just a few weeks.

I also discovered that I have semi-rock climbing capabilities. There's a bridge in the desert that you need to climb your way up to.
I let the guys go first and they made it look easy enough. I decided it was time for me to give it a go. I was not nearly as graceful
as the guys were but I made it. I gave encouragement to everybody on the ground who was looking up pondering whether they
should try it or not (I think their male egos got the best of most of them after seeing that a girl was just able to do it). By the time
we were on our way down, a hoard of people were on their way up. I'm sure most of them have me to thank for giving them the
courage.

Before long, we were at our campsite. Nice to just chill out and read a bit in the comfort of shade. Within hours, we walked off to
watch a beautiful sunset casting all shades of reds, oranges and yellows over the Wadi Rum. On our way back, we saw a camel just
hanging out and grazing a mere 100 meters or so from our campsite. By the time we arrived back, there were shades of yellows,
greens and blues in the sky.

While dinner was being prepared, we sat down with some tea by the fire and listened to our 'musician' for the evening playing
Bedouin music on his guitar. Dinner was then brought out from the ground (literally) and it was two tiers of smoked chicken,
potatoes and onions. Our hunger was quite apparent when looking at the small amount of food left over. The only problem I have
with Bedouin meals is that they seem to not understand the importance of dessert—quite a shame. After dinner it was time for
more tea, music and looking into a black sky with thousands and thousands of stars. While sitting by this Bedouin fire at this
Bedouin camp listening to the Bedouin music, we then heard a Bedouin cell phone ring. Ahhh…what a technologically savvy world
we are. Even in places like the Wadi Rum.