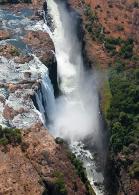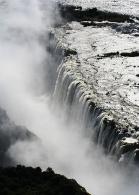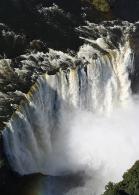 A 'Wonder'ful Place
To Visit...

July 31, 2006


Ahhh…one of the seven natural wonders of the world. Victoria Falls.

Vic Falls lie in both Zambia and Zimbabwe. Most people would probably advise to see them from Zambia as Zimbabwe has
been on the brink of a civil war for years now. So Zambia it was. More specifically, Livingstone. We took a ferry to cross the
river from Botswana to Zambia and an hour car ride would bring us to this town where we would spend the next few days.

Our driver didn't waste any time and drove us directly to the entrance of Victoria Falls. We saw them in all of their misty glory
(as we were properly attired in our parkas). Lori, Kathrin and I stopped at every vantage point to catch as many glimpses as
possible. These falls are just massive. If memory serves me correctly, they are about 120 meters high – about twice as big as
Niagara Falls.

After we were done watching the water plunge over the cliffs, we went to see what the vendors were offering up. I ended up
buying things not because I wanted them, but more because I was having fun doing some hard-ball negotiating. In the end
they accepted my offers so I had no choice but to buy these things (in this case, one of the things was a painted tribal man).

One would think bargaining is the same everywhere at touristy locations. One would be wrong for thinking such a thing as
there was something definitely unique about Zambia. The Zambians offered up 'trading' as an option. This took me back to the
days of the fifth grade when we had 'Barter Day'. We would all go through our rooms the night before and see what we wanted
to part with. We would then display the items proudly on our desktops and walk around to see what others had to offer. Then
the negotiating would begin. Not too far different from except that they threw in a twist of 'Let's Make a Deal'. They would ask
'Do you have pens?', 'Do you have gum?', Do you have hair ties (for his sister with long hair)?', 'Do you have sunglasses?', etc.
When you showed them these items, the negotiations had begun. These items became almost as important as dollars. How
could somebody
not
get wrapped up into bargaining with these people? I saw it more as paying for entertainment and at the
end, I would come away with a parting gift.

We had a few minutes to kill at the van before we went to check into the Zambezi Waterfront. I went in the van to drop off my
purchases and then I saw a fast movement out of the corner of my eye. I quickly turned and looked. I had never seen anything
like it before. It was a baboon that jumped into the car, grabbed an unopened box of crackers and then jumped out. The entire
theft took place in less than a five second time span. She then ripped open the crackers outside and her baby came and joined
her. Instead of being more than willing to share, she was trying to shoo her child away so that she could chow down.

When we got to the Zambezi Waterfront, Lori and I would have our last tent-pitching experience. Tears almost streamed
down my face. Tears of sorrow? No. Definitely tears of joy. This was another establishment that had several different levels of
accommodations. High rollers: chalets. Slightly on a budget: permanent tents with electricity and beds. Paupers: land to pitch a
tent on. I was more than ready to put my pauper days to an end…at least for a few days.

Our evening consisted of a sunset booze cruise that took off from the restaurant. My drink of choice? Mosi Zambian lager. Just
further proof of my openness to beer these days. Anyhow, Lori, Kathrin and I had a fun time hanging out with Ken like our
buddy – not like our tour guide.

Yesterday we spent our time doing what Zambia is known for – the adventure activities. It was a fun-filled day of whitewater
rafting and microlighting. At night would be Lori's and my last dinner with the group. Since Kathrin is working in Jo'Burg for
two months, we made tentative plans to see each other the night I get in before I head off to Delhi. I hope it works out. I wasn't
quite done hanging out with her just yet.

Today was our last day in Zambia before heading off to the airport. We opted to do the poor-man's trip to Zimbabwe. This
would entail no visa and no Vic Falls entrance fee from the other side. We instead walked across the bridge that links Zambia
and Zimbabwe. There was even a span of less than a meter that they call 'no man's land'. Technically, it is neither Zambia nor
Zimbabwe. Hmmm…

When we were walking we met a guy Manuel from Zimbabwe (or 'Zim', as they call it here). He was trying to sell us necklaces.
None of us were really into having a snake around our necks. Also, as much as it sounded like a lie, my bag was in the van so I
had no money on me at all. Manuel finally gave up on selling us stuff and then just wanted our email addresses to keep in touch
with us. I told him to give me his. At that point, he wanted to also give me something so that I would remember him. He gave
me a 500 Zimbabwe dollar note. How sweet is that? Here is somebody from a country with an extremely collapsed economy
and he is giving me something? Granted, it probably equates to a fraction of a fraction of a fraction of a fraction of a penny…but
still. So thoughtful. At this point, I gave him my email address and told him that I looked forward to hearing from him and that
I totally appreciated his generous gift.

Before heading back to the van, we stood at the part of the bridge where people take the plunge over the Zambezi tied to the
bunji cord. We watched the fear as they walked up. We watched the anxiety as the equipment was attached to them. We
watched the bravery as they jumped. As they were busy bouncing up and down over the river, we discussed that these people
were just plain crazy to have done something like that

Now it was time to go to the airport. Our time was over. We said our good-byes and headed back to Jo'Burg where Lori and I
would then say
our
final good-byes…

Overhead views of Vic Falls.

Overhead views of Vic Falls.

Overhead views of Vic Falls.