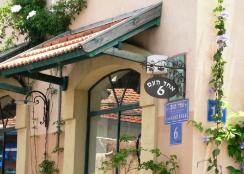 Tel Aviv - Part 2...

View from Old Jaffa.

Storefront in Neve Zedek.

June 8, 2006

Tuesday morning would take me to Nahalat Binyamin. On Tuesdays and Fridays of every week there is a crafts market
where the artists of Tel Aviv put their creations on display to sell. This was very similar to the art festivals we have back in
San Francisco. Beautiful photography, unique jewelry and gorgeous glassware…just to name a few things. My cousins ever-
so-kindly offered to take anything I bought back to the Bay Area for me. This meant that I could actually look to make
some purchases. Good thing for me; bad thing for my trip budget. I bought a couple pieces of glassware and a purse/bag
and decided that would be the extent of the damage I would do there.

Afterwards, I strolled down to the Neve Tzedek neighborhood which oozed with so much character. This was one of the
first neighborhoods that was built in Tel Aviv and it appears to be going through a revival. Quaint narrow streets with
jewelry designers, art galleries and cafes.

Jaffa was my next stop. While it's basically in Tel Aviv, it seems to be considered a different town. There is a large amount
of history the lies here dating back to the days of Solomon. In more recent times, the Muslims had control of this area until
the Turks were driven out in 1917 by British General Allenby. This port saw boatloads of Jewish immigrants around this
time. Beginning in 1921, riots were taking place between Muslims and Jews. In 1948 Jaffa ended up in Jewish hands when
the Muslims were defeated. Jaffa was renovated and now houses beautiful parks, art galleries and gorgeous views of the
Mediterranean and the neighboring Tel Aviv. While it's a different city, Tel Aviv is right next door. It only takes
approximately thirty minutes of strolling along the sea to get from one to the other yet the surroundings in each place are
drastically different.

I continue to love Tel Aviv each and every day I'm here. Maybe it helps that I'm staying in an apartment so I feel a sense
of 'living' here. There hasn't been one night where I haven't gone to a café to sit and read, work on journaling into my
website or just plain people watch. I can <gasp> even read the Hebrew writing on many menus and storefronts. It's crazy
that it has somewhat come back to me. I'm even able to write several things (I showed Duko how to write his name in
Hebrew when we were on the bus back from Jerusalem). I give myself mad props every time I'm able to figure something
out considering how foreign the language looks.

Today is my last day in Israel and my time here was definitely too short (though I do know that I will for sure be back). My
last day here will be spent at the beach (where I'm meeting up with Duko) and then doing laundry. The evening will be
capped off with seeing my cousins and then getting ready to leave at 3am to catch my flight back to Istanbul.

On that note, there's just one thing left to say.

Shalom.