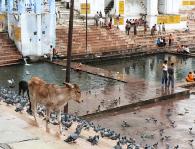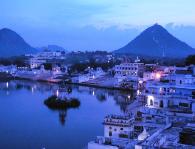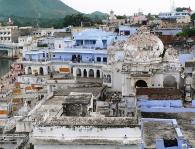 Pushkar:
Sacred, Spiritual
and Stunning...

Down at one of the ghats.

The lake at nightfall.

Pushkar rooftops.

August 15, 2006


First I want to take this moment to give a shout out to the country of India today and say 'Happy Birthday'. It was just sixty
years ago that they got their independence from Britain. In honor of this event, there were India flags galore as well as
ceremonies all over commemorating this. If I could not experience my own country's day of independence, at least I could
check it out somewhere else...

Okay. Just wanted to get that out there. Now onto Pushkar…

Oh pretty, pretty Pushkar. Where to begin? Maybe five minutes into my day here when the weather went from sunny to a
complete monsoon? Where it felt like somebody was pouring buckets of water over my head? Where there was no shelter in
sight and I was grasping onto anything that would help me and put my flimsy shawl over my head? Where I was splashing
through the semi-flooding streets? I think you catch my drift. I
finally
found a restaurant. While it was nice to have a roof over
my head, it wasn't so nice feeling as if I had jumped into a pool with my clothes on.

Monsoon (and people offering my flowers to throw into the lake) aside, I have to say that I love this city. There is no way to
describe it…but that is not going to stop me from trying. The town is small and centers around a lake. There are 52 different

ghats
(landing areas on the lake) where people come to bathe in the holy water. There is an abundance of temples. Shops line
the narrow thoroughfare that creates the Main Bazaar which runs parallel to the lake. Shops are mostly comprised of clothing,
music or food stands. The buildings are colorful and all have their own character. You weave your way in and out of cows when
walking down the street. Of course it wouldn't be India if people didn't try to talk to you at every turn in order to make a
rupee. The word on the street out here is 'namaste' in order to get your attention. There are rooftop restaurants galore that
offer breathtaking views of the lake and mountains in the background. Compared to other Indian cities, this one is blissfully
quiet as the extent of the noises heard are the horns of little motorbikes.

Silly me… I should provide a little bit more information regarding Pushkar as it is different from any other place I have ever
been.

It is holy.
Very
holy. There are rules upon entering. Amongst them are that there is to be no vulgarity at the ghats. There is to
be no hugging at the ghats. There is to be no 'smooching' (yes, the sign said that) at the ghats. While it is not too shocking that
alcohol and drugs are forbidden, non-vegetarian food also is. If anybody is having a craving for chicken while in this town, they
will definitely be out of luck.



Evening time…


My experience a few hours ago made me realize that sometimes having a friend with you is more than critical. I came to this
finding as I went to a store and was trying on a pair of pants. When taking off the pants I had on, I saw that the backside was
completely splattered with mud.
Darn monsoon
. I was wearing my red shawl (which was still quite wet) but in an effort to do
some damage control, I moved it from my neck to around my waist. About an hour later I came across a mirror. I am still not
sure if this was a good or bad thing. I started off my day with my shawl wrapped around my shoulders (as I am in Holy-ville
out here). Once it became soaking wet, it ended up just around my neck. Now that the shawl was around my waist, I was
looking at the remnants that it left behind. My boobs and neckline were now a shade of pink (as my shawl was red and my tank
top was white). And there was nothing I could do about this until I went back to my hotel (which was at least a twenty minute
walk away). In the meantime, the Indians who were asking me for money looked ten times more presentable than I did at this
moment. Not only that, I could not help but think that my last white tank top had officially bit the dust. I just could not wait to
be back in my hotel room.

Being showered and freshly dressed never felt so good. I headed back into town and stopped at one of the music shops. And
there it was – a brand new copy of the soundtrack from the Bollywood movie I saw yesterday. I don't really use CDs any more
and they are of even less use to me out here as I did not bring my docking station for my computer. But at just over two
dollars, how could I pass it up? And what if itunes was to never offer this soundtrack? I would kick myself. I am already
coming up with ideas as to how I can possibly get these songs onto my computer before sending the CD home. This store also
sold books. There were so many to choose from. It was tempting to buy a big stack but I stuck to one. In honor of being in
India, I bought 'Holy Cow'. I was told about this book on my felucca trip and my boat-mates had differing opinions about it. I
decided I would buy it and see how I felt.

Right now I am sitting at a rooftop restaurant with a beyond-spectacular view of the lake. The sun just said good-bye for the
evening and now lights are illuminating against the water. There is live prayer music coming from across the lake yet I can
hear it as clear as if it was being played right next door to me. This lake is beautiful. This scene is beautiful.
Pushkar
is
beautiful...