Arriving in
Perth...

In the Cappuccino Street area of Fremantle.

Cute street in 'Freo'.

February 3, 2008


I feel a bit sad. Part of it I think has to do with not seeing Michelle for a while. But I think the other part of it has to do with
leaving Asia.

I didn't feel that way when I first got to the Perth airport. Of course, I was pretty tired since we landed around 3am. And then I
was even
more
tired since I took a nap in the airport and wandered around for another couple hours until it was time to take
the shuttle into the city. I think I might just be in that same 'Holy crap! Everything is so damn expensive' funk that I was in
when I arrived last year after having spent time in Asia. And I also noticed something else today – people here aren't nearly as
nice as they were in Asia. I'm guessing it doesn't have as much to do with 'Australia' as it does with people who are in areas
where they are more on-the-go. One man literally pushed me at the market today without even saying 'excuse me' first – I
had no idea he was going to come from behind me and push me aside. And then there was another old man – and not one of
those cute old men…he was one of those cranky old men – who was riding one of those motorized chairs. But his was posh
almost like a small car. And he hit the back of my legs with it. I didn't really care because it wasn't hard and I just assumed he
was looking another way and didn't see me. But I was wrong. He was looking straight at me with a scowl on his face. Where
were my sweet Asian people???

Right now I am beat – and it's only late afternoon. That is what I get for not really getting sleep last night (was it my fault that
Qantas rocks and put great movies on my flight?). Since it's a Sunday, nearly everything in Perth is closed so I took the train to
Fremantle ('Freo' for short) where I went down streets lined with café after café and went to the market with amazing produce.

Oh. And I concluded with the big purchase of a new travel adapter. Silly me – I had no idea that Australia doesn't use the same
plug-type as the U.K. I guess it was like this last year (unless there was some nationwide electrical conversion in the past
twelve months) but I just don't have the memory retention to remember things like that.

On another note, it's Sunday here. Actually, it's
Super Bowl
Sunday. But really, it's not. It actually ends up being Super Bowl

Monday
out here. This sucks as I leave early tomorrow morning to head up the Western coast for the week. I came sooo close
to being able to watch this in a sports bar out here. So close. But, in the end, I have been denied of this opportunity. Oh well. It's
supposed to be a blow-out anyway. And I wouldn't get the commercials either. So maybe it's not such a big loss?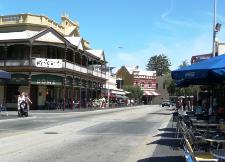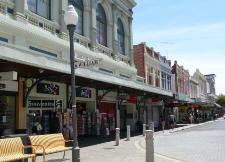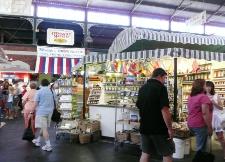 In the Fremantle Market.