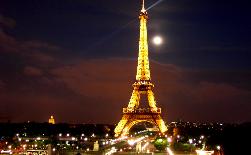 Paris...

Paris is simply an amazing city. It's so easy to feel comfortable there and
fall into their way of life.

I have now been several times and I know that I will go back in the future.
I have organized all of my experiences in Paris into three different pages
-- one for each trip. This just shows how each time a person goes back, it
will never be the same trip. There is so much to do and see, you're never
at a loss to find something new. As much as the Metro system is great, my
favorite thing to do is just walk everywhere I go. You never know what
you'll stumble across!

Below are different links to my Paris trips...


This trip was my first time to Paris. I met up with Ann (my old roommate from college)
and her husband Mitch. Their friend Lori, who also came, was my Parisian roommate for the
week. We did and saw so much. Walked to the top of the Eiffel Tower, walked to the top of
Notre Dame, went to the catacombs, the Louvre, the Musee d'Orsay. Ate lots of great French
food. Went to lots of cafés. Rung in the new year in the Bastille and then headed out to the
Champs Elysee.
After the new year, my friends all had to leave. I still had time left so I went to Belgium
and Amsterdam and then came back to Paris for the last few days. It was then that I went to
Versailles, the Marais, the Cirque d'Hiver and the Arc de Triomphe.


Ahhh... Back in Paris! I came here again before heading off to Chambery to do the school
program I enrolled in. This time I had a chance to do lots of relaxing at cafes because there
wasn't an urgency to see the touristy sights. We hung out in the Latin Quarter, I actually got
my camera stolen from my backpack inside of Notre Dame, we spent lots of time sipping
wine amongst the 'artistes' up at Montmartre. We went to Sacre Coeur. We went to the
Musee d'Orsay. Got falafels in the Marais. We picnicked on the Champs Elysee.


Now it was time for a family trip to Paris. My mom and I hit it up for a couple days before
my sister met us out there. We then went to other parts of France but then ended our trip
back in Paris.
My mom and I went to the Baccarat museum. She loved crystal so I knew that she would
enjoy this. For the most part, we did a lot of walking around.
Once we were back in Paris, we went (once again) to the Musee d'Orsay (is it obvious this
is my favorite museum?), the top of Notre Dame (Michelle had never done that before), got
falafels in the Marais, took Michelle to my favorite crepe/baguette sandwich place that was
near the hotel that we stayed in during my first trip to France. We walked all the way to the
Statue of Liberty that makes its home in the Seine. We hung out at the Luxemborg Gardens.
We stayed in Saint Germains des Pres so we went there every night to hang out and people
watch.