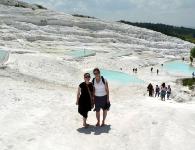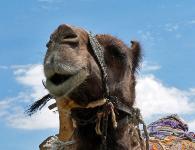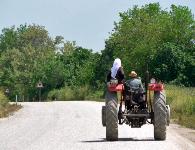 Pamukkale...

In the calcium formations.

The camel that I rode.

In the coutryside.

May 2, 2006

Going out to Pamukkale was like getting a taste of the Turkish countryside. While so many people only see Istanbul when
they come to Turkey, I started to realize once I got here that there is so much more to Turkey than that...

Rolling hills, mountains, vineyards, cypress trees…

But what this area that we are now in is really known for is the formations that were created by one of the hot springs. The
abundance of minerals (mainly chalk) has given Pamukkale the look of something in between snow and cotton. There are also
little pools scattered within that radiate an icy blue color.

It's required that you walk this area barefoot. There are lots of rocks, etc. so this can get painful at times. There are also
warm springs to dip your feet into. And to make this even more enjoyable, we saw the sun for the first time since we arrived
in Turkey! Upon reaching the top, you arrive at the bottom of the Hierapolis ruins and the thermal pools (not to mention the
town's only ATM).

There were two camels at the top of Hierapolis and, needless to say, this really excited me. (Though I must admit that I'm
now aware that these were just the first of many camels to come.)

The place we stayed at was so homey and comfortable. While we read in the hammocks or by the pool, their kids played
around. It was really cute to watch -- a Turkish family in action. In addition, this is a very sleepy town, especially at night,
because most people come here on day tours which takes them in and out of here in the matter of hours. It gives you a good
excuse just to chill out and not do much more than relax.

The next day we had a chill day roaming around town. We walked through the countryside, went and did a little bit of wine
tasting, had lunch in town and then just hung out at the hotel/house. We were taking a night bus that night to Cappadocia and
they had no problem with us just hanging around and reading/relaxing until 7pm (when we would then go catch our bus).