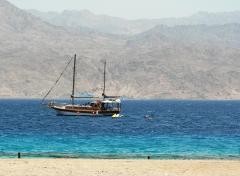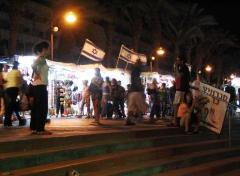 Chilling Out A Lot in
Eilat...

View of Jordan from the beaches of Eilat.

The esplanade in Eilat at night.

June 3, 2006


Though it's hot as you-know-what, they consider this 'high season' over here. And with high season comes very high prices.
Because neither Duko nor I were planning on staying in Eilat prior, we didn't book ahead. When we arrived yesterday, our
taxi driver took us to a hostel. A hostel where we could get an $80 room. There was no way this was happening. We then
continued our search and after many failed attempts, we finally found a room that would cost us each $20. Not bad
considering the air-conditioning, bathroom and cable tv. We met a few very nice girls (Irina, Shira and Ofa) and chatted a
bit. This is also when I learned that my travel buddy is ten years my junior (he actually even has a Macaulay Culkin circa

Home Alone 2
look to him--he did not view this as a compliment though I assured him that Macaulay was cute then). In
any case, the girls suggested a good place to go snorkeling at a private beach. At around 10 a.m. we were on our way…

Let me take a few moments to share my views on Eilat. I had heard a lot prior to coming here. I had heard a great deal
about the beauty of this city and I was really excited to come and see it. On the flip side, I talked to many people over the
past month who told me to skip it altogether. They told me there was no reason to go as I had already been to the Red Sea
in Egypt. Because there was no bus service yesterday due to the holiday, there was no choice but to experience Eilat until
buses resumed service today.

Because we went to a private beach, we didn't experience the overcrowding of the public beaches. We went snorkeling in
the deceptively cold waters of the Red Sea. The water was nowhere near the bright blue that I saw when snorkeling in
Dahab. Sadly, I had no choice but to really compare this entire place to Dahab. I didn't want to and it's not really fair to. But
considering they both lie on the same sea, it's really hard to avoid doing the comparisons. There was something about
Dahab that sucked me in; I couldn't say the same for Eilat.

After a nice long nap, we were ready to check out the night scene here. For starters, there's the standard esplanade (i.e.
pathway) that comes along with any city on the beach. It more or less started at a mall and then proceeded past many
stalls of souvenirs and clothes and then onto the row of resorts. There were so many people here (mostly vacationing
Israelis) that it was nearly impossible to walk anywhere without pushing. At night it felt like a cross between a beachy
resort area and the Santa Cruz Beach Boardwalk. There were lots of bars and restaurants on the beach (which we of course
took part in) but, in my opinion, there was something slightly tacky about this whole area. There's a chance that all of the
souvenir stalls might have played a role in this. I want to also stress that this is only
my opinion
. I'm sure many would
disagree. It might sound like I didn't have a good time. But I definitely did. Duko and I had a great time people watching
and checking out all of the good looking Israeli guys. I just wasn't disappointed that I was only there for one night. That was
more than enough for me.