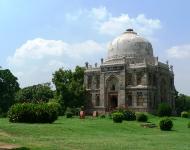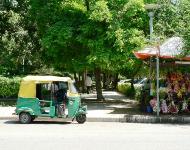 Delhi: Contrary to
Popular Belief...

The India Gate.

An auto rickshaw.

August 11, 2006


On my last night in South Africa, it dawned on me…I was coming to India the next day. The idea of this freaked me out a bit. I
did not have a clue what I was even going to do when I got off the plane. How overwhelmed I was going to be. How culture-
shocked I was going to be. It is almost impossible to
not
be nervous when people who have been before tell you what to expect
to see. Wait, let me take that back. They tell you that there is no way to be prepared for what you are going to see.

Something happened, though, on the last leg of my flight to Delhi. I started to get excited. I was not even nervous any more. I
have no idea where the change came from. All I knew was that I could not wait to get into India and finally see it.

Maybe I should backtrack just a bit more right now before I go further…

I had never had an interest in going to India. Never. In fact, I would go out of my way to tell a friend of mine that I really never
had to go (this was not much more than a year ago). It only happened when I started planning this trip. I was going to be flying
right over India (how often does a person do this?) so I might as well stop there, I thought. I knew that the country was huge
with lots to see. I decided to allocate a month for this. Not long enough to even see a fraction of the country…but enough time
to experience it. As the trip was approaching, I was getting more and more excited about the Indian leg of the trip. Then as it
was
really
approaching, I was getting more and more nervous about it. And that is the brief history with me and India and my
itinerary.

How do I sum up my first impressions of Delhi? Okay. Here it goes.
Not
chaotic.
Not
smelly. Sadly, those were my first two
assumptions of what it was going to be like.

At the Delhi airport, you get a 'pre-paid taxi' where you pay upfront (I am sure that was quite obvious). They assign you a
four-digit number that corresponds with the four digits on the license plate of the taxi. This is your ride to your hotel. And
might I add that the taxis are quite good-looking out here. They look like kind of old-fashioned black cars with a bit of yellow.
And they are nicely maintained inside. These little details were far from what I was imagining I was going to find.

As for my hotel in Paharghanj…I arrived there at 3 am. Let's just say it was a 180-degree difference from what I just
experienced on my last night in Jo'Burg. My room consisted of a mattress and a 'bathroom'. The bathroom came complete
with a squatter and a 'shower' which was really more like a faucet that you turned on to fill a bucket that you would then pour
onto yourself. Oh yeah…the bathroom was also B.Y.O.T.P. And there was no A/C. But this is what is to be expected at a
$5/night hotel in India, right???

Today I headed out early to attempt another try at getting a Russian visa. On my way there, I saw the holy cows roaming the
streets literally meters from my hotel's doorstep. It was actually really cool. Cows here can do no wrong. They own the place.
We can all only aspire to be an Indian cow.

In the end, I would spend almost four hours doing embassy stuff. The time flew since, for the first time, there was actually
hope of something good happening. It almost made me want to sing and skip while walking down the streets (you will all be
happy to know that I did, in fact, contain myself).

A celebration was now in order. I was eyeing a restaurant in my Lonely Planet called 'Ploof' that was known for fish. This is
where I would go. And what a beautiful establishment it was! I am talking pretty swank considering it was my first 'Indian'
meal (though the menu did border a bit more on Thai).

From here, I was set on exploring Delhi by foot. Insane considering the heat (though bearable it was still quite hot). But I was
feeling confident.

I started off at the beautiful Lodi Garden. So serene and calm. Honestly, it was hard to believe that I was in 'Delhi' – this was

far
from what I ever imagined it would be like. The gardens were sprinkled with brightly-clothed Indian couples snuggled up
to one another. It made me smile just seeing how happy everybody here was.

I then made my way over to the 'India Gate'. This is similar to the Arc de Triomph in Paris. It serves as a tribute to the
Indians that died in World War I. There was a little lake right next to it where many Indian families were hanging out and
peddling their way around in little swan boats. Along the grassy area were vendors selling everything from tea to fried puffy
things to ice cream.

Connaught Place was the next area I entered. This is definitely the most touristy area in New Delhi. There are a good amount
of modern restaurants and cafes sprinkled in with more traditional ones. This was more what I envisioned when I first though
of 'Delhi'. But instead of feeling overwhelmed, I just felt a lot of energy and was truly enjoying it. In just a few days, on August
15th, they will shut this area off to traffic in order to have parades and a celebration for their Independence Day. One thing I
could have lived without was the insane amount of horn-honking (it almost felt like I was back in Cairo) but I don't think it
could be any other way out here. The driving here also isn't as insane as Cairo…but it definitely is up there.

I didn't mention the fact that I got incredibly lost during my walking tour. I still have no idea where I was but I just kept
asking people how to get to 'Connaught Place'. I obviously turned myself completely around somewhere along the way because
I was no longer anywhere in the vicinity (though it should have been a straight-shot from the India Gate). I literally had to
walk almost an hour to get there. In that time, I shared many sidewalks with cows, I passed many men sleeping in the back of
their rickshaws and several others sleeping right there on the curbs of the sidewalks. While I knew that some of these sections
that I was making my way through weren't really good parts of town, I never felt unsafe. And let me also point out that I have
not smelled any unpleasant aromas at this point – I found this extremely surprising as it almost seemed like 'Delhi' and
'smelly' went hand-in-hand.

One thing I wanted to do before the evening rolled around was to buy my train ticket for Agra. I went to the train station to do
this but found out that advanced tickets could not be bought at the train station. A nice man put me in an auto rickshaw (and
got me a 'local' price) to take me to where I could purchase this.

And this is when I would meet Feroz.

I had no intentions of doing anything but buy a one-way ticket to Agra and then go from there. But this would not be how it
ended up…

I informed him of my plans to go to Rajasthan after Agra. He was then intent on making sure I had a true Indian experience
beyond just hopping on train after train to each of the towns. I was a bit reluctant at first. After all, it is fun for me to figure
these things out and make it work.

He started working out an itinerary for me and I have to admit that it was starting to look quite nice. I was already
experiencing Delhi in the bare-bones sort of way. I was proud of the fact that I just slept somewhere for five dollars. But could
I really do this for the duration? I already had intentions of stepping it up a notch and going for 'mid-range' accommodations
instead of 'budget'.

Now I was beginning to view things a bit differently. I am in a country where the dollar goes a long way. I could either take
advantage of that or I could see just how little I could spend while being out here. Feroz and I discussed which places I
intended to visit. Then he came back with prices for three different levels of accommodations. The 'A' level would be luxury,
'B' would be nice and 'C' would be more budget-minded (but not the 'budget' level that I was now staying at in Delhi). At first I
opted for B. But then my mind started thinking about it. I began to recall my time in Egypt when I went along with having
somebody coordinate my travel out there. I was beyond disappointed with where I was staying. Yes, they were 'hotels'…but
none had any atmosphere and one, in particular, was totally filthy. Is that what I would want to possibly get into by choosing
the 'B' class? If I was already paying more than originally planned, should I just go all the way? So I did. For an additional
$300, I changed my mind and told him to change it to the 'A' level. This would put me in former palaces during my stays for
about nine nights. I would have kicked myself for not going this route. I would now get to experience the maharaja's India. I
still feel like I am cheating a bit. This was not was I originally intended. But the beauty of not having plans coming into a
country is that you can change your original ideas along the way. And this is what I did. Could I travel this way at home for this
amount of time staying at these types of places for anywhere near the same price? Never.

I just experienced India on the lowest level (and let's face it…it probably was
nowhere
near the lowest)…now it was time for
me to see the other side of it…

Tomorrow I head out for my Tour de Rajasthan. It will just be me and my driver. Everything will be at my will – where I want
to stop, how long we stop, etc.

And the first item on the agenda: one of the architectural wonders of the world known as the Taj Mahal…

In Lodi Garden.