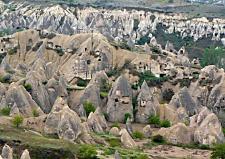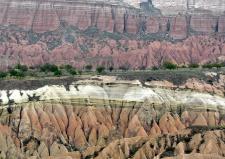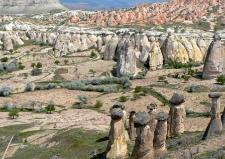 Cappadocia...

The Cappadocia landscape.


The Cappadocia landscape.


The Cappadocia landscape.


We decided to book a 2-day Cappadocia tour before we left Istanbul. It was very encouraged as it's nearly impossible to see
the area on your own. We were okay with this. I've been proving day-by-day that I have a minimal sense of direction so it
was probably a good thing that navigating was going to be out of my hands altogether. Ahhh…

Cappadocia is one of those places you almost just have to see for yourself. No picture will show how amazing it is. No
description will really do it justice. All I can say is that it was one of the most incredible landscapes I think I've ever seen.
Everything there is formed by the erosion of volcanic rock. Because there are so many minerals within the rocks, there are
different colors that radiate throughout the formations.

This area is also known for the caves where early Christians used to hide. There are many underground cities—we visited one
of these (Kaymakli was the name of it). After I got past my claustrophobic irrationalities, we navigated our way through small
passageways, etc. I'm not exaggerating when I say that I feel like I now have an idea of where Osama bin Laden and his boys
live and just what a vast (and hidden) network it really is. This cave went down eight stories beneath ground level—only the
first four levels are open to the public. The caves are very well ventilated (well…that is if you aren't a claustrophobic person)
and we saw everything from their kitchens to bathrooms to winerooms.

Another area we went to was called Imagination Valley (Devrent Vadisi). This is where the rock formations look like all sorts
of various things. We saw a Virgin Mary, a camel, a bear kissing a dolphin, an alligator, etc. In Pasabag, we were in the land of
fairy chimneys. Cindy had thoughts of doing some painting to the houses to enhance their 'Smurf Village' like quality. Then
other times when looking at the tops of these formations, they looked like cupcakes with tons of frosting.

Basically these two days were filled with roaming around and seeing different towns and areas – each with their own unique
qualities. We went into lots of caves that were built into the rock formations. On a whole, this region reminded us of Bedrock.
Fred and Wilma would have been right at home in Cappadocia. Pebbles and Bam Bam would have had a great time playing
hide-and-go-seek. It's hard to imagine how a child couldn't have a blast going in and out of all of the caves!

Right near our hotel, there was a winery called Mahlen where was tasted (and bought) cherry wine. So delicious!

While the tours were great, the best part of this region was taking a hot-air balloon ride (read:
Ballooning in Cappadocia
)
early on the second morning. It was gorgeous, peaceful and partly surreal.

In a nutshell, I would have to say that this was probably one of the most incredible places I've seen in terms of scenery. Ever.