Back in Wonderful
Buenos Aires...

May 3, 2007


Ohhhhhh…. It is so great to be back! I know I was only gone for a couple nights but I was starting to miss this place…

Would it be shocking if I said that within minutes of hitting the town, I bought a new dress? And then just a couple hours later I
bought two more? Didn't think so. We
did
manage to squeeze a great lunch (at a place called Social Paraiso) in between these
different shopping purchases. Shopping definitely builds up an appetite.

Michelle did her map research and saw that the Evita Museum wasn't too far from where we are staying. We headed out there. It
was time for me to learn about Evita!

I need to say how moving this museum was. I learned what an incredible person Eva Perón was. She seemed to be the equivalent of
a Princess Diana of her time. With the exception that so many people hated her. I mean
really
hated her. But not me. I admit there
are still a few things I am unclear about (it seems like there was something more behind the intense loathing than my English
translations at the museum described.

In any case, I left there with goosebumps on my arms and I was practically thanking the employees for the existence of such a
museum.


10:30pm


We just got back from an oh-so-excellent dinner at a place called Ummo. Ohhhh…so good! We also had the joy of walking home in
the pitch black with the only light coming from the lightning that was radiating the sky.
Major
thunderstorms occurring right now
as I type this. All of the power is out. Our B&B is covered with candles. Is it so wrong that I kind of like it???



May 4, 2007


Today was my day to pick up my homemade leather jacket. Okay, maybe these things aren't really described as 'homemade'. I
guess 'custom-made' is a better term…but, I don't know, I kind of like the sound of a homemade leather jacket. So the term still
stands.

I tried it on and it fit like a glove. Well, not as tight as a glove…but I think it's obvious what I mean: it fit really well.

And it would be just our luck that on our day to carry our leather jackets around, the rain would be coming down. Only one thing to
do: protect these babies in the comfort of a taxi cab.

The rain continued to come down for most of the day. We made the most of it by stumbling into shops and then holing up in a
restaurant for lunch. The rain didn't cease for the rest of the evening. But that didn't matter. That wouldn't ruin our 'main event'
for the night – dinner at La Cabrera.

Couldn't think of a better place for Michelle to have her last dinner out here. This place is quite difficult to get reservations at – we
tried last week to come here with Clarke but struck out pretty badly. We ending up making reservations on Monday and only one
time slot was still left. We took it.

This restaurant has been written up in numerous publications. Michelle had read about it more times than she could count. My
Irish friends that I had met on my Lima-Ecuador bus ride had raved about it and told me I
had
to go. The restaurant lived up to
the hype. The atmosphere was great (not some 'too big' tourist attraction of a steak place) and the food was excellent. We found out
the hard way that there is no reason at all to order side dishes. Our potatoes sat in the middle of the table virtually untouched. It
turned out that the meals come with a selection of about six different sides served in small ramekins. My sister and I
shared
a steak
(as my Irish friends found out the hard-and-overly-stuffed way that sharing is the only way to go here) and these small sides and
were beyond full. We couldn't even imagine what would have happened if we both ordered our own. Oye!

We headed to a place called Club del Vino for some wine and dessert. My sister read about this place over and over again. Imagine
our surprise when we walked by a completely dark building with the writing 'Club del Vino' across the top. It was closed. It is a
Friday night. We went by at 10:30pm (when they open at 8:00pm). How could this be? With all of the write-ups, it couldn't
possibly be closed due to lack of business. Could it? Standing in front of a closed wine bar wasn't going to change things so we
headed to Bar Uriarte – a place Michelle and Clarke went when they were here last time. We wrapped up our night with something
to drink to go with our dulce de leche crème brulee.



May 5, 2007


7:30am


I am sitting here typing while watching my sister pack up her stuff. It is time for her to leave today. It is sad to watch. Even after
our little fight at dinner last night, I'm not ready for her to go.


However
, the thing that makes me not-upset about this is that my friend Lauren is mid-air right now due to land in Buenos Aires
at any minute. I get to spend the day with both Lauren and my sister. And then when Michelle leaves, it will be time for me and
Lauren to get our Buenos Aires drink on!

But still it's sad to see my sister pack. Oh. She just alerted me that if I need her to bring anything of mine back with her, I need to
give it to her now. Gotta go. I can't let an offer like this go to waste…

6:00pm

I just watched the taxi take Michelle away to the airport. I hate watching people leave. That is something that I haven't gotten good
at during this entire year of traveling.

The good thing is that Lauren is now here. This is a city that I would have a much harder time traveling in by myself than other
places I have been. Maybe this is because I don't actually have to??? Going to restaurants and bars here would be nowhere nearly
as enjoyable without people to enjoy them with.

We didn't really do much today besides wander around different parts of Palermo. But it was still rather enjoyable. We got some
great empanadas for lunch at a place called La Cupertina and then followed up with some ice cream at a place called Persicco
(Michelle and I shared the dulce de leche with brownie and the 'flannito' flavors).

Lauren and I are now getting ready to hit the streets again.


12:00am


What is it about me that I am so capable of getting drunk? We went to a café/bar for dinner. I brought my computer with me so
that we could do some research on estancias since we decided it could be good to do a little overnight outing during the week to one
of them.

Wine + research = not the best results.

We didn't really look too hard. I think we stopped our search thinking 'Well, we can ask the place we're staying at if they know of
any places…'

We hit up one more bar where Lauren attempted to get her buzz on. By this point, I was parched and knew that another glass
might be the end of me. So I watched Lauren drink. I barely remember what we talked about. But I know it was a good time. It is
nice to have her here…

Eva Peron et al in Caminito.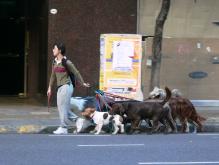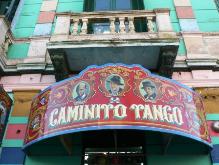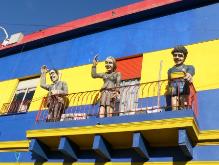 In Caminito.

A dog-walker.