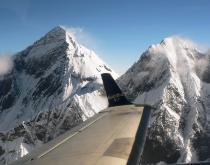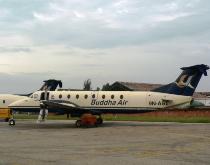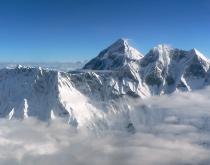 Buddha Air,
Flight 101...

Mt. Everest from Buddha Air.

Our plane..

Pretty mountains.

September 11, 2006


I might as well just change my middle name to 'I think I'm going to splurge on (fill in the blank) while I am out here'. After all,
it seems as if I say something along these lines in every new country I go to.

In all, there are eight different mountains in Nepal that soar over 8000 meters into the sky. At this point, I still had yet to see
any of them. Only one day offered me a brief glimpse of a few different mountain tops. But that wasn't good enough for me…

As the trend seems to go, I decided to splurge on something while I was out here. I thought it would be pretty cool to take a
'mountain flight' that goes around Mount Everest and some of the other 8000+ meter mountains that exist in Nepal. This way
not only would I be guaranteed to see the Himalayas, I would also be guaranteed to see the Grand Poobah of them all.

I would also be lying if I said that the idea of taking a flight on an airline called 'Buddha Air' didn't have something to do with it
as well. What a great name!

Geez…the irony that I am now surrounded by all things 'Buddha'. Only people that have known me for a while and ever came
over to my house that I grew up in would understand. My dad had some fascination with collecting Asian art…and that
collection consisted of many o' Buddhas. As a kid, teenager and even an adult, this embarrassed me and my sister incredibly.
We literally had a big Buddha at the entry way of our house and countless other Buddhas in other places. We constantly got
asked if we were Buddhist. We also had other friends that got a kick out of dropping to their knees and bowing each time they
entered our house. It got to the point that I would warn people (who had never been to our house) what they were going to be
in for when they came over.

For these reasons, I carried a big grudge for most Buddha-type things.

It wasn't until I went to Japan last January that I really started finding so much beauty in not only Asian art…but also in
Buddha statues. While in Sri Lanka and now while in Nepal, I would be surrounding myself with all of these things again.

Talk about digressing…but I just had to put my history with Buddha out there. I find it funny that I am now choosing an airline
based on the fact that it was named after Buddha (truthfully, I found it really cute). Not only that, I figured there was
something about a plane named after Buddha that would make me a bit more safe…

Back to my flight…

We boarded the 18-seater plane and flew up into the sky. When Mt. Everest became visible, the flight attendant came around
and pointed it out to each of us individually. She also allowed everybody to go up to the cockpit (one at a time) to see the
mountains from where the pilots sit.

I am really glad I did this. I mean these mountains are massive. All I could think was that people have to be just plain crazy to
decide to climb it. To put it in perspective, the height is almost
five miles
into the sky. Personally, I was happy to see it from a
plane without doing much work. Though I would be lying if I said there isn't some desire to try to trek to base camp at some
point to accomplish such a feat. I do realize how easy it is to say that…
doing it
is something entirely different. On second
thought, I think the altitude has altered my thinking and is making me think these delusional thoughts...