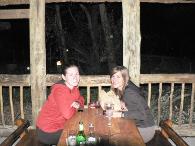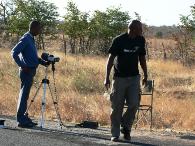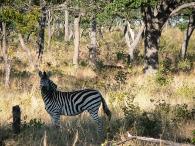 Driving Through
Botswana...

Lori and I enjoying some wine.

Ken getting busted by the radar gun.

A zebra on the side of the highway.

July 28, 2006


We picked up an addition to our crew – Florence from France - before we headed across the border to Botswana. After a quick
stamp in the passport to exit South Africa and another to enter Botswana, we were on our way to Nata.

Ken was obviously a bit too anxious to get to Nata as the radar gun on the side of the street busted him. A policeman waved
our van over. Ken tried to do some negotiating to lower the fine. As he was looking frustrated, our crew was laughing from the
sidelines…and even taking pictures…as Ken did all but beg to get out of this ticket. A few minutes later he trotted over with a
big smile he was trying to hold back. Once we got out of there, he informed us that he got out of the ticket altogether. He
basically told them that they had to lower the fine because he couldn't pay it since he did not have his own money – he only
had the money of the tour company. He explained that the tour company wouldn't pay the amount that they were asking. In
the end, he left without having to pay a dollar (or in this case, a pula).

The landscape through Botswana, more or less, was lots of trees. Or as Ken puts it…dead trees. I can't help it – I think the
bare acacia trees look beautiful. They truly give an African feel to the land. Let me take this opportunity to also state my
appreciation of the baobab and marula trees. So many bare branches. So much to love.

We reached our goal of arriving at the Nata Lodge before the sun had set. This was important for tent-pitching purposes. While
I am comfortable now with setting up the tent, I am definitely not in the mood to challenge myself by pitching it in the dark.

Before any of this could happen, we had to check in. Let me start by saying that the Nata Lodge was different from any of our
previous four campsites.
Far
different. It was, in fact, a nice lodge. The type that people on non-budget safaris stay at. I
inquired about the price of a room. I thought it was a deal at under $100. The only problem is that I have changed a bit in
regards to knowing that $100 can buy me
a lot
in this part of the world. And the fact that we got there as the sun was setting
and we had to wake up at 4:00am. And the fact that I would be staying in comfy-cozy conditions once my camping-for-a-week
experience had concluded. Because of all of these things, I resisted the urge to check myself in. I decided I would find some
common ground. Once Lori and I took showers, I suggested that we got to the bar that was next to the pool to have some wine.
At least this way I could have an hour where I could
feel
like I wasn't camping.

We finished the evening with some grilled burgers. Then it was time to call it a night considering our 4:00am wake up…


July 29, 2006


Another early morning. A
very
early morning. We were well on the road by 5:00am en route to Zambia. Only about a three-
hour drive from Nata to the border. The best part about this drive was the animal sightings from the side of the road. This is
what Africa is about. The raw nature of wildlife. We saw giraffes, zebras and elephants. Right there on the side of the road.
Though this far from counts as 'time in Botswana', at least it ended with some viewing excitement…