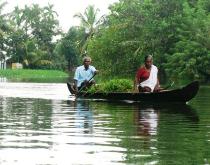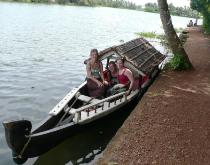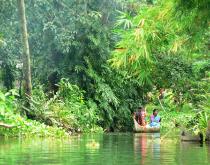 The
Backwaters of
Alleppey...

Going through the backwaters.

On our boat.

More of the backwaters.

August 28, 2006


The backwaters of Alleppey. Not even accessible by the auto-rickshaw driver who drove me here. I would have to walk along a
canal an additional three-hundred or so meters to reach the place I was staying that was recommended to me by a guy at the
Cochin airport.

I was blown away by what I was seeing. This was one-of-a-kind scenery. Because I am me and I have to make a comparison for just
about
everything
(painful to many), this was reminding me of something like 'Pirates of the Caribbean go to Venice'…though the
pirate ships were replaced with houseboats of different sizes passing by here and there. The canal had many gondola-style boats
lining the edges. There were no bright and colorful buildings like you see in Venice; instead there were just shades of browns and
greens both in and around the water. I had only been here for not even two minutes and I already found this place gorgeous and
peaceful and relaxing.

I immediately met people when I arrived at the hotel - though I was a bit more consumed with thoughts of wondering if they would
have an available room for me (they did). So I moved myself into the Malayalam where I would have a patio that would look right
onto the backwaters that were just a couple meters away.

This tranquility would come in extremely handy. For the first time in over four months…and it kills me to say this…I have myself to
be sick. I take great pride in 'never being sick'. I guess those days have kind of come to an end. It could have
something
to do with
going out in Mumbai last night (with an Aussie I met at my hotel), in addition to the night before in the Maldives when sleep was
pretty much a non-occurrence. My head was now in one big fog and I could barely think straight. I was still functional so I took this
opportunity to meet my neighbors.

To the left of me were Hanne and Henriette from Norway. They were traveling around India for a little while. Within minutes they
told me about a boat-ride that they had booked for the next day and asked if I wanted to join them. This sounded great as it would
just be the three of us cruising through the backwaters on a little boat. I told them to count me in.

To the right of me was Claire. She was from France (Chamonix, to be exact) but had moved to Alleppey a couple years ago. She
married a man from this area and now they operate a houseboat business out of this area.

This area was a world away from the actual town of Alleppey. While many people had said prior to my coming down to Southern
India that it was nothing like Northern India, I have to say that I noticed many India-esque qualities when driving through the
center of town. But I was now in an area void of those qualities…and I have to say that I was really enjoying it.

Hanne, Henriette and I hung out with a group of guys who were friends with Jose (the nephew of the owners of our hotel) and
learned a game called 'carrom'. This was more-or-less like playing tabletop pool with your fingers. Soon a little feast was prepared
for all of us. To make things even better, one of the guys brought a bottle of wine. A bottle of
Zinfandel
wine. A bottle of Zinfandel
wine
from India
. Even more shocking was the fact that it was really good. I actually ended up having a pretty early night
considering my head felt like it was going to implode.



August 29, 2006


This morning started with a great Southern Indian specialty of a crepe-like thing stuffed with coconut and brown sugar and
wrapped and steamed in a banana leaf.

And now it was time to cruise the backwaters. We had a nicely covered boat and the three of us sat our lazy butts in the boat while
the two guys rowed. We passed people bathing in the waters, people washing pots and pans in the water and even people plucking
chickens in the water (yuck!). We had a little chai break in the middle where we also saw the rice fields. Then the three of us just
continued to sit and enjoy our ride.

Because this day was just oh-so-physically-exerting, I took a nap (in my defense, this was definitely due to my being sick). I had to
be woken up for the lunch that was made for us (fish curry – yum!) and then I went back to sleep. I definitely was bound to win
some sort of award today for being such a lazy slug.

Later on I went over to Claire and her husband's home. I had the idea to head off to Munnar tomorrow and they told me I could
come over to look at possible places to stay. Jose had an auto-rickshaw take me there (since I obviously hadn't a clue where the
house was) and they let me get on their computer to check places out. They were just the sweetest. Not only did they bring out
some tea and cookies…they also brought out the excellent French sweets called 'Callissons' (from Provence). Their home was very
nice and Claire told me that they pay 40 Euros a month in rent and another 60 Euros a month for a person to do the cooking and
cleaning. While those costs sure aren't bad, you sure will not find me moving to India anytime soon. This neighborhood was nice and
quiet…though the hustling and bustling India existed just five minutes away. The sun was going down so they had their driver
(another luxury you have when you live out here) give me a ride back to the hotel.

We all had a final dinner together before making our way to Cochin tomorrow. Hanne and Henriette will be staying there and I will
be making my way up to the mountains in Munnar.

In the meantime, I am going to hang out on my little patio tomorrow morning and take in as much of the backwater scenery as I can
before I leave Alleppey…