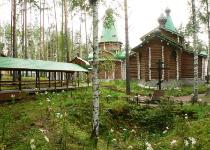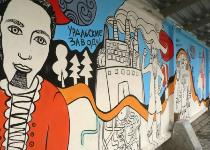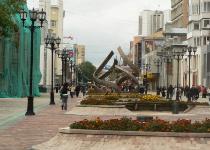 Yekaterinaburg...

At Ganina Maya.

Some of the street art.

The pedestrian area in Yekaterinaburg.

September 18, 2006


We have arrived in Yekaterinaburg. We got in pretty late so not much has been done (with the exception of a group picnic that we
had in the hallway of our hotel). But I can tell right off the bat that I think I am going to like this city.


September 19, 2006


Well, I am definitely increasing my Russian history knowledge out here.

For starters, this city has not always been called 'Yekaterinaburg'. During Soviet times, it was renamed 'Sverdlovsk' after Yacob
Sverdlov – the man who would ordered the massacre on the Romanov family. It was only in 1992 that the name was changed back
to Yekaterinaburg.

We made a group decision to go to Ganina Maya (I am sure my spelling is way off but it sounded something like this). This is a
monastery that houses seven different churches. All of them looked somewhat like log cabins. That, in combination with the freezing
cold weather, made me feel almost like I was up in Lake Tahoe. The churches were very warm and cozy on the inside. We even
walked into one of them while the priests were singing. Rather beautiful. More beautiful sounds were the church bells outside
amidst the silence of being out in the middle of nowhere. Churches aside…this place is more commonly known for something else –
this is where the Bolsheviks dumped the murdered bodies of the Romanov family (Tsar Nicholas, his wife, their four daughters and
their son) in 1918. There was a memorial set up at the very site that their remains were found. It was quite moving. Especially to
think that 1918 really wasn't all that long ago. Heck, all of my grandparents were alive then (one set was actually even young
adults).

From here, we made our way back to the city and stopped at the Church of the Blood. Construction on this church began in 2000
and was just completed in 2003. It is actually on the actual site where the Romanovs were murdered. This church was built to pay
tribute to them and it does a very good job. The seven of the victims have memorials paid to each of them. There were also
photographs of them which made everything so much more real than just 'hearing' the story about them.

Afterwards, Catherine and I headed into town and ventured into the great pedestrian area complete with great streetlights, live
musical entertainment and some fun copper statues. It was the perfect place to just sit on a bench and watch the people coming and
going.

We decided to save some rubles and eat our groceries from last night for dinner since we know we are going out tomorrow night. We
ended up wrapping up our night just chit-chatting for hours in our room.


September 20, 2006


I would love to say that I familiarized myself with more Russian history today. But I can not. I have actually been left with more
questions regarding Russian history after today…

Considering our bus leaves at 1:45am tonight, we had literally
all
day to explore this city. It was the perfect reason to check things
out that I might not otherwise.

A photography museum might not normally rank up there on the 'to do' list. But when a person has all day in Yekaterinaburg, why
not go check out the photography museum? Let me say that I am glad I did. Not only did they have some English descriptions and
stories, they had some amazing award-winning photographs (as there was a Reuters exhibition) from different conflicts in the world
(e.g. Palestine), political events (e.g. Putin showing Bush how to drive his car), sporting events (e.g. a Phoenix Suns – San Antonio
Spurs game) and movie premieres (e.g. Angelina Jolie at the 'Mr. and Mrs. Smith premiere).

From here, we headed a couple blocks over to the War Memorial Museum. I think Catherine and I both could have benefited from
some English translations of what we were looking at. What I do know is that a lot of it was geared towards World War II and the
USSR's involvement from 1941-1945. Another part was geared towards the war in Afghanistan from 1979-1989. This made us ask
each other why Russian and Afghanistan went to war with each other. Neither of us had answers. Onto the next part of the museum
where there was a piece dedicated to the shooting down of America's very own U2 pilot, Gary Powers, in 1960. He survived but
parachuted right into the arms of the Soviets who then got out of him that he was actually sent by the United States as a spy.

Across the street was a memorial to the victims of the Afghan war. The statue here was amazing – completely somber and touching.
It was at this point when we both said to each other that we would have to do an Internet search to find out some more details
about this.

Almost our whole group met up and went to dinner tonight at a restaurant called 'CCCP'. I have no idea why I am so drawn to these
four letters…but I am. I even bought an ice cream bar today that was called 'CCCP'. After all, how many times can a person have a
Soviet ice cream treat???

I had my best Russian dinner to date – blinis with smoked salmon. Ohhhh…were these good!

Now we are all just hanging out and waiting to head over to the train station for our brief fifty hour train ride on the Trans-Siberian
line out to Irkutsk…