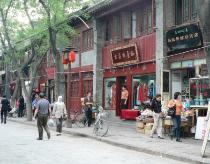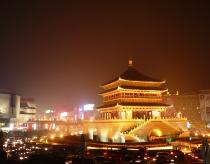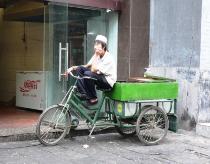 Xi'an: More Than
Just Warriors...

The old Muslim part of Xi'an.

The Bell Tower view from my hotel.

A Muslim guy pondering life.

October 11, 2006


I love being pleasantly surprised. I really, really do.

To say I was not expecting much when I planned on coming here is an understatement. I came here mostly because I felt that I 'had to'.
The Terracotta Warriors are right up there with the Great Wall as far as things that a person 'must' see while they are in China. That
being said, I have heard mixed reviews of this site. I came here choosing to focus on the negative reviews people gave me so that I don't
expect too much. I really would love to be amazed by what I see when I go out there tomorrow morning.

I was under the impression that the only thing Xian had to offer was the Warriors. I learned today that I was way off.

After being in Yangshuo (which is no doubt a backpacker's haven) for a few days, it felt great to be back in 'China'. While there were great
things about Yangshuo, the center of the town far from epitomized 'China'. It seemed more like a place that many stay extensively to get
out of China. Just my two cents.

I walked near the Bell Tower and found a hostel…and I really hesitate to call it 'a hostel' as it is really a fabulous room with a fabulous
view. Everything was off to a good start – just the way I like it.

I could already tell from what I had seen on the bus ride in that this was a city where old meets new. Where east meets…well…Middle
East. Oh, did this bring back memories of when I was at the beginning of my trip in the Middle East. The reason for this is because this
city served as the end of the Silk Road way back in the day. Due to this there is a large Muslim population here.

And where there are Muslims, there are souks. And that is where I would be heading…

As I was strolling around a girl came up to me and asked where I was from. I answered 'America' knowing exactly where this was going.

Girlfriend, I am ready for you. Bring it on, sista…
She then responded just as I predicted – "Welcome. I am an art student and there is a
gallery ---" Before she could even finish the sentence, I barked "No." There is no such thing as being cordial with these scam artists
anymore now that I am onto them. It was almost fun being approached this time around. Since I plan to go back to Tiananmen Square
when I am back in Beijing for a couple days, I can be sure that I will be approached many times. They better hope that I wake up on the
right side of the bed or I am thinking that I might teach them some new 'American terms' as they prepare to scam me – terms that they
definitely
haven't
learned in their English classes.

I spent a good amount of time browsing the stalls and checking out the offerings. I am doing my best to not buy junk in these places. That
being said, there is one item that I saw today that is going to be hard to resist. The Mao watch. His arm waves. Why am I so drawn to
this? I have no idea.

I am still mentally damaged from what I saw at the market yesterday. When I saw dogs roaming the streets today, I felt ill. When I was in
the Muslim part of town, I was hoping there wouldn't really be meat as I know that a lot of Middle Eastern cuisine leans towards non-
meat items. I should've remembered that I am still in China so this would be far from the case. I am not kidding when I say that at one
stall, near the food that was cooking, was a pile of skulls and hooves of animals. Are there people that actually find that appetizing???

Around dinner time, I was craving some steamed buns. But now that I'm a pseudo-vegetarian, I was setting out for ones only filled with
vegetables. I came to a great-looking stall. Clean and around six different varieties. Surely one would not consist of something that used to
have a pulse. But the girl working there didn't speak English at all. I even tried to say 'weh-jee-tuh-bull' which is the only way that the
Chinese people that
do
speak a bit of English say the word. She didn't understand that either. So out came my Lonely Planet. Now I have
to ask a question… How can they find it necessary to have a translation for 'May I breastfeed here?' but not for 'vegetables'? I mean

especially
in a country like China where so many people would rather opt for veggies in lieu of being served 'mystery meat'. This just did
not make sense to me. She ended up serving me a steamed bun with bean curd. Not really my thing but it would have to do.

Before going to bed, I checked about plane tickets to get back to Beijing. Oh, how I love the Chinese airlines! The ticket was only $6 more
than being on a rock-hard overnight sleeper train back to Beijing. A no-brainer? You bet!



October 12, 2006


Today would be the day that I would go to see the Army of Terracotta Warriors. My faith in Chinese people was a bit restored as a girl
kindly offered to show me where the bus to the Terracotta Warriors was after I got off of my initial public bus ride. Don't get me wrong…I
was skeptical the entire time we were walking. How could I not be? But once we got to the bus stop, I thanked her and she said good-bye.
She truly just showed me the way out of the kindness of her heart. Now
that
is what I'm talking about, people. Is it really so hard?

After getting back from seeing the Warriors, the rest of my day consisted of roaming around the streets. This is what I saw…

A taxi driver and another man getting in a fight. An open-the-car-door, pull-the-taxi-driver-out-by-his-shirt kind of a fight. I have no
idea what was said but it lasted for at least seven minutes – a long time for something of this sort.

Restaurants that had both Arabic and Chinese writing on their signs. How fun is that?!

'Nutritious beef penis in a pot' on a menu. Mmmmm…. Where do I put my order in?

The Mao watch was looking at me again today in the market. Who can resist Mao waving to them???

A five-year old little girl (give or take a couple years) doing a contortionist routine on the street. Watching this kind of stuff still makes me
cringe. I just really think a spinal cord was not meant to be Gumby-like.

A guy and his girlfriend getting into a fight on the street outside of my hotel. A big fight. It involved a cell phone broken into many pieces
on the street. Once again, it's too bad I can't understand Chinese. Would have been fun to know the details.

That pretty much wraps up the excitement for my day. Another day in Xi'an awaits me tomorrow!



October 13, 2006


The typical person really does not spend this length of time in Xi'an. Most are in and out within a day – just enough time to see the
Warriors, maybe a couple things in the city and then leave the next morning. I could have gone back to Beijing today but I had a good
reason not to. My panda bear tour has me staying at a fancy-schmancy hotel in Beijing for a couple nights. I would not be able to pay the
price on my own so I would have to stay in another (read: cheaper) hotel and then move to the fancy-schmancy digs. Moving sucks and it
is a big pain in the arse. To avoid any inconveniences for myself, I opted to stay here tonight and take the first flight out tomorrow
morning.

This morning was going to center around one activity – walking the City Walls. As I mentioned previously, this is a walled city and the wall
is constructed so that people can walk on top of it. I met up with Rosie (a girl I met at the Great Wall) who also happened to be in Xi'an
and we went on our way. She had to cut her time short on the wall as she had a flight to catch. We said our good-byes with the possibility
of crossing paths in South America. I ended up walking the 14 km (or about 9 miles) around the entire thing. I am sure at one point in time
the views were incredible. However, we really didn't get views of much more than smog. Thick smog. Smog that makes Los Angeles look
like a breath of fresh air. There were skyscrapers just blocks away yet they were barely visible. I don't even want to know what I ended
up inhaling today. This was one of those times when ignorance was bliss.

I had one interesting interaction and one interesting sighting on my way back to my hotel…

Interesting interaction: I was looking around to get something to eat. I stopped in a place and asked a question (I forget what the question
was…but that is beside the point). His response? "Do you speak English or Chinese?" I am (sadly) as unilingual as they come. Should I
have been insulted? I don't know. I actually thought it was quite funny that he had to ask if I could speak English to him as if I was just
speaking some other language to him

Interesting sighting: There was a big crowd gathered around on the street. The kind that gathers around for a great street performer. I
wanted to see what was going on. I worked my way into the crowd and managed to see what the commotion was about. There were no
dancers. There were no musicians. There were no artists. So what was there? I man standing with a stroller in front of him. He was just
standing there. With the stroller on display. Doing nothing. So why such a big crowd? Well, it wasn't just
any
stroller. It was a stroller
designed for two children. Anywhere else in the world this would be no big deal. But this is
China
. Land of the 'one child' law. And here, to
people's amazement, sat two identical twin baby boys. There was a sign written in Chinese and I'm assuming it had something to do with
the burden of financially taking care of two children. I only came to this conclusion because people would read the sign and then throw
money on the ground towards the man. I was just left wondering 'I wonder where he ended up getting that stroller from???'

Now it is time to head out for one last outing in the Muslim Quarter. Then it's time to pack up and move this party back to Beijing…