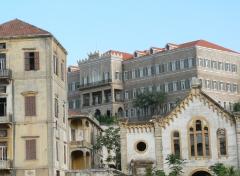 Why Beirut???

May 7, 2006

A long time ago when my friend came back from traveling to Europe, I bombarded her with questions. Having never been to
Greece, I asked her how it was. Then I asked, more specifically, about Athens. She got a disgusted look on her face and said
"It was like Beirut." And with that comment, I knew exactly what she meant…a city that was dirty and full of debris, etc. We
were on the same page as each other. What we were clueless about was how very wrong our assumptions were!

I am going to take a piece out of a journal that I wrote when I was sending e-mails from my trip to Dubai in October of 2004:

"...Thanks for listening to this adventure! I have a new one in mind for sometime in the next year or two....some of you will
think I am out of my mind....but I want to go to Beirut, Israel and Egypt. Everyone over here says how amazing Beirut is....
the Paris of the Middle East that has totally gotten rebuilt since the war. Any takers??? I have a feeling I might be doing
this one solo! Hehe. But I promise...it would be amazing!"

This was after a combination of two things: talking to people in Dubai whose dream location to visit was Beirut and then
seeing a cover story in the Travel section of the Sunday paper in London when I was on a layover from Dubai to San
Francisco. At that point, I knew I had to go and I sent a final email to my friends expressing this desire. Who knew that one
year and seven months later I would actually be here???

And as first impressions go, I think mine is pretty dead on. My airplane consisted of almost a majority looking as if they'd
come from South Beach, Florida. My driver picked me up in a nice Mercedes while listening to Jay-Z and Beyonce.
Approximately half the cars here are Mercedes, BMWs, Audis, Jaguars, etc. While there is definitely still evidence of the war,
it's clear how much they're doing to revamp their city. Construction is going on all over…especially in between the Port and
the Corniche. A Four Seasons Hotel is currently being built right there…in addition to several other buildings overlooking the
sea. More shops are being built (to be added to the Elie Saab, Emanuel Ungaro, Escada, etc. that are already here).
Restaurants range from Lebanese brasseries to Italian restaurants to tapas restaurants to Japanese restaurants. And these
are just the ones that are housed in the downtown area (which is one of the most charming 'downtown' areas of a city that I
have ever seen in my life).

Upon being here for 10 minutes, I knew I had to stay longer than I had planned. I extended my hotel stay and plan to let you
know how the rest of my time here goes!

Some buildings in downtown Beirut.