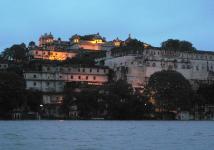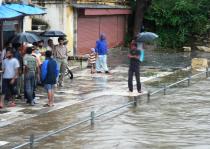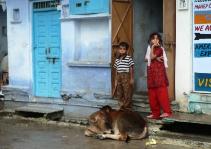 Udaipur: 'The
Lake City'...

The City Palace from my hotel room.

Here come the floods.

Instead of a 'cat-nap', it's a 'cow-nap'.

August 18, 2006


While this city has the nickname of 'The Lake City', it was interesting to find out that in the summer, a lake actually does not
even exist. Kumar told me that it can get so dry that he can literally
drive
people to the Lake Palace hotel (a hotel that sits like
an island in the lake). Fortunately, I get to see a 'lake' as monsoon season was friendly to them this year. Unfortunately, the
rain gods are still hard at work as I have already experienced three full-blown monsoons…and this is just within my first eight
hours here. Just gotta take the good with the bad, right?

This whole area around the lake actually reminds me a bit of Venice. The lake would is sort of like the Grand Canal. One thing
that is missing is the network of small canals. Okay, that is a pretty major thing. But there are the bridges and the beautiful
buildings sitting right on the water. And depending on Mother Nature, the water levels can either be really high or really low.
And there are boat rides. So it was interesting to see a little piece of Italy in India (though others may think this comparison is
a little off-the-mark).

There was one little snag upon arriving here. When we got to the hotel I was going to be staying at…um…how do I say this?
Well, I was more than disappointed and I was not going to sleep in the room for even two minutes. Now
there
I would
experience some funky smells. The company I am going through definitely had good intentions as it is managed by a high-end
hotel chain out here. Sadly, their two properties on the lake were sold out so I was staying at the 'maharaja's old hunting
grounds'. Sounds pretty decent, huh? Well, first…I am a girl and I don't really care about hunting grounds. Being there for any
longer than the few minutes I was already there was going to put me in a deep depression so I knew that I needed to get out. I
would now go into town (did I mention that this hotel was over twenty minutes away from the center of town?) and try to seek
out a new place to stay. First I decided to stop at The Spice Box so I could sign up for a cooking class tomorrow. Shakri asked
where I was staying and I explained to him that I needed to look for another place. He said he knew of a great hotel and in five
minutes I was on the back of his motorcycle and we were on our way over so I could look at a room. It only took the guy to
open the door to the hotel room for me to say 'Hold this room! I will be back in an hour.'

When I met up with Kumar, I told him I found a place and now it was time to do the run-around. We drove back up to the
place where my stuff currently was. They tried to offer me the big suite – their 'nicest room in the hotel' – to try to get me to
stay. I knew even if they offered my access to every room in the entire place I was not going to stay there. Sure enough, the
suite was just a bigger version of being in a grandparent's house. That is fine if you are, in fact, visiting grandparents. It is not
fine if you are here to see a beautiful town on a lake. I wrote a lengthy letter as to why they needed to reimburse my tour
company for my non-stay. And then we were on our way. This was the first time I was able to have a big smile on my face
since I arrived. I mean I literally felt like crying at the idea of spending two nights in that place…I know it sounds extreme but
I really did.

Now I am at my absolutely wonderful room that is right on the lake. Seriously, the water is just a few feet below the window
cushions that I am sitting on right now as I am writing this. The views are superb. It is raining and the power is currently off. I
have lit the candle in the hurricane that is in the room and have popped open one of my bottles of wine. I am now just looking
out at the lake, the palace and the other buildings that are sitting on the water (they do look like they are
literally
sitting on the
water due to the high water levels). Honestly, this almost feels too romantic to be by myself right now. The only thing that
could make this better would be to have a boyfriend here.



August 19, 2006


Silly me. It turns out that I got romantic with myself last night for no reason. I found out this morning that there was no power
outage yesterday…I just did not have the main switch to the power turned on outside of my door.
Doh
. In any case, it made for
an excellent ambiance last night as I probably would not have sat in the dark if I
did
have power.

Now it is time for me to express my sincerest gratitude for the person who invented the umbrella. I do not think that this
person gets enough credit. What a brilliant individual. I would be reminded of this several times today as for almost nine hours
straight it just rained and rained and rained. It has rained
so
much that the lake has literally overflowed and is flooding.
Outside of the old city, people can't even leave their houses. Many are being told to evacuate but, much like in situations at
home, people are refusing to leave their homes. School was cancelled. People were standing on the bridges in amazement of
what they were seeing and the levels of the water.

But enough of the floods. Let's talk about my day (look how self-absorbed I have become. Hehe.)…

Before my 10:30am cooking class, I went to a café to start my morning. There I met Maartge (pronounced 'Margie') from
Holland. (She could have been my friend Natalie's twin sister – their personalities aren't the same but they looked the
exact

same. It creeped me out a bit.) I told her about the cooking class I was going to be doing and she decided to come along
(especially since it was all-too-perfect weather to do something like that). In addition to us was Michael (from America). It was
a great time (see:
The Spice Box
). Afterwards, I did a bit of looking around at shops and then Maartge and I ended up at a café
again to get out of the rain and have a hot drink. Something shocking happened at around 4pm when we were there. The rain
stopped. Was this a dream? No. Maartge and I parted ways and I went to my hotel so that I could get ready for a 5pm yoga
class.

I headed across the bridge and had to pull my pants all the way up to my upper thighs to even get to the bridge. When I would
get to the yoga place, I would meet Lisa (from Germany) and Aoife (from Ireland). They are on holiday and are traveling
around India together for a few weeks. We would also meet Bablu – our yoga instructor. Before we started, he shared with us
that there has not been flooding like this since 1972 and that this is the first time he has ever experienced this. The people here
are having a great time seeing this rare occurrence. He even told us that we should feel
lucky
for seeing such a thing. Hmmm….
Still a bit hard to consider myself lucky while being stuck in rainy weather all day today. But now it was time for yoga. Once
class started, Bablu was great and I felt like the movements were doing a lot of good for my beginner-yoga body. I am going to
make a big effort to try to practice these things on a daily basis.

After class, Lisa and Aoife asked if I wanted to meet up with them for dinner. We agreed on a meeting time and meeting place.
It was great having dinner with people again and they were fun to talk to and hang out with. We also went to a restaurant that
showed the movie 'Octopussy' (just about every restaurant here shows this movie nightly because it was taped in Udaipur).
Watching this made me think of my mom as she was a James Bond fanatic. As a kid, I remember thinking the name of this
movie was a funny name. Now, being older, it kind of grosses me out that my mom…let me repeat…my
mom
would love a
movie with such a name.
Ewww.


Lisa and Aiofe are leaving tomorrow morning so it is questionable if I see them again as I am not sure I will be awake for the
morning yoga class.



August 20, 2006


While I knew there were actual floods going on outside of the center of the city yesterday, I assumed we were experiencing a
bit of that as well since I had to pull my pant legs all the way up to walk towards the bridge. I assumed wrong. How would I
come to this conclusion? Because it would be
today
when I would experience what flooding is all about.

The first sign: I saw the restaurant at my hotel (the one that Lonely Planet names as one of the most romantic restaurants in
the city) covered feet high with water. I literally could not even see the legs of the chairs…and you couldn't even think about
walking up to the tables as the entire area was like this.

The next sign: When leaving my hotel, I had to pull my pant legs all the way up and step slowly (as to not have one of my flip-
flops slide off in the murky brown water) for the entire walk out to the main street begins.

The last sign: Locals filling the streets
everywhere
to watch what was going on and take pictures. Every conversation that was
going on in town with the shop owners and locals revolved around the water levels.

I was a girl with a mission today and despite being knee high in filthy water, I made it to the yoga class. Floods weren't going to
stop me from improving my posture, flexibility and breathing techniques. I realized this morning that Bablu reminded me of
my all-time favorite turbo-kickboxing teacher, Nitin, in San Mateo. Well, Bablu was nowhere near as funny (I don't think that
is allowed in yoga, anyway). And I am almost positive that Bablu was nowhere near as gay, either. But he looked so much like
him that it almost made me want to start doing jabs and uppercuts.

It's amazing the energy I have after yoga. I took this energy and moved it to my little café that I love. Obviously it's not 'mine'
but I have taken such a liking to it that I find it being my place of choice to grab a quick bite or drink. I fueled up with a banana
lassi and pineapple pieces to start my day.

It was then time to make the dreaded walk back to my hotel so that I could get my stuff ready so that I could check out.
Luckily there was a stair right in front of the door to my room. I say 'luckily' because water was now coming up on the surface
of the ground. The timing could not have been better to check out as who knows what the water level would have been like
tomorrow. Common sense would have made me thought that since it stopped raining last night, the water level would have
subsided a little bit…but it was actually the exact opposite and was just continuing to rise as time went by. So much for my
common sense, huh?

I went back into the center of town and decided it would be the perfect opportunity to take an art class. Madan would be my
teacher. The first step was for me to pick a picture I would want to draw. I was torn between a camel and an elephant but
ended up going with the ellie considering it is more 'Indian'. Though Madan helped smooth out the edges of my elephant
drawing a bit, I was very impressed with my abilities. Then came time to paint the little guy. Once again, I was impressed with
the outcome. Of course there were a couple times that my brush slipped a bit or I didn't do something to perfection. At these
moments, Madan would let out a gasp. He even tried to grab the brush from me to correct it…but I wouldn't let him have it. I
wanted it to be
my
picture…imperfections and all. I think this pains art teachers as they think those little things reflect on
them. He also made it clear that he did not like my elephant's toes. I just shrugged my shoulders up as to say 'Well, there's
nothing that can be done about that now.' I think we were both happy with my final product…it is about a 3" x 5" silk piece of
an elephant adorned in red. After seeing this, you can feel free to call me Jen Renoir.

When it was time for me to go to the train station, we would come across a little roadblock. That being that my train from
Udaipur to Ahmedabad was cancelled due to water flooding the tracks.

Now is the time to put something out there. Just because I have been traveling for a while now, it does not mean that I don't
revert into '
Oh, crap
' mode at these times. All I could think was that I was screwed because I had no idea how long it was going
to be before the trains would start running again. I was getting nervous, panicky and moody. I needed a solution right then. I
had a trip to the Maldives riding on this…

In my worried state-of-mind I forgot to even think of taking a bus. I had only thought of trying to attempt to book a flight. So
the bus would bring me to Ahmedabad and then I would hop on the train from there to Mumbai.
Ahhhhh
. I can not stress how
big of a relief it was to have a solution.

I have to talk about this bus ride though. It was unlike any other I had ever taken…and I have been on many overnight buses.
I basically had a 'sleeper' seat. The bus was set up where the normal seats were on the bottom and then there were bunk-bed
type of ladders to the sleepers. All I can say was that this whole experience was just so disgusting in every way. The bus had
no air-conditioning and the driver wouldn't let me open my window since it was raining out. I wasn't sweating but my entire
body was sticky. Gross. I was sharing the bed with my backpack, my big bag, my purse and my shoes. I actually realized just a
little bit ago that I was also sharing it with a mosquito based on the thirty or so new bites that I have on my feet, legs, arms
and neck. Lovely.

I am now on the train ride to Mumbai. Thank God this journey is almost over and I am
that
much closer to the Maldives. This
train is okay, actually. I am on the AC-2 car and I highly recommend this nicely air-conditioned option. It is almost like being
on a train in Eastern Europe. Not very nice but totally manageable. Plus there are vendors that walk up and down the aisles at
stops that remind me of a cross between vendors at a baseball game and being at a Chinese restaurant for dim sum (mostly
because you have no idea what half of this stuff is). Similar to the way I get during dim sum when they bring the pork buns
around, I had that reaction to the guy with the ice cream and snagged on of those bars.

In the meantime, soon I will be in Mumbai…though I do not have a clue in the world where I am going to stay or what I am
going to do. I guess it is time to consult my Lonely Planet…