Last Stop in
Vietnam: Saigon...

November 26, 2006


I love airplanes. I do. I really,
really
do. I have come to realize my appreciation for them after all of my bus rides in this country. I especially came to
realize this after I arrived in Saigon only
one hour
after being in Danang.

Will (my good ol' motorbike driver from yesterday) arranged for his taxi-owning brother to take me to the airport. In addition, he also volunteered
his brother to show me a couple sites in Danang en route to the airport (all while charging me the same amount that the airport taxis charge).

He first dropped me off at the base of the Marble Mountains. I walked up to find something that was almost a playland of caves, pagodas and
viewpoints. It was nice wandering around and seeing the river on one side and the beach on the other and colorful rooftops in between.

Next stop: China Beach. This was where American soldiers were flown for some R&R. With its laid-back appeal and non-resorty feel, I could have
seen
myself
getting some R&R there.

Now it is 4:30pm and I have been in Saigon for almost four hours. Technically, the city's name is 'Ho Chi Minh City' (HCMC). But personally…I like
the sound of 'Saigon' better. Considering almost every Vietnamese I ran across in the northern cities and many of the upscale hotels still say 'Saigon',
I figure I can too!

I wanted to get most of my 'sightseeing' done today so I can focus on things like spa treatments and shopping in the coming days. I accomplished this
goal.

I went to the
War Remnants Museum
(which left
quite
an impact – so much so that I made a separate journal entry for it), the Reunification Palace
(which has quite a powerful history and is still used for functions) and Notre Dame Cathedral (I had no intention of going but I ended up walking by
it…so how could I not go in?).

And from here on out, I can just enjoy what this city has to offer. I am looking forward to tomorrow!



November 27, 2006


Last night I ended up seeing Simon – one of my friends from my Trans-Mongolian trip. By coincidence, it turned out that we were crossing paths in
this city so we arranged to meet up beforehand. We went to dinner and caught up a bit. Tomorrow we are going to head out to the Cu Chi Tunnels.

I decided to have a 'chill out' day today. The moments are beginning to run out that I can reap the benefits of being in the developing world. The
main 'benefits' I am currently referring to are the inexpensive spa treatments.

Back when I was in the Maldives, I was reading a magazine at the spa that highlighted spas in Asia. I pulled out a pen and paper and jotted down
different websites. When I was in Thailand I started conducting a bit of 'spa research'. One spa caught my eye for both its services and its
atmosphere. Oh yeah…and its cost. I looked up the website again yesterday and booked my treatment for today. Maybe I should say 'treatments'
since I booked a half-day package that consisted of four different services…

I had a cyclo take me over there. Really, what's a more perfect way to get to the spa? Especially when the spa is housed in a beautiful French colonial-
style house…

I filled out the questions on a form I was given so that they could figure out what products to use on my skin. I basically was just looking for
something moisturizing. Minh Nha (the girl doing my consultation) was showing me the products. Everything was going great until she got to one of
the products. The anti-aging cream for fine lines for aging skin. Well
there's
a confidence de-booster after thinking I looked okay for being thirty. It
was bound to happen sooner or later. I was hoping for later.

My first treatment was an hour-long aromatherapy massage. It was followed by a 75-minute facial. I think ignorance is bliss with regards to what
this poor girl saw lurking underneath the surface of my skin. Seven months of dirt, gunk and air pollution. Lovely. The little skin vacuum sucked this
stuff out (I am actually surprised that it didn't get clogged by the amount of dirt that must have been removed) and my face instantly felt so fresh
and anew – even if it was just in my mind.

I sat outside by the pool where I had my spa lunch (that came with my package). I felt like I was in the garden of a nice home. When I was ready, I
headed back in for my manicure and pedicure. I have to say that I don't remember a time when my fingernails have looked better. I can't stop
looking at my hands. It has been over seven months since that have had any pampering and I know they appreciate this. As for my toes, they are
happy too. Yes, they got pedicured just one week ago. But I think they were sick of the color that I chose (well, at least I was) so they are equally as
happy as my fingernails as I know they are enjoying this color more.

All of these treatments and lunch for only $60. About five hours later I was on my way back into the center of the city…

Tonight I met up with Kathyanne – a girl I met in my cooking class in Hoi An. We arranged to meet up at one of the hotels with a rooftop bar to get a
drink before dinner. There was a pretty big downpour today (right when I left the spa) which cooled things off quite a bit. Made for a perfect night to
have a drink outside.

From there, we found a really nice restaurant and agreed that it was worth the splurge. The food was incredible, as was the atmosphere. I wouldn't
have gone to a restaurant like this by myself…so that made it even more of a perfect choice. It is so nice being in a big city and having people to enjoy
things like this with. There is a chance we might run into each other at the airport since we both leave around the same time. But if not, I am sure I
will see her next time I'm in New York (as that is where she lives).

It's now pretty late and I need to wake up early to go to the Cu Chi Tunnels. Over and out.


November 28, 2006


I spent the first half of my day at the Cu Chi Tunnels. Actually, it was more like three hours of riding in a bus, 30-minutes at a bathroom stop where
we watched local handicapped people make lacquer products (which, surprisingly, was actually really cool to see) and about 45-minutes at the Cu Chi
Tunnels. But since this is really the only way to get out there, you are at the mercy of the bus.

When I got back into Saigon, it was time to make a tough decision. I already had one spa treatment booked for a bikini wax at one of the spas in the
afternoon. But there was another one I wanted to get done before I left this city: a 75-minute hot stone massage. There was one nice spa where the
going rate was $17. Another not-as-nice spa was selling this service for $10. If I opted for this one, I could also justify squeezing in an $8 afternoon
tea at the Park Hyatt Saigon. While the spas themselves differed, the massage rooms looked almost identical. I ended up opting for the spa + tea
combination. Heck, this was my last full day in Saigon – I deserved to live it up a bit.

And because it was my last full day in Vietnam, I had to get in my fill of taking motorbikes around the city. I absolutely adore this form of
transportation. Oh, how I am going to miss these rides!

I ended the evening with my last Vietnamese dinner which did not disappoint. Nothing like banana flower salad prepared on little rice cakes and
shrimp paste wrapped around sugar cane. These might sound 'unusual' but trust me…they were excellent.

I spent my other gaps of time today trying to do some Christmas shopping. Personally, it is a shock to my system to see all of the Christmas
decorations in this city. While I know the holiday season has been in full swing for almost a month back home, there was never any evidence of it in
Vietnam until I got to Saigon. But anyway, I decided that there is one person I need to get a gift for. Me.

It wouldn't be right if I didn't have anything to open on Christmas morning. I figure if I buy myself a gift now and wrap it up, I will forget what it
looks like and be surprised when I open it. The only problem is that I have realized how hard it is to find myself the perfect Christmas gift. I wasn't
able to find anything I was in love with. I am hoping to have more luck tomorrow morning…



November 29, 2006


The plan was to stroll around the city looking for some last-minute tropical fruit at the market and browsing through shops to see if I could find a
Christmas present for myself. The intention of my Christmas gift was to be something small so that I could carry it around with me and open it on
Christmas morning.

I was doing well in the beginning as I picked up some rambutans, mangosteens and soursops from the market.

Then it was time to walk into the city center. It was then that I got a bit distracted. I passed by a boutique that had a dress that was staring at me
from the window. It stopped me dead in my tracks. I had to go in.

I went in to admire the dress and it looked
even better
up close. I had mixed emotions as the dress was clearly too small for me: I was bummed
because I loved it yet it relieved me of any temptation of buying the dress. This was until the salesgirl came up to me and said "Many sizes." If this
shop had a dress in a size large enough to fit my Westerner-self, then it would be destiny.

I tried on the dress. Destiny had occurred.

I knew I had to have it – even if it
did
have a $45 price tag (semi-high for out here). Oh, and I forgot to mention that on my way to the dressing
room I saw a black wool coat that struck my fancy. I tried it on. I was now 2-for-2 as I decided both of them would look great in my future closet.
Because it was a boutique, prices were relatively fixed…but I did manage to get 10% off the final tab and left paying $90 for both items. I had both of
them altered a little bit (necessary when you're height-challenged such as myself) and picked them up a couple hours later right before I left for the
airport.

I am now at the airport and I truly can not wait until the next time I will be able to say "Good morning, Vietnam."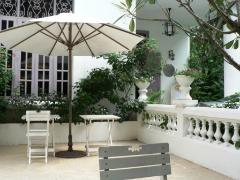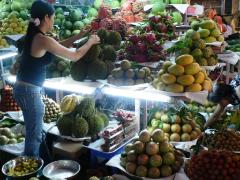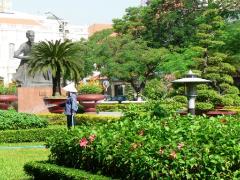 Worker near the Ho Chi Minh statue.

Relaxing outside at the spa.

Fruit vendor at the market.