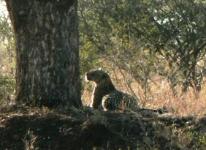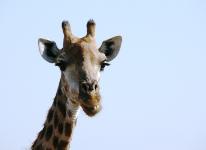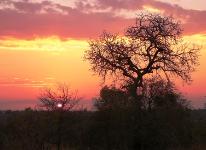 A Taste of the
Wild Animal
Life...

The leopard - on e of 'The Big 5'.

One of my faves - the giraffe.

A Kruger sunset.

July 24, 2006


At 4:30am it was time to wake up. I think the Seinfeld episode I watched last night had an effect on me as I kept waking up
throughout the night because I think I subconsciously thought I was going to sleep through the alarm. Darn that Jean Paul!

We got picked up at 5:00am by Ken, our tour guide for the week. It turned out that Kathrin (who we met on the ride from Jo'
Burg airport) was on our safari as well. This was good to know as we all hit it off yesterday. Next we picked up Claire, a forty-
something year old from Seattle. This would be the group for the next week.

Today we would do a scenic drive that started with a drive through a forest that consisted of thousands and thousands of trees
on stilts. They were cool as their trunks were so skinny. We would then stop at Blyde River, God's Window and the Three
Rondavels en route to a village of Ken's tribe (the Shangani tribe). There was another group that was already there when we
arrived. We were told of some of their traditions and customs and then feasted on a dinner consisting of foods such as 'pap'
(almost like a cornmeal mixed with water), chicken, a corn mash type of thing and marinated cabbage salad. In a way I kind of
felt like this was totally put on for tour groups. I saw a Maasai village last year and that was truly the real deal…dung and all.
This one felt like people were bused in to put on a performance for us. Sadly, this little 'tribal visit' did not do much for me. And
add to it that there was one bathroom with a cold shower for at least ten females. Oy…



July 25, 2006


It was afternoon today when we got to Kruger. After getting a tutorial on 'How to pitch a tent', we set up our digs and then did
an afternoon game drive where we would see impala, a rhino (from afar), buffalo, lions, etc. We got back just in time for our
sunset game drive with somebody who is a guide for Kruger Park. We first drove out to a place to watch the sunset. Gorgeous.
Then we headed out to where she got a report of the lions. I think they were the same group we saw earlier today. This time
they were more active and were walking around. Because it was getting to be dark, their eyes had a glow to them. Once the
sun had completely set, the nocturnal animals that we saw were far less exciting to me since they were so small. The coolest
thing for me was seeing the groups of impala. Well, I never actually saw the impala. All I saw were bright little lights that were
actually their eyes. Other animals we saw were buffaloes in the road, a civet and a genet.

One other thing I was reminded of today was how much I like the trees in Africa. I kept wanting Ken to pull over so I could
take a picture. He was asking me why I kept wanting to take pictures of dead trees. I tried to tell him that they were just bare
trees. And he convinced me that they were, in fact, dead. So there you have it…I love dead trees.


July 26, 2006


Another 4:30am morning. Lovely. Not only did we have to first experience taking down a tent; we had to do this in the pitch
black. Our mission was to see the sunrise. I am not going to lie when I say that it really would not have been that bad to
imagine the sun rise from inside my tent.

The name of the game today was driving and keeping our eyes open. There's no time to day dream. Being on a game drive is a
full-time job. A full-time job that I am quite awful at…even considering my 20/20 vision.

We would see as we were driving that one man's road is another hippo's toilet as they left some surprises in the road.
Apparently this is how they mark their territory.

We did luck out and see a leopard. We sat and admired it for quite some time. Actually, longer than we realized as the battery
to our vehicle died. Turned out Ken forgot to turn off the headlights after the sun rose. Despite the tight quarters we were in, a
man was able to squeeze by our van to give us a jump.

We completed our sightings of The Big 5 by seeing lots of elephants. We also saw kudus, giraffes (the most beautiful animal in
the wild – in my opinion), hippos (such a cute, mean creature), crocodiles, etc.



July 27, 2006


We did one final game drive before leaving Kruger. This final drive was a bust. I don't even think an impala made an
appearance. Okay.
Maybe
we saw an impala…or thirty. But we did not see anything else in the time that we drove around.

And then it was time to go to the next stop: Polokwane.

There was not much to do in Polokwane. Not much at all. Well, at least not much at our campsite. It was a random place for a
campsite – smack in the middle of a suburb-type of city. Before we arrived at the site, we stopped off at a shopping center (a
somewhat foreign concept at this point) so that Ken could buy groceries and we could get lunch. This mall housed two things of
particular interest to me.

The first was a candy shop that sold flavored popcorn that I loved as a kid. And I'm not talking about the cheese and caramel
variety. I'm talking about the rainbow popcorn in coated in different fruit flavors. The coated popcorn in varieties like Cookies
'n Cream, Chocolate Peppermint and Coffee. This is the stuff dreams are made of. Well, this is the stuff my dreams are made
of. The only place I know that still sells this stuff is Navy Pier in Chicago. Other than that, it has pretty much gone extinct.
South Africa has apparently not only saved animals from their demise but they have also done the same for candy-coated
popcorn. God, I love this country.

The second thing this mall offered was a movie theater. After finding this out, all I could think about was craving a movie. It
didn't have to be a good movie. Just a movie. Something to fill the time was of the essence in Polokwane. Especially once the
sun went down and left us with near-freezing temperatures. With a lot of arm-twisting from us, Ken finally relented and took
us to the movie theater after dinner. We had no idea what was even playing and I did not care. Before getting to the cinema,
Kathrin wanted to stop off at the candy shop to get some popcorn. I went with her. We found out from the salesgirl that just an
hour and a half prior, she had been held up by somebody with a gun. She pressed a button that alerted the security guards so
they came to the rescue. But the show went on for her as she was almost smiling and laughing as she told us of the incident. We
finally got to the cinema and we opted for 'The Break Up'. The price of movies was truly mind-blowing. Fourteen rand. The
equivalent of $2. Lori and Ken opted for another movie –
Sixteen Blocks
. I asked her at the end who was in it and she told me
that it was a Bruce Willis movie. I was surprised by the fact that he was doing a smaller movie since I had never heard of it.
She then told me it was one of the blockbusters of the summer. I guess it is starting to show that I am a little bit out of touch
with some stuff at home.

The first thing to know is that safaris are totally hit-or-miss. All you can hope for is that you get lucky that day. It is truly a
matter of being in the right place at the right time. The problem for me was that I saw some incredible stuff on my safari in
Tanzania last year. Stuff that I didn't even realize was as cool as it was until I did this safari.

I don't want to blame Kruger Park…but I just felt that it was
sooo
huge that it almost made it much more difficult to see stuff.
We never saw any animal-to-animal interactions. I wanted to see a kill and that didn't happen. It felt more like seeing a couple
animals here and a couple animals there. I don't think anybody in our group viewed anything that made them realize just how
amazing the animal kingdom is. There were at least three things I saw last year that left thoughts lingering in my mind for
days, if not weeks, following. As I said before, it is just a matter of luck and it's important just to appreciate everything that you

are
seeing. These are wild, deadly animals in their habitat and we are fortunate to be able to view their daily lives…