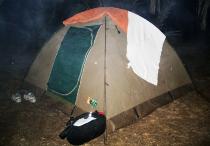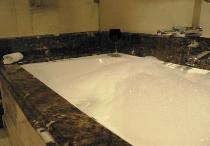 Roughing It...

Lori and I pitching our tent.

The final product.

My reward in Jo'Burg.

August 1, 2006


It all started when Lori told me she was going to meet me in South Africa. At that point I told her (since it was her vacation) she could choose
what we would do and I would go along with anything she decided.

And then it happened. I received an email from her with a possible itinerary from a company that she found. This itinerary, aside from
destinations, also pointed out that our 'home' for the week would be 2-person tents. In addition to that, it was a 'participation' type of tour – we
would be helping with meals, clean up, etc. This was going to be, by far, the most bare bones traveling that I would ever have done. I am not
going to lie…I was a little bit concerned about the whole idea of this.

But as I have said with other things in the past few months, I need to use this year to do things outside of my 'comfort zone'. So I agreed to do
this tour.

Before I go on with my experience, let me state some of my prior concerns…


I have to pack and unpack my suitcase within a 2-person tent with myself in there, in addition to Lori and her backpack being in there. Is


this even possible?




So those were my main concerns. Some ended up not being a problem; others did. I will now break it down night-by-night…



Night 1


We stayed in a tribal village so we didn't have to pitch our tents just yet. The four of us stayed in a hut-like thing. It was fine except for Claire's
snoring. Lori and I kept yelling for her to stop. This, in turn, woke Kathrin up. Then she had a hard time falling back asleep because she was now
kept up with the snoring. We would find out later that Claire was wearing earplugs and couldn't hear our pleas for her to turn over.

Bathroom Update: There was not one drop of hot water in these showers and there was one toilet/shower on the premises for at least ten
females.


Night 2


We arrived into Kruger Park and this is where I would have my first experience pitching a tent. We rolled it out and Lori had a less-than-
promising look on her face. She goes camping quite a bit back home and this was a tent that she was not used to. She pointed out that it was
nothing like the easy REI tents she uses at home. Ken showed us how to pitch a tent and he used ours as the example. This would mean that we
lucked out as we did not actually have to do it. When it came time for bed, I literally was up just about every hour. I was not enjoying being
zipped into this small 'home'. I kept needing to get out so that I could get some air. The next morning we would have to put our tent away which
proved to be more challenging that actually pitching it in the first place. Especially since our wake-up time was at 4:30am.

Bathroom Update: Excellent facilities. There were even clean bathtubs and the entire bathroom felt like there was a heating unit in it. Believe
me when I say that I considered possibly bringing my sleeping bag into a bathtub to call it a night in there.


Night 3


We stayed at another campsite in Kruger Park. This one was bigger as there was a pool and a little shop to buy food and Kruger souvenirs. Lori
and I successfully pitched our tent for the first time. At night I had similar problems that I had the night before. I kept getting up in the middle
of the night. The silver-lining to this is that I was the only person in our group who heard a lion roaring nearby. Of course, I would have
preferred not to have heard this while I was outside in the middle of the night on my way back from the bathroom. Another poor night of sleep.
The next morning would consist of de-pitching a tent once again at 4:30am. I would use the remainder of the downtime in the morning (before
we got on the road) sitting in the warm bathroom.

Bathroom Update: Almost the exact same as Night 2.


Night 4


Night from hell. Actually, the opposite of hell as it was numbingly cold. We got to Polokwane and the campgrounds had literally nothing to offer
with the exception of peacocks. At first the weather felt fine. Ken warned us it was going to get cold once the sun disappeared. Very, very cold. I
admit that I thought he was exaggerating. When we finally got ready for bed, temperatures were far more drastic that in the other places. In the
middle of the night my poor feet painfully numb. The same happened to Lori's hands. After waking up in the morning and putting our stuff
away, I sat in the bathroom soaking my hands and feet in hot water to literally thaw out.

Bathroom Update: Decent. There was hot water which turned out to be more useful than just for showering purposes.


Night 5


We were staying in luxury digs on this night in Botswana. Well, at least by campground standards. We were at the Nata Lodge and set up our
tents away from their all-too-cute chalets. Since we were finally at a 'real place', Lori and I decided to get a glass of wine at the bar. I also
inquired about the price of a chalet. It was $100. In any other case I would have taken the bait. But I knew that I had a week in the Seychelles
ahead of me and that was still a large chunk of change considering we are in Africa. Plus the fact that we got in when the sun was down and we
would be leaving at 4:30am. In the meantime, I would appreciate the grounds of the lodge while having some vino.

Bathroom Update: Beautiful bathroom with very, very nice showers. A little bit cold due to the fact that there really wasn't a ceiling.


Night 6 and 7


For the first time, we would be staying somewhere for more than one night as we arrived at the Zambezi Waterfront in Livingstone, Zambia. The
idea of not having to put away a tent on Night 6 was more than exciting. What was even
more
exciting was knowing that I had only two more
nights left of sleeping in a tent. The facilities here were good as there was a restaurant that overlooked the river, a bar, a television and an
Internet facility. It was here that I would finally get used to sleeping in a tent on a thin mattress in a thin sleeping bag. Both nights I was able to
sleep through the night. Amazing.

Bathroom Update: Absolutely horrible. Hot water was hit-or-miss. Showers were shared with at least twenty of your closest mosquito friends.
There was no small changing area within the shower stall.

Normally people look forward to sleeping at night. I literally dreaded for the sun to go down. On Day 3, I started doing a countdown of how
many more nights I would have to endure in a tent.

Overall, I survived. I think I even came out of it better than Lori did since I could tolerate the cold weather better than she could. She wanted to
assure me that camping back home is
not
like that and that this experience shouldn't discourage me from enjoying the great outdoors in the
future. I now know I would have no problem doing camping for one night, maybe even two nights…but count me out for any week-long camping
adventures.

Lori and I could not have been happier to get back into Jo'Burg yesterday. This meant 'not sleeping in a tent any more'. Lori was even excited to
get on her long flight home.

As for me, I did what any girl would do after almost a month of 'roughing it' (with the exception of my beloved De Waterkant Village in Cape
Town)…I would walk directly across the street from the airport and check myself into the Inter-Continental Hotel.

Now I am used to staying at hotels. And I am actually pretty used to staying at nicer hotels, as well. But upon entering this hotel, my reaction
was that of someone who was entering a palace. Yet it was simply a very nice business hotel. My standards have dropped
sooo
much in the past
few months that I almost do not feel worthy of a hotel like this. In any case, upon checking in they handed me a menu. It was so that I could
choose a complimentary drink that would be delivered to my room. Are they kidding me? Of course I selected the glass of red wine.

Lori and I then headed to the room (she was hanging with me for a couple hours since she had about four hours before her plane was leaving).
All I can say is that I was a kid in a candy store. Based on the lobby, I knew this was one of the 'nicer' Inter-Continental Hotels…and the
bedrooms only solidified this opinion. The room was beautiful. I headed straight to the bathroom. A beautiful tub with a full set of amenities
(shampoo, conditioner, bath foam). A separate beautiful shower with another full set of amenities (shampoo, conditioner, shower gel). A
beautiful sink area with more amenities (vanity kit, oatmeal soaps, body lotion). Before this, the best amenity that I got anywhere in the three
months that I have been on the road was a small container of 'conditioning shampoo'. I then headed towards my coffee/tea area in the room.
Not only did it have coffee and tea, but it also had hot cocoa packets. Have I said that I love this place?

Lori and I had one last dinner before she left. The restaurant was not only beautiful but also delicious. It wasn't long before Lori was going to
have to head off to the airport. We went back to my room to get her stuff and my room had been turned down. A couple of bottles of still water
sat next to my bed along side a little packaged piece of homemade fudge. And I can't forget about the little mat that was rolled out in front of my
bed. Ahhh…

I decided I was going to take advantage of
all
of the perks of staying here. I went up to the gym and worked out. I can't remember a time when I
was more out of shape. Seriously. But at least it felt good to be doing something. Or at least to have the facilities to be doing something.
Afterwards, I came back to my room and had my wine delivered to my room. I then took a long shower followed by a bubble bath with a wine
glass in hand.

This morning (after another visit to the gym) I went to the airport to send off a package and one of the guys here was so kind as to find me a box
to put everything in. When I got back, housekeeping was in the hallway on my floor and I asked if I could have an extra lotion. She said "Sure"
and told me to take whatever I wanted from her box of goodies.
Really???
I ended up leaving the cart with lotion, a vanity kit, soaps, a couple
more pens and a package of shortbread cookies. It felt like my birthday or something. So many gifts.

I went and checked into my Seychelles flight (it is so easy as the airport is only a two-minute walk away) and now I am just finishing packing my
room up before my flight begins boarding. I am sad about having to leave this place. I really am. I feel like I got a brief taste of heaven. This is
just what I needed after a week of camping.

And some of my friends thought I was going to come back home a hippie after a year of traveling. Not a chance…