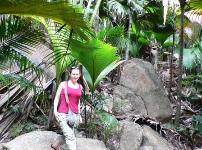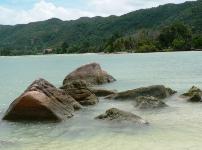 Hopping Over to
the Island of
Praslin...

The beach at Cote d'Or.

Granite rocks in the ocean

August 2, 2006


I made my way to the jetty this morning to get to Praslin. Unlike last night, everything today went according to plan and I got
to my desired destination. Phew. I even met a group of people on the ferry who were out here for an 'Earth Watch' project –
John from the U.S., Julia from London, Chantalle from Australia and Hazel from London. With the exception of John,
everybody else was leaving today. John and I made plans for him to come to my hotel so that we could grab dinner. We then
parted ways to our respective parts of the island.

The first thing I would do would be to head out to Vallee de Mai. I was waiting and waiting for the bus to no avail. What
did

avail was a guy on his way to work who asked if I needed a ride. Offer was taken and I was now at the palm forest. This is an
UNESCO World Heritage Site. What makes this place so special is that it is the home to the coco-de-mer palm. There are male
and female varieties of this palm. The most common site in Seychelles is the coco-de-mer nut that comes from the female
plant. In my humble opinion, this resembles a butt. They are big fans of this nut in this country. So much so that it is the
outline of the passport stamp upon entering the country. That's right. I have a butt stamped into my passport. How many
people can say
that
?

It is now time to state the obvious. Forget about Japan…this country puts that country to shame with how expensive it is.
Iceland would be the only place that I have been that is more expensive. I will state a few examples (and keep in mind that my
viewpoint is
very
skewed from the other places that I have traveled to in the past few months)…



Something that doesn't cost a thing out here is spending time on the beaches…and isn't that what is most important
anyway??? Sadly, the other things that are free out here are the nearly one-hundred sandfly bites that I have dotted all over
my body right now – everywhere from my feet to my back to my bikini line. Lovely.

The beautiful thing about the beaches out here is that it is entirely possibly for every person to have their own little nook
where you feel as if the beach is your own. So peaceful. So relaxing. So beautiful. The water is one of the lightest but brightest
shades of aqua I have ever seen. But the large granite rocks are what really make the Seychelles beaches stand out from the
others in the world. These rocks make for some of the most stunning backdrops that I have ever seen.

Later when I would sit on my patio that overlooks the pool and the ocean, I would meet my next-door neighbors. Geoff is
Australian and his wife, Agnelle, is Seychellois and they both live in Australia. Her brother, Alex, was staying with them as well.
He currently lives on Mahe in Seychelles. The girl from the bar brought both of our rooms fried breadfruit chips (very similar
to potato chips) as a snack. Geoff invited me over to their patio to hang out and chat. The three of them were great. We
watched a gorgeous sunset from the patio and then I needed to get ready for dinner since John (from earlier in the day) was
going to be coming by the hotel.

It was nice having somebody to chat with during dinner (he's a slightly older man so I don't want people getting any ideas). But
at the same time, he wasn't an extremely exciting individual. I wasn't 'having fun'…I was just simply having conversation. At
times like this I have to ask myself 'Would I rather be sitting here with my book?' He wanted to see if there were other times
to meet up. I was planning on going to La Digue tomorrow and he decided that he would, too. I told him the time that I was
leaving since my neighbors were also going and they had offered to give me a ride. It was left that he would try to go at that
time, too, but nothing was definite. I was secretly hoping that it wouldn't work out as I just wanted to relax on a beach by
myself and not worry about feeling the need to have conversation…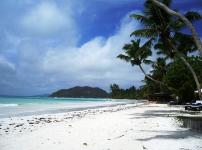 The palm forest at Vallee de Mai.