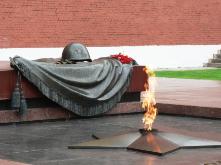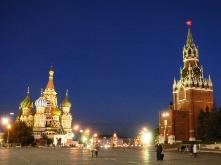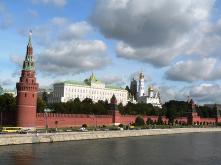 From Moscow,
With Love...

Tomb of the Unknown Soldier.

Red Square at night.


The Kremlin from across the Moskva river.

September 15, 2006


Despite getting an almost full-night of sleep on the train, our crew was a tired bunch by the time we got into Moscow. It felt like I
pulled an all-nighter yet I got seven hours of sleep. Weird.

Because it was rightfully assumed that all of us would want to see the Kremlin, our tour leader (Trish) arranged a guide to show us
around the grounds and the armory building since absolutely nothing is explained in English.

The Kremlin is actually a beautiful sight. It is a fortress and the walls are made of red brick. It was built by Italian architects
(because they were seen as the best) which is evident by the style of the walls alone. The offices of Putin are within the walls of the
Kremlin.

The first thing we got a tour of was the armory building. The 'armory' is a rather deceiving name as it offers far more than just
swords and things of that sort. This is where the beautiful clothing of Catherine II, Peter the Great, Elizabeth (Peter the Great's
daughter), etc. is kept. It is also the home to the carriages that drove them around, the thrones that many of Russia's former
leaders sat upon and the crowns that they wore. There were gifts upon gifts displayed that were given by ambassadors of other
countries. And then finally, there was a display of Faberge eggs. This probably doesn't mean anything to the average person…but
for me it does as my mom had a particular liking of these as well. She left my sister and I with a small collection of them and I am
now more than happy that we chose to keep several of them.

All of that being said, once again I am convinced that I am not meant to be given a guided tour. Especially a three-hour one.
Especially while being tired. Especially while being freezing cold (once we left the armory building it would be all outdoors). In fact,
in periods of extreme weather (either very hot or very cold) I always look at people on guided tours with a sympathetic eye as I am
able to just move around at my own leisure and can shield myself from the weather while I know that they are stuck. I was now
that person that was stuck as the cold winds would not give up. As the story goes, it got to the point where I wasn't even hearing
any of the information as all I could think about was 'How much longer is this going to be???'

Tour was now over and we were free to roam.

Between the Kremlin and Red Square lies the Tomb of the Unknown Soldier which has guards keeping watch. Every hour there is a
'changing of the guard'. You gotta love the strides they take with perfectly straight legs. It is Russia…maybe they have all had
proper ballet training to get this down???

Upon entering Red Square, I saw the thing that most reminds me of Moscow – St. Basil's Cathedral. There it stood at the very end
of the vast square. So many colors. So many shapes. Nothing else quite like it. Catherine and I walked closer and closer. As we
approached it, I was reminded of the movie 'Clueless'. Remember when Cher likens a girl to a 'Monet' because she looked great
from afar but up close she left a lot to be desired? This is how I felt about this church. There was absolutely nothing beautiful about
it when I was up close to it. So sad. For the rest of the time in Moscow, I decided just to admire it from a distance. I have decided
that is how it is meant to be seen. After all, why else would they push it so far back from everything else?

Since we were completely exhausted, Catherine decided to head back to the hotel. I opted to rally and wander around more. I went
to the GUM (pronounced 'goom') department store. To call it a department store is a bit deceiving as it is much more of a mall. A
very high-end, expensive mall. I would later find out from Jeanne and Nick (a couple on our trip) that they would have the most
expensive coffee of their lives here - $15 for two.

Because it was so freezing out, I decided to do something that required me staying indoors. Or maybe I should actually say
'underground' as I conducted something I would call 'Jen's Metro Tour'. It is not a secret that the metro stations in Moscow are an
attraction in themselves. I had seen a postcard that highlighted many of the more spectacular ones and made a note of them on my
metro map. Now my tour could begin…

I probably stopped at about nine different metro stops in total. Some had elaborate stained glass work. Others had extensive
mosaics on the ceilings. Many had symbols lining them representing communism. Almost all were lined with chandeliers of different
types than their siblings just a stop away. There were even some stations that I did not have marked out that I had to get off at
simply because even the lesser-known ones were equally impressive.

Before I knew it, the sun was going down. While being out-and-about I totally forgot about how tired I was at the beginning of the
day. I went back to Red Square so I could see it at night. I am soooo happy I did this as it was gorgeous. The little stars that are on
the tops of the towers along the Kremlin walls light up to be red when it gets dark. The colors of St. Basil's are intensified. Really just
a beautiful sight.

One other thing to point out before I finish this journal entry. How insanely expensive it is out here. Holy schmoly. I had read that it
was the second most expensive city in Europe next to London and whoever conducted that study wasn't lying. I can't even fathom
getting a real meal while I am here. Tomorrow will consist of a lot of self-catering.

On the brighter side, I have to say that I have learned to read Russian! Not only is it pretty easy, it almost feels like a bit of a game.
There is just substitution for many letters. Many words are relatively the same (for example, chocolate reads something like
'shokolad'). And if I am looking for a street name, I have no problem finding it even if it is written in Russian. I would love to pin this
on my amazing intelligence…but that isn't the case. The truth is that it just really isn't very difficult.



September 16, 2006


Today would start off with seeing the man who initiated the seventy years of communism that took place in Russia – Vladimir
Lenin. Yes…we would actually
see
him.

Five days a week the mausoleum that houses his body is open to the public for a period of three hours. How often does a person get
to actually view a person that had such a great impact on a country, if not the world???

This would be a brief yet powerful encounter. They admit only small groups of people at a time. There are a few rules before
entering: no cameras, no stopping, and (as Catherine would find out) no hands in pockets. We walked in a single-file, constantly
moving line. The mausoleum is a simple yet striking black and red granite structure located on the right-hand side of Red Square.
We walked down some stairs and then entered a room where we would view the right-side of Lenin's embalmed body to the front of
his body and then the left-side of his body while proceeding on our way out. Total time of viewing: maybe forty-five seconds. Total
time it sticks with you: so far twelve hours and still counting.

On our way out there were tombs of many people of Russia's past. The main person of notoriety was Josef Stalin. Another was
Russia's first astronaut, Yuri Gagarin.

Catherine and I split up as we had different things in mind to see in Moscow. My first stop? The Red October chocolate factory that
was represented on my map.

I crossed the bridge over the Moskva River to make my way over there. My little bonus was the nice view of the Kremlin that I
would get. I found the chocolate factory. It was either due to the fact that it was a weekend or due to the fact that I have no
knowledge of speaking the Russian language that I would not gain admittance into this cocoa-smelling piece of heaven. They did
know the word 'supermarket' to tell me that I could buy the chocolate there. I was upset but I wouldn't let this defeat ruin my day.

After viewing the gargantuan statue of Peter the Great next to the factory, I crossed the nearby bridge that led directly to the
Cathedral of Christ the Savior. The gold onion-shaped domes of this church can be seen from different parts of the city. I made my
way in only to make my way out a few minutes later. I know churches are a huge deal to some but I have now had more than my
fill. That being said, I really did not even know what I was looking at (as far as history goes) so that might have had something to do
with my lack of enthusiasm.

I was now on my way to go get a bit cultured. I went to the Pushkin Museum of Fine Arts. 'Fine Arts' indeed. I knew I wanted to
come here from the moment I heard that it was the home to the works of many of Europe's impressionist artists. In my book, I
must say that I enjoyed it as much as I enjoy going to my favorite museum, the Musee d'Orsay in Paris. It was small enough to be
able to see everything and not be overwhelming. There were not just one or two pieces by certain artists but whole rooms devoted
to them. Monet, Van Gogh, Renoir, Degas, sculptures by Rodin, Matisse, Picasso and so many more. Seeing a museum I love always
makes me happy. I was now happy.

I walked through some great gardens lined with paintings that were for sale and boldly-colored park benches. All I could think was
'Is this really
Moscow
?' I made my way to Arbat – a main pedestrian street geared to tourists. I got more than my fill of

matryoshka
dolls and fur hats. But I was loving every second of it. The street was lined with cute streetlights, street performers
and cool cafes. Once again, it was just hard to believe I was in Russia.

One of the last things I had in mind for the day was a visit to Gorky Park. With a name like that, how could I resist? Well, I should
have resisted. They call it an 'amusement park'. I call it a 'poor excuse for an amusement park'. I had no intentions of going on rides
(which was good because they were few and far between) but I was at least hoping for some park-like atmosphere. Such was not
the case. I basically walked in a huge circle before exiting through the turnstile that I had just entered forty-five minutes earlier. I
went across the street to the Art Park and found myself the park-like setting I was looking for.

After going on nine hours of being out-and-about, I made my way back to the hotel where my legs would finally thank me for giving
them a rest.

I loved my day in Moscow. I don't care what anybody else says (because I know not everybody agrees with me) but I found myself
getting more out of this city than St. Petersburg. Maybe it was because I was looking for something just a bit different than 'Europe'
…



September 17, 2006


Today was a very lax day as it was just time to get things done before our first long train ride. Time to pack up, get CDs of pictures
made and head over to the nearby market to see if there was anything to buy.

I ended up with a couple of matryoshka dolls. I was able to work a slight bargain. I thought negotiations would be the name of the
game over here but I was wrong. I found this incredibly bizarre as everybody is selling the same stuff and there is
no
way that the
prices weren't totally inflated.

Here's an example: a 'Russia' t-shirt that I wanted. It was a kids t-shirt that said 'Russia' written in Russian. Really, really cool. But
when the bargaining process would bring the cost down to $12, it was not quite so cool. I then tried to throw in another t-shirt (an
Aeroflot: Soviet Airlines one written in Russian –
way
cool considering my 'love' for them after flying their aircraft) and told them I
would pay $20 for both of them. Now we all know that these two shirts with iron-on decals on them cost
nowhere
near that much
to make. But they denied my offer! I even showed them my money that I was ready to hand over. Since I am a girl of principles, I
put my money back in my wallet and kept on walking. I am now going home sans Russia and Aeroflot t-shirts. Oh well. I am
convinced all of these vendors are in cahoots with one another and I was taking a personal stand against it. Jen vs. the Russian
market vendors. It is hard to say who really won…