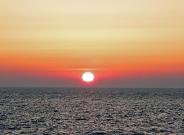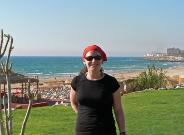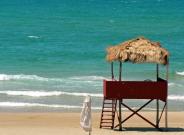 Last Couple Days
in Beirut...

May 12, 2006

I had two options as to how to spend my last couple days in Lebanon.

1) I could go explore more of the country.
2) I could just hang out.

Considering Beirut is a place where I have learned my way around and feel comfortable doing things (both day and night) by
myself, I decided to choose the latter.

Lebanon has a lot to offer. And I've definitely seen a good amount. But I have to admit that I run the fear of burning out if I
choose just to go from site to site to site in each country. The past couple of days I have had no desire to see any sites.

I was very impressed with the ruins in Baalbeck. Coming from me, this should mean a lot. I am the same person who only
stayed in Pompeii for 30 minutes because I was way too hot (granted, that was six years ago). In any case, I'm not as
interested in ruins as…say…males tend to be. It's not long before I lose interest when, to the contrary, most guys I know will
read the history on every single piece of dirt within the ruin site. While I am definitely coming around and taking more of an
interest in learning about these places and what their historical background is, I have also already seen the sites of four
different ruins in less than two weeks. I needed a break!

I decided to hang out in Beirut yesterday and go to the American University of Beirut to sit with my lunch that I picked up
and read up a bit on Syria before I head out there. I strolled around the Corniche and really had a great time doing absolutely
nothing. In the early evening I met up with Joelle, someone I became acquainted with via email through four degrees of
separation. It was great to finally meet her and chat with her for a bit.

Later last night I found my new favorite store in Beirut called Patchi. This started off in Beirut and now has gone
international. They are known for their chocolate and their entire ground level is dedicated to this. This store had five floors
of the most beautifully arranged/wrapped items. Their top floor is even an Alain Ducasse dessert café. (Because I have the
will power of a flea, I ended up buying a bowl that I really liked in their giftware department. And of course, I have no room
for such items.)

Today I had a different idea for where I wanted to go.

The beach.

While I was expecting something similar to a beach along the coast in the San Francisco Bay Area, I was definitely taken by
surprise by what was in store for me.

Let me first start by saying that Beirut doesn't have any beaches within the city. You need to travel either to the north or to
the south to find them. People also don't tend to go to the public beaches; they go to beach clubs. All I really knew about these
was that you pay a certain amount and this gives you access to the beach and bathrooms/showers. This sounded up my alley
so I hopped in the little minibus and told them where I wanted to go.

I will do my best to describe the beach and the facilities at La Guava in Rmeileh. I basically paid $10 to stay at a 5 star resort
in Hawaii…with the exception of there being a hotel room. For the first time in two weeks I was able to take a break from
'traveling' and have a true vacation day. I sat by the infinity pool and looked out at the sea for hours. There was one small
glitch. While I remembered to pull out my sunscreen to bring it with me, what I forgot to do was actually put it in my bag
before I left my hotel. Of course I realized this as I went to apply it. This pasty white girl needed to proceed with caution. I
tried to be in the shade most of the time but when I felt the sun shine down on me, I adopted some conservative Muslim
customs and covered my body and face with my sarong. In the end, I came away with two sunburned arms and rosy cheeks
(since I did apply sunscreen to my face earlier in the morning).

Everything about this place reminded me of Hawaii…with the exception of the music and the fact that I was eating mezze (in
the form of fattoush and octopus provencale) instead of pineapple. The restaurant I chose to eat at looked right onto the
Mediterranean. It seriously felt exactly the same as being at the casual restaurant at the Four Seasons Wailea. The grounds
were beautiful in an understated way.

To think that all of these facilities (including padded pool/beach lounge chairs and great bathrooms) are accessible to the
public for just ten dollars! On my way home, I took the bus to the Corniche in time for the sunset. It did not disappoint as the
sun appeared to be one big red fireball as it neared the horizon.

It was probably as good of an ending as I could have wished for in Lebanon.

On the beach.

Beach day at La Guava Resort.

Sunset from the Corniche.