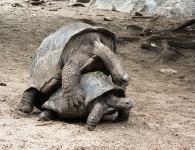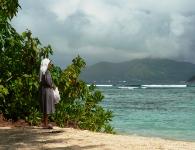 Anse Source
d'Argent Has My
Vote...

Anse Source d'Argent.

A Seychellois nun .

August 2, 2006


This country, no doubt, was one of the 'splurges' I was making on my year-long trip. Did it sound slightly obscure to other
people? Yes. Is it a place that might be suitable for a honeymoon? Yes. So why did I choose this country to visit by myself?
Fair question…

First of all, Seychelles is
not
easy to get to. It lies in the Indian Ocean off the coast of Africa. It was about a five-hour flight from
South Africa. If I ever chose to take a romantic vacation with somebody, even
I
don't think I could justify all of the travel-time
just to see a group of islands. That is what made it perfect for me to visit on this trip. It wasn't going to be out of the way.
Instead, it would be a nice place for some relaxation in between South Africa and India. Would I have preferred to come here
with somebody else? Of course. But that wasn't an option.

The proximity was just
one
reason that brought me here. There is also another reason…

Last August I bought a book called 'The World Book' by Lonely Planet. This book devotes two huge glossy pages towards each
country in the world. As I was flipping through it, I came across one of the most gorgeous beaches – Anse Source d'Argent. I
knew I wanted to get there. The page that I was flipped to was Seychelles.

So this brings me to the present. Today I headed out on the fifteen-minute ferry ride from Praslin to La Digue. The skies were
gray but I had the hope that they would clear. Upon disembarking from the ferry, my love for this island was instantaneous.
There were a few options as to how to get around this island since they do not really allow cars: walking, biking or oxcarts. Yes,
I said 'oxcarts'. I don't think I had ever seen an ox before today. But this is a main transportation for those people coming here
and checking into their hotels with their luggage. Doesn't an ox taking you to your hotel sound exotic???

Sadly, I was not able to rent a bike (as that would have allowed me to explore much more of the island). My lack of learning
how to ride one as a child continues to haunt me. So I was limited to my feet. The walk was beyond pleasant with scenery all-
around. A cow grazing in the front yard of a home. A nun in flip-flops looking out at the beach. Bright and colorful homes. Lush
tropical plants and trees forming an archway over the pathway. The bright aqua waters.

After thirty-minutes, I arrived at my destination: L'Union Estate. It would be $5 to enter: a price that I saw as more than
reasonable. Once inside, you have access to everything: feeding horses coconuts, feeding giant tortoises (or in my case,
watching giant tortoises mate with one another) and, most importantly, Anse Source d'Argent. The beautiful beach from my
book. Just before I headed off to the beach, I felt some drizzling. I was right next to a snack stand at that point and it had
seating underneath a rooftop. I sat and waited. Drizzling turned to rain which then turned to downright pouring. Not the way
that I wanted to see this beach…but there was nothing that could be done about it.

About ten minutes later, the rain had stopped and I was on my way.

This beach has been voted as 'The World's Most Beautiful Beach' by many publications both in the United States and in other
parts of the world. Hmmm… It was time for me to see if it lived up to the hype…

The stretch of beach was very long and was reached by a walkway in between massive granite formations. I had never seen
anything like it. It was so beautiful it did not feel real. Though the beach itself was long, it was broken up into little pieces all
along the way. This made it so that every person could have their own private beach, if they chose. I walked all the way out to
the end of the beach. Every time I turned my head on this walk my mouth was literally agape. I could not believe how
beautiful this place was. Seriously. After seeing many pictures of this beach, there could be the possibility that I would
somehow be disappointed. That was not the case. Even with the gray storm clouds lurking above, the coast was sheer beauty.
The sky didn't even need to be clear for the water to be a bright (but muted), clear aqua color. The granite rocks provided the
uniqueness to these beaches (as many beaches in the world have stunning shades of color). They provide a big part of the
reason that these beaches are seen as the most beautiful beaches in the world. And, as I would find out, these rocks also
provide a great refuge for when a rainstorm hits…

As I sat with a book, I felt a drizzle. I thought I was safe since I was under a tree. Just like the rainfall that occurred when I
first got there, the drizzle didn't take long to become a downright rainstorm. I found a great granite cove to tuck myself into
while I waited for the rain to cease. I was even lucky enough to still have the view of the gorgeous beach while standing there.
About ten minutes later, people could come back out into the open areas and, once again, enjoy the beach. The clouds were
breaking on the far end of the beach and for the first time since I got there I could see some blue sky. Once again, I sat in awe
of what I was seeing. At this moment, I was a little bit sad that there was something missing from this picture. I wanted to
have somebody there with me to experience this as well. There is no way to convey to people just how breath-taking this place
was.

In any case, this beach got my vote, hands-down, as the most beautiful beach that
I
had ever seen. I know this does not mean
much as I have not seen beaches in every part of the world. But I can say that beaches in Hawaii, the Caribbean and the
Mediterranean pale in comparison. Just my two cents. Or, as I should say here, 'just my two rupees'.

The heavy rains would continue to come and go in spurts for the rest of the day. Before heading back to the ferry, I stopped off
at Gregoire's – one of the first grocery stores (albeit extremely small) that I would see thus far. Because of the insane prices of
restaurants out here, I stocked up on some food…all bread items…so that I wouldn't have to eat $30 dinners at restaurants.
Sadly, the grocery stores have little to offer out here. Barely any cookies or candy. While tropical fruit is abundant on these
islands, it is scarce in the grocery stores. And the craziest thing that I have noticed is that neither the grocery store nor the
little markets sell ice cream bars. These would be a gold mine out here. Instead, I paid $4 for lots of bread products that I am
hoping take me through the rest of my time in Seychelles. I have to draw a line with my spending somewhere.

When I got on the ferry, Agnelle came up to me. It turned out that she, Geoff and Alex were already on the ferry. I sat with
them and then we all took a taxi back to the hotel and we chatted some more. They invited me to have dinner with them and I,
of course, accepted the offer. It was so nice to have 'friends' out here. We had a dinner of a fish cakes, octopus curry and
breadfruit with a vanilla sauce. Very Seychellois. Very delicious. And best of all was the company I was with. I have to say that
Agnelle is a character – she is so cute and spunky. It was almost impossible not to laugh at the things that came out of her
mouth. As I said, she was just so darn cute. It was hard to believe that her children are older than me because she seemed way
too young for that to be the case.

Sadly, my new friends are leaving tomorrow. It is always difficult having new people come into your life just to have them
leave almost as quickly. But at the same time, it is such a wonderful feeling meeting people that truly make you smile and
laugh as
that
is much rarer than I imagined it to be before leaving on this trip…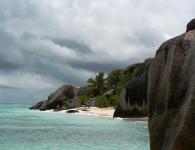 Tortoises showing PDA.