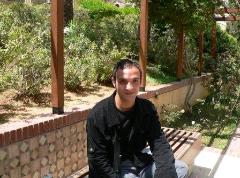 My Impromptu 'Date'...

May 8, 2006


As I was about to cross the street, I was stopped by a guy who wanted to talk. Nothing new here, as this is the norm for a girl
traveling solo in these parts. The difference was that this guy was not hard on the eyes and he didn't seem shady.

Upon talking for about 30 seconds, he wanted to sit and talk. I was hesitant. He asked me where I was from and I told him that
my husband and I were American. It's just easiest to go this route so that there are no expectations. He asked my age and
sounded shocked (as he was only 25 years old). His name was Bilal and he's originally from Baalbeck. He now lives in Beirut.

We picked up some sodas and made our way to a public garden. We were experiencing a bit of a communication barrier since he
only spoke French (and Arabic) with a bit of broken English. So we were communicating in Franglish…which is not very easy.

He didn't ask me too much about my husband. I did volunteer that he was back at the hotel because he was sick from something
he ate. He did ask his name. On the spot, I came up with Matthew.

We continued to talk and he kept saying that he wanted to take me out tomorrow. I told him I already had plans so we decided
on Wednesday. He would show me around the city and was already coming up with ideas in his head of what we would do.

He caught me off-guard and kissed me. I pulled away a bit so not much more than that happened. The question here is 'How is it
possible to feel guilty about cheating on your 'husband' when he is somebody that you just created???' I seriously felt like a
semi-floozy at this moment.

A few minutes later, I ended our little outing. We walked back down to the downtown area and this is when he professed his love
for me. Then he started singing it in French: 'Je t'aime, je t'aime, je t'aime…'

All I could think was 'This part of my day needs to end…now.' So I made plans to meet him at the square at 10am on
Wednesday knowing that I really have no intention of doing so. Even though 'Matthew' is going to be 'sick from something he
ate' the entire time I'm in the Middle East, it feels good not to cheat on him.

A picture of Bilal in the garden.