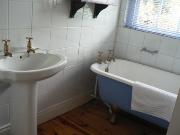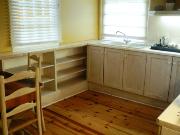 Just What the
(Travel) Doctor
Ordered...

July 2, 2006


Okay. So there is no 'travel doctor'. But if there was, I am sure I would have been given a prescription to stay at a wonderful
little place called the DeWaterkant Village.

Ohhh…how I am loving this place!

First keep in mind some of the other places I have been staying in…including some that have fallen into my 'favorite' places
that I have stayed. One of those only had saltwater to bathe in. Another one, while absolutely clean and charming, had only
cold water to bathe in. I just stayed at my 'semi-splurge' 4-star hotel in Budapest where the only high point I could think of
was that they provided towels (there wasn't even real soap given—only that liquid stuff in the shower). These hotels don't
include the many where, if lucky enough to have a bathroom in my room, there is simply a shower nozzle directly above the
toilet creating ideas of how to maximize the space of a 16 square-foot bathroom. These hotels don't include ants that I have
had to ignore in other hotels. These hotels don't include the ones where I had to pull out my cocoon sheet or my sarong to sleep
on because I didn't trust the sheets. I could go on more but I will now get onto my current little home in the DeWaterkant
Village…

Since I got in so early this morning, my 'crash pad' was not ready yet. This was the name of what I had reserved—it was one of
the least expensive places I found so I thought it would be perfect. In the meantime, Rant (the sweetheart who was working at
the reception desk) put me up in another type of room until the early afternoon when my room would be ready. This was more
than just a room! It was a modern and sleek one-bedroom apartment. There was an open kitchen with stainless steel
appliances and frosted glass walls that separated the different rooms. Tres hip. I knew that my crash pad wouldn't boast these
features but they were at least nice for the next few hours. Because I got virtually no sleep on my flight, I headed straight to
the bedroom. I removed all of the accent pillows from the bed (yes, I said 'accent pillows') and slipped underneath the duvet
cover (another foreign term to me these days) and fell flat asleep on the fluffy pillows.

After the best three hour nap, I checked into the $40 a night room that I had reserved…

All I can say is that I feel like I have my own apartment right now. It comes complete with all of the features that an older San
Francisco apartment would have including hardwood floors, nicely painted walls and crown molding. I feel like I have a 'home'.
The kitchen is great and even has a little nook area. There is a hallway with beautiful mirrors which leads to the bedroom. Talk
about homey and comfy. The walls are a light yellow and the ceilings have to be at least ten feet tall. There is a television up in
the corner which will be perfect to turn on as I am getting ready for bed. And now for the bathroom. This is my favorite
bathroom thus far. It is large and has a separate bathtub and shower. Everything is sparkling clean. When I first saw this I
knew I would have to take advantage of the bathtub. Because my roommate and I were always sketched out by our bathroom
at our place in San Francisco (while our apartment from the early-1900's oozed charm, we didn't think this carried over to our
bathroom), we would never even consider taking a bath. I honestly think I had taken two baths in the past year: one when I
was in Las Vegas at the Venetian last July and the other time was at the Westin in Tokyo back in January. Kind of sad when a
person can pinpoint all of the times they have taken a bath in the past year. But I love taking baths and they aren't things I am
going to take for granted any more.

As I write this, I am actually in the clawfoot tub. Did you hear that?
A clawfoot tub
. I am in heaven. And when I get out of this
tub, there a huge, plush bath towels to wrap around myself. I used one earlier when I took a shower and I literally walked with
it around me for well over thirty minutes just because it felt that good.

Other great little luxuries that my room has are a hair dryer, a clock radio, an ironing board and iron (would be useful if I had
any clothes worthy of ironing—which I do not), a microwave, etc.

They also have spa services here. This will be where I treat my little tootsies to their very first pedicure in two months. Let me
be more specific: their very own one hour pedicure for less than $20.

The location here is also beyond-great. Just one block away is cafes, wine bars, excellent restaurants and gourmet shops. I
have already taken advantage of a couple of these places today. Other than things for the palate, the neighborhood mostly
consists of art galleries and furniture design showrooms. Not too far from here is the V&A Waterfront, a main attraction of
Cape Town.

This place is just too good to be true.

It is now time for me to get out of the tub and slip under my duvet cover for what will be my first full night of sleep in three
nights. And I
know
it will be a good one…