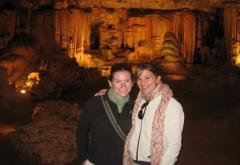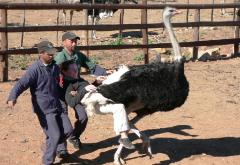 And on the Fifth Day,
There Was Rest...

At the Cango Caves.

My ride on the ostrich has come to an end.

July 15, 2006


Call us a bunch of slackers…but after four days at work we were more than excited for our day off. Lori, Amy, Angela and I had pre-arranged to
go to the Cango Caves (about 30 km from here) and the Cango Ostrich Farm. The effects of last night hit us all when we reached the caves.
Funny how hangovers always have a tendency to creep up on you…even when you think that you are in the clear after waking up feeling all
right. We all rallied through as we saw stalagmites and stalactites formed in all different shapes. While the formations differ from cave to cave, I
have to admit that there isn't much that is too different from one to the next. I'm referring to the fact that I saw the Jeita Grotto in Lebanon and
this one reminded me very much of that…even down to the same colors (green, red and white). Don't get me wrong…these were still very cool to
check out. It just made me realize that they don't differ that much from each other. The one exception about Cango (which was of no interest to
me) was that there was an 'adventure tour'. This is where people have to crawl through small nooks and crannies while exploring the caves. Just
the sound of this made my nervous system react with panic and anxiety. I would take a hunch that most claustrophobics need not apply for this
tour.

From the caves, we went to the Cango Ostrich Farms. How could we miss this when we are in the ostrich capital of the world? Never mind the
fact that I have a crazy fascination with these not-so-intelligent birds…

We learned several ostrich facts. Here are some:


Male ostriches are black; female ostriches are grey.



The male sits on the eggs at night and the female sits on the eggs during the day. This is because their respective coloring camouflages


with the environment and, therefore, hides the egg.




If an egg is lying horizontally, it can hold up to 150 kg on it. If it is sitting vertically, it can hold 300 kg.




Their eyes weigh 60 grams; their brains weigh 40 grams.




Most ostriches are mean.



Females typically only like to lay fifteen eggs. In order to get more eggs out of them, the farmers take away the eggs. The ostrich (being a
dumb bird) doesn't realize it has already laid fifteen eggs since she doesn't see them and continues to lay eggs for as long as the farmer


takes them away. This, in turn, normally gets the female to produce about 120 eggs.



Ostriches don't chew; they swallow. They eat lots of stones and rocks that work to grind things up in their stomachs. You can literally see
the food going down their long necks since they don't chew. They also eat many foreign objects (bottle tops, lipstick cases, jewelry, etc.)


because…well…they have a thing for shiny objects. Oh yeah…and because they are stupid.




Their necks are extremely flexible. They can twist them beyond 360 degrees.




The males' beaks turn red when they want to mate. They return to pinkish during the off-mating season.




Now that the ostrich facts are out there, I'm going to relive a bit of our day at the farm. First we visited with Linda. She is the only nice ostrich on
the farm. The reason for this is because she grew up around humans since she was an ostrich chicklet. She's a lucky bird since due to her small
size, she would have become ostrich filets by now. But because of the fact that she can interact with humans that visit, her little ostrich life has
been salvaged. We all got kisses from Linda (we put a piece of food in our mouths and she came and pecked it right out). After passing by many
more ostriches, we ended up near the riding ostriches. This is where I was the lone one from our group that hopped on and rode my feathery
friend. Because I am a female, two ostrich jockeys assisted me and when the ostrich was about to buck me off, I let go and the jockeys caught me
before I met the ground. The guys who do this are not as lucky as they don't have the jockeys there to break their fall. They just have to brave it
and fall smack on their bums. After all of us amateurs showed our stuff, the ostrich jockeys showed us how it is
really
done. We learned that the
neck makes a good steering wheel and brake. This is how they maneuver the ostrich. We were assured that this is no way hurts the cute little
guys. Phew. Otherwise, that would be one sore neck in the morning to take care of. After spending our time at the riding area, there was one
ostrich activity that was left to take part in. Once again, I was the only one from our group who did this. I was not going to let one ostrich
interaction get by me. I held a big bucket of ostrich food with my back to the ostriches and then they all came from over my neck to feast on the
grub that I was holding. They say a 'neck massage' is what is created from this. I beg to differ…unless you consider a nice neck massage smelly
with birds pecking all around you.

Overall, this was my favorite outing today. Maybe it's because of my love for the ostrich. Maybe it's because I got to do something that I have
never done before. Who knows. I just can't believe the odds of doing my volunteer work in the ostrich capital of the world. God bless
Oudtshoorn. Or at least the ostriches of Oudtshoorn.

*************

Since we did not have to work today, we decided that it would be the perfect night to go out for our nice meal in Oudtshoorn. Never did I think
that this would be one of the best meals that I have had so far while traveling…but it was.

Less than a ten-minute walk from our hostel was Jemima's. I never thought this town could boast such an excellent fine-dining experience. It
was so good that I have to be specific about everything. Call it the foodie in me…

The atmosphere was great. It was obvious that it was a house-turned-restaurant. We sat right next to the fireplace in what appeared to be the
library. Upon ordering our wine and food, we were given an amuse bouche of bobotie (a small ground lamb ball with a hint of a slightly spicy
chutney). I could have ordered a patty of that and made it my meal. For a first course I had a spinach tart with caramelized onions, marscapone
cheese and blue cheese with a sweet chili sauce and vinaigrette on the side. My main course was an ostrich filet (I'm an evil person, I know) with
a cranberry port sauce with a side of vegetables and a pumpkin fritter. For dessert, Lori, Angela and I shared three different things: a duo of an
apple tartin with caramel sauce and a homemade cinnamon ice cream and a vanilla crème brulee; a chocolate tart with a chocolate espresso
pannacotta and a homemade mint chocolate ice cream; and a bread and butter pudding with caramel and vanilla sauces and a homemade
almond ice cream. Each was phenomenal. It is hard to say which component was the best…though the pannacotta and mint ice cream definitely
fell at the top of the list. With the bill came homemade chocolate truffles.

And if all of this was not already good enough…this turned out to cost only $25 for each of us.