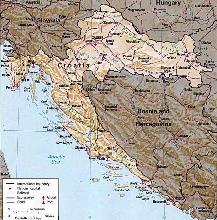 Croatia...

This trip began and ended with no itinerary at all. We
just went with the flow and had an absolutely amazing
time. We met a local, Zvonko, who showed us a great
time. We drank wine on the terrace of his villa
overlooking the Adriatic, he was able to get us a
private tour of the Grgich (spelled 'Grgic' over there)
winery, he took us to an excellent restaurant for
dinner where he treated us to all of the local Croatian
specialties, he gave us a place to stay the night and he
gave us a ride to Split. He simply made Croatia that
much more memorable!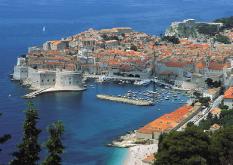 Dubrovnik
- This city was just a wonderful
place to start our trip to Croatia. This city was
probably the most affected by the war that took
place in the early 90s. Everything has been
rebuilt (mostly the rooftops) and looks
wonderful. Walking along the city walls offers
amazing views around every corner.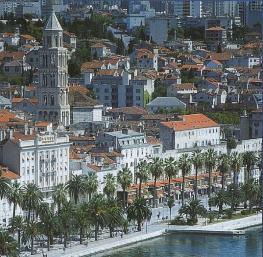 Split
- This city was probably the most
'happening' spot in Croatia. It had a 'French
Riviera' vibe and felt almost as if we were in Nice.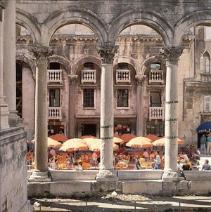 Split
- This picture shows how the city is built
within the ruins of Diocletian's Palace.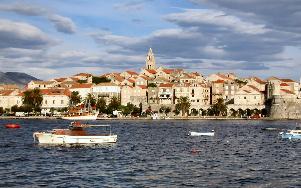 Korcula
- This is an island that has a medieval
feeling to it. We visited it via ferry from where
we were staying in Orebic.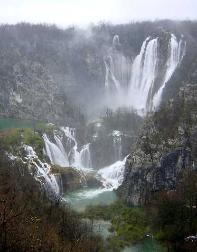 Plitvice Lakes
- This was just what we needed
after a long bus ride in the middle of the night - a
nice walk amidst lakes and waterfalls.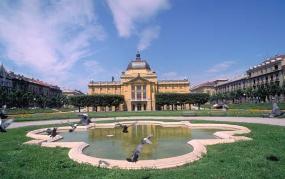 Zagreb
- The capital of Croatia. This is also
where our time in Croatia started and ended. We
ate at a great restaurant on this street on our last
night there.