Last Stop in
India -
Cochin...

My last India sunset- incredible!

November 19, 2007


Ahhh… To be in a familiar city again.

I came to this city last year when I was in India. It is such a change to arrive in a place and not feel completely disoriented and
oblivious. I came knowing exactly how I intend to spend my two days here.

My time in Cochin isn't going to be built around sightseeing – it's going to center around relaxing and getting the last of my
'India fix'.

One would probably think that after a month in this country, I would have all the 'fix' I need. But that isn't true. One thing, in
particular, had not been tended to. And that 'thing' was seeing 'Om Shanty Om' – the latest SRK movie which is all the rage
right now. Ever since I put this soundtrack on my ipod I knew there was no way I could depart this country without seeing it.

And as luck would have it, it was playing right down the street from where I was staying. Ernakulem (the part of Cochin I am
staying in) might be a busy area with not much to do…but at least there is a cinema!

Don't think that this was the
only
India-based thing I did today. I had a couple hours to kill before movie. These were spent
between Café Coffee Day (India's version of Starbuck's with great cappuccinos and fun monthly Coffee Day magazines) and the
music store where I stocked up on five more Bollywood CDs. I think it's safe to say that this Bollywood music has become a bit
of an obsession for me. Hey, I could think of worse things to be obsessed over.

After the movie, I had another urgent need which proved to be a bit difficult at the post-6pm hour. It involved a spool of
thread.

I noticed this morning (thanks to
finally
having proper light in my hotel room) that my eyebrows were looking unruly. When in
India, do as the Indians do…and go get those things threaded. And I have to say that this isn't something I am only doing in
India – I am now a threading convert. I see why so many of my friends at home do this. I am now hopping on the bandwagon.
Though I do realize that it won't cost the equivalent of $.25 when I go home. Can't have it all.

And when I was walking back to my hotel, I passed a store that specialized in Ayurvedic products. And in a very non-selfish
gesture on my part, I went in to go shopping for my friends that are meeting me in Hong Kong. It's the least I can do for them,
after all, since they have agreed to take my India loot home with them.



November 20, 2007


Today was my perfect way to spend my very last day in India – going to Fort Cochin.

I am just going to put it out there – this is one of my favorite places in all of India. It was last year and this time around that
feeling was only intensified. There is something about it that is so comfortable. There are some great cafes to kill time and get
excellent food and desserts. There are great restaurants where you can eat your heart out with all sorts of Keralan goodies.
There is the area near the water where the Chinese fishing nets are and you can watch the Indians go to work and bring in the
fresh catches of the day. There are the pleasant streets sprinkled with Dutch architecture that are a treat to walk along. There
are some good shops to browse around in. There are Ayurveda centers offering all sorts of treatments (and Kerala
is
the home
of Ayurveda). There is the 'Jew Town' with the old Synagogue (though I didn't make it out there this trip). And then there is
the beach area where you can watch amazing sunsets.

I had to take just a teeny bit more advantage of the beauty services out here before leaving. I decided after eating at my
adorable little Teapot café, my footsies were in need of a little care before heading to Dubai. So a pedicure with leg massage was
had. And then I threw in a bikini wax for good measure. All of this for under $5.
Do I really have to leave?


Around the time of sunset, I went to the most obvious place – the beach area. I actually got pretty sad (no tears but just a bit
bummed out) when watching the sun hit the water and realizing this was my last sunset of my time in India. And it wasn't just
an ordinary sunset – it looked like a massive fireball was falling into the Arabian Sea. If that wasn't an amazing note to go out
on, I don't know what is.

A little bit later I met an American couple (Angie and Phil) who are traveling out here and we ended up having dinner together.
Not only was it great having a delicious last Keralan fish meal; it was great having company to share it with.

While waiting for my ferry to take me back to Ernakulam, I was listening to my ipod Shuffle. Do the ipod gods know certain
things? I only say this because the song that came on just as the ferry pulled up was Andrea Bocelli's 'Con te partiro – Time to
Say Good-Bye'. Pretty fitting, I thought.

Chinese fishing nets during sunset.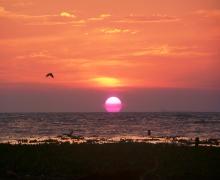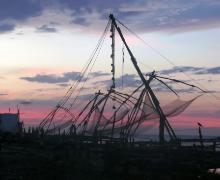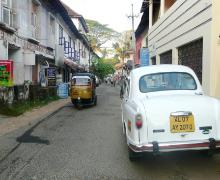 The streets of Fort Cochin.