Our Day Along
the Cape
Peninsula...

July 5, 2006


After rising and shining, it was time to go down to meet the van that was picking us up today. Because we do not have a car
here (nor would I trust myself driving on the opposite side of the road), we booked a half-day Cape Peninsula tour. There was
one thing that I was
really
doing this tour for…but I will get into that later…

Let me first make an ignorant statement by saying that I had absolutely no idea how gorgeous the drive along the coast was
going to be. Maybe it's because I'm in Africa right now and that is why I am saying this…but I thought it put the Pacific Coast
Highway to shame. As I said…maybe this is just because I am in awe of being in Africa.

We weaved our way around cliffs. Wait. Who am I kidding?
We
didn't do anything.
Our driver
mastered the roads while I just
sat there with my mouth opened thinking that every turn produced something far more beautiful than the scenery we had
previously seen seconds earlier. A little added bonus was driving by ostrich farms. I simply love ostriches. Personally I find it
endearing that their brains are smaller than their eyes. I have always said that I have absolutely no interest in birds…but
there are a few exceptions. The ostrich is one of them.

One of our main stops was out to the Cape of Good Hope (given its name to not scare the sailors – sounded better than the
'Cape of Storms') and Cape Point. Cape Point is the point in South Africa where the cold waters of the Atlantic Ocean meet the
warm waters of the Indian Ocean. We walked to the top of a hill to view this point. But I am selling this 'walk' very short. We
had views of a beautiful turquoise beach tucked in between cliffs. We had views of blue ocean all around. But, for the ten
minutes of the walk, these views would come in second next to other views we had. What could beat this, you ask? I will tell
you. Baboons. We got to share the pathway with them. At first, it was only natural that we were a little bit nervous. I mean
some of these guys were pretty big fellas. That nervousness disappeared after a few seconds and we had no problem walking
right next to them and attempting to pose for pictures with them (when they wouldn't run off, that is). The cutest of the
baboons sat on top of the grass munching away at trees while the ocean was right behind him. When we got to the lighthouse at
the top of the hill, there was a cute sign that shows the distances to many major cities in the world…including the South Pole.
This took me back to the days when I would write Santa Claus a letter stating what I wanted for Christmas. I would send it to
'Santa Claus' and then write 'North Pole' underneath his name on the envelope. Our parents assured us this would get to him.
I know, I know. The South Pole is different from the North Pole but seeing this took me back to the days when I thought this
was its own address. Anyway, I am digressing…

The next stop was really why I even wanted to do this half-day trip. The coast was wonderful. The ostriches were great to see.
The baboons were a nice treat. Cape Point and its surroundings were beautiful. But they didn't compare to what Boulders
Beach had in store for us. Empire Penguins.

Oh. My. Gosh. Were these little guys not the cutest!?!? I loved them. I really, really did. I could have watched them forever.
Well, maybe not forever…but for a very long time. We even saw babies that weren't quite babies anymore but they still had
their fur. Aside from the adorable little guys, the scenery was so much prettier than I expected. The waters were turquoise
and there were huge boulders (go figure at a place called 'Boulders Beach', huh?) right near the shore. I was sad to leave
them…but eventually it was time to. I guess I will just have to wait until Antarctica to view their relatives.

Overall, it was a great day and it was a really good way to see the coast. For the next time, I think I would brave it and rent a
car. It's such a straight-forward route and it's not nearly as intimidating as I would have thought before doing this trip. This
would allow a person to be able to stop wherever they wanted. I could spend quite some time going along the coast and it
would be perfect to do this drive at my own leisure.

Cape Point - where two oceans meet.

The Empire Penguin.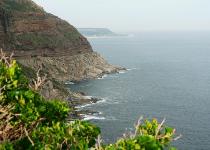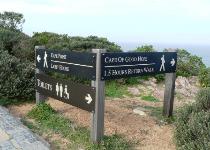 Our drive along the coast.