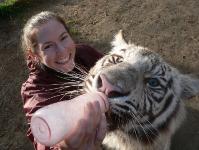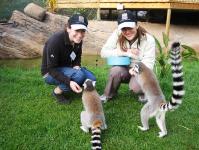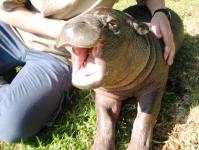 Cango Wildlife
Ranch...

Feeding a tiger cub a bottle of milk.

Lori and I feeding the lemurs.

Humphrey the baby pygmy hippo.

July 12, 2006


Ahhh… To be working again.

Today was our first day and I do not think it is too shocking to say it is
far
different from any other 'work' I have done in the past.

The six of us have split into three groups of two and we will rotate between departments while we are here. Lori and I are Group C. We were first
put with Luke who is the Mammal and Bird Curator at the ranch and our first task at hand was feeding the animals. In order for this to happen, the
food had to be prepared. Lori and I helped Mimi prep the food. First we combined monkey chow, apple juice and oil into balls for the lemur
monkeys' breakfast. Then Lori slopped on some form of dead animal onto the scale and I mixed in some oil and vitamins and combined it (almost
like it was meatloaf) and we put that in the fridge for the meerkats' afternoon feeding. Mimi prepared the rest of the food and we were now on our
way to let the animals know it was breakfast time. The two animals we got to feed by hand were the wallabies and the lemur monkeys. The monkeys
were great because we actually got to go on their little island to do this. They even climbed up us while attempting to get a monkey chow ball. Way
too cute.

Our next task was to landscape Lemur Island (I don't really know the name of it, or if it even
has
a name, but this is what I am now calling it). Lori
and I made sure that they wanted us to do this (as we just had a conversation that neither of us can keep a plant alive to save our lives). Luke
assured us that he trusted us to do this. We were to cut the grass near the electrical fences (which they ever-so-kindly turned off before we did
these chores), pull the weeds, rake up monkey poop, turn over the soil, shovel up all of the grass around the plants, etc. Talk about physical
activity (i.e. manual labor). In the end, the two of us were more than pleased with our hidden landscaping abilities.

From here on out, I am just going to outline my days…as it would get very boring to go into detail about everything (as if it wasn't enough to already
put somebody to sleep).


We played with Humphrey (the four month old pygmy hippo) until lunch.




We worked with Christo in the reptile department after lunch.




We put some plants in the turtle area.




We visited a crocodile and alligator that are soon being sent somewhere else.




We fed fish raw meat.




We put the big tortoises in their cave-like thing for the night.




All of the exhausting work called for a couple of glasses of wine. Then we ate, I finished a book (
Three Weeks with my Brother
) and called it a night.



July 13, 2006


Today Lori and I started off in the reptile department. Not exactly our cup of tea but at least we were getting it over with. The second part would be
back in the mammal department. Here's how our day went…


We raked the tortoise area free of straw and poop.




We filled the water in the aquarium.




We raked the monitor area.




We picked up bale of straw and put it in the monitor area.




We pulled weeds from the monitor area. (Please, please control your jealousy at our eventful morning.)




We fed the itty bitty turtles and put them (all 77 of them) outside.




We filled the water in the mini pools where the baby crocodiles are (they are literally the size of lizards—crazy!).




We hung out with Humphrey the Hippo because our morning duties were done.



After lunch, we did a lion feeding. Absolutely awesome. First we went to the blad (i.e. slaughter house). Not so awesome. We picked up the
food and then headed over to the lion area. We got to see them up close and personal and saw just how large their faces are. We got them
locked up in an area and threw around large slabs of meat all around their area. A tour group was walking through and was highly anticipating
this, as it's a once-a-week event. We left the area and let the (roaring) lions out. It was like a scavenger hunt for them. It was one of the


coolest things to watch so far.




Next we watched Humphrey's feeding. Too cute. He was fed four milk bottles just like a baby.




Mealtime for the meerkats followed (one raw egg).



We all took a trip over to the cheetah breeding center because one of them had a bad morning as she is getting old and it's appearing that her


kidneys are starting to fail. We went to check on her to see how she was doing (signs showed she was doing okay).




And that wrapped up our second day of work. Tomorrow Lori and I are with the cats all day. We are very much looking forward to this…



July 14, 2006


Today was our day of volunteering in the Cheetah Conservation Foundation. This was what we were looking forward to from the time that we got
our schedule. I am happy to report that it did not disappoint. This is how our day went…


We put a cheetah (Cain) into a crate from the park to the breeding center because they wanted the little guy to mate with one of the females
that was in heat. We watched the males (there was another one already there) walk up and down 'Lover's Lane' which is where all of the
females' cages are. The males then sniff out which female they want to mate with and they indicate this by making a noise and moving back
and forth in that particular cage. It was pretty awesome as the male is not in a cage for this so there was nothing in between us and him. I


guess it was in our best interest that he had other 'matters' to tend to.




We went into the cheetahs' cage and Lori and I each gave a cheetah their food for the day.



Lori and I did enrichment with the cheetahs and the white tigers. We came up with a plan to more or less entertain the animals by putting
things that we created in their cages. We would put meat in boxes and sacks for the animals to find and then play with. First we had to go to
the blad and cut up horse meat. Mmmm… After I cut the chunks, we went to the breeding center where there are rabbits and got some straw
from their cages. Why bunnies, you ask? Quite simple. One of the animals that tigers prey on is the bunny. Sad but true. Because of the rabbit
smell on the straw (that comes complete with urine and feces), we knew that this would be good to incorporate into the boxes. Now it was
time to make our enrichment apparatuses. For the cheetahs, we simply threw in chunks of meat into boxes and folded them shut. We
watched the cats seek out the boxes and after eating the meat from inside, we watched them tear the cardboard apart. They kept busy with
this for quite some time and it really resembled their behavior in the wild as if they had just killed an animal. 'Mission: Cheetah Enrichment'
was accomplished. Now it was time to test our enrichment skills on the tigers. Because tigers can jump and climb (as they are a bit smarter),
we put the meat in with the straw and wrapped and tied that into sacks. We then tied the sacks into the trees. We exited their area and
observed them jumping up and clawing the sacks down. Even after eating the meat, they continued to play with what remained of the hanging


sacks. Now 'Mission: Tiger Enrichment' was accomplished as well.



We went back to the breeding center to pick up Cain to bring him back to the park. This definitely posed a bigger challenge than we were
expecting. He was (understandably) not too eager to get back into the crate. We had to drive back down to the park to pick up meat to sway
the kitty into the wooden box. After many attempts and failures, it finally happened and we were back on our way to deliver Cain back to his


siblings at the park.



We picked up a couple of calf carcasses from the blad and threw those to the adult white tigers. It was both gross and fascinating at the same
time. We watched and listened to them eat these and gnaw on the bones (when we went back just before closing time, there were only bits of


bones leftover).



We were then given the opportunity the give Chewbacca his 'afternoon snack'. This entailed us feeding him a bottle of milk. The trainer first


put the bottle into his mouth and then we took over from there. It was just so darn cute…definitely an opportunity that will not be had again.




After work, Lori and I headed into a bar in town and met up with a couple people who work at the Cango Wildlife Ranch. Oudtshoorn definitely isn't
a hub for nightlife but it was still a good time. The second bar we went to had <gasp> ESPN. I hadn't seen highlights of American sports for close to
three months so I couldn't take my eyes off of this (especially since there was a story about my beloved and highly-misunderstood Barry Bonds).
We also listened to South African pop and watched these music videos. While many things here are similar to things in America, music videos do
not fall into this category. It was as if I was watching those cheesy videos they play when I do karaoke. And the worst of the bunch were coming
from a guy who is apparently the top pop star in this country. All I can say is that I was highly embarrassed for the guy…



July 15, 2006


Our Day off.



July 16, 2006


We went into today knowing it was going to be a slow day as all of the curators have the day off. In addition to that, it was pouring rain so that left
little to do as most of the animals can not be worked with in the rain. Our day went like this…


We all held down the fort in the kitchen on Mimi's day off. We prepared the food for all of the animals.




We fed all of the animals.




We sat around.




We sat around some more.



At around 11:30am we were told we could go home and we all took them up on the offer. We also were told that if the weather cleared, we


could go see a cheetah mating at 3pm.



The weather cleared so we headed back to Cango and got there around 3pm. Chris took us up to the breeding center. The male was ready to
go. He was making his noises up and down Lover's Lane. Sadly, this did not arouse any of the female cats as none of them came to the front of


their cage to raise their behind's to him (the sign that they are ready to get some kitty lovin' on). We waited for an hour.




We went back home.



July 17, 2006


Luke, the mammal curator was off today, but it was no problem since Lori and I are quick studies...


We knew what needed to be done so we started our day by preparing food and then going to the animals within our domain and feeding them.




Once again, we had the lemurs eating out of our hands, literally, which is one of all of our favorite things to do.




We prepped food for the afternoon feedings.




We played with Humphrey with our down time.



After lunch, a group of us de-weeded the hippo breeding area. This was very long overdue. I must say that I have quite a knack for pulling up
weeds. I was enjoying pulling things out so much that I started pulling out grass that I didn't think was uniform with the rest of the grass. One
of the girls who is volunteering here did not like this. I was not in the mood for criticism so I pretty much told her to mind her own business


and that I was going to pull weeds the way I wanted to.



After weed pulling, we sat with the wallabies in attempts to hand feed them and prepare them for the future petting zoo. These little fellas


have a way to go…



July 18, 2006


Lori and I were back in herpetology this morning. Lucky us – our favorite…


We checked the 77 mini tortoises to make sure they were all still alive. Good news. They were.



We went into the snake cages to fetch their leftover water and food. Lori ran into a little problem with one of the water bowls as the snake


was entirely coiled up in it. Needless to see, that water bowl never came out.




We cleaned the windows of the snake cages. Snakes are not nearly as bad to see from behind a thick layer of glass.



For the rest of the entire morning we cleaned an aquarium tank. This literally took hours. Lori and I have established that we will never own
any underwater species that would require the work that these things take. Heck, neither of us can keep a plant alive. The fish would, without


a doubt, be goners.



In the afternoon, we went off to a 'lion feeding'. When we got there, the two of us had to do triple-takes when we saw what was in their
enclosure. It is not too often a person sees a horse head and a cow head right there on the ground. They looked so real that they looked fake.


In reality, they looked so real because they

were

real. The lions were then released, found their 'treats' and went to town. The visuals were


not nearly as bad as listening to what was going on. But I guess it is all part of working with animals whom are from the wild.




Later on that evening, we were all invited to go to the Director's home. The reason? There were baby white lion cubs that came in this morning. We
were going to watch a video and get our first chance to play with them. We were all on board with this plan. We got picked up and went on over.
First we met Tribe – the boy who is about two months old. I felt like we were playing with a dog that just happened to have a little lion's face. We
petted him, held him, kissed him… It felt so normal that I almost forgot that I was playing with a
lion
in somebody's house. Next it was time to meet
Sindile – the little girl. She could not come out in the house yet because she has not had her vaccinations/shots yet. We went into the room that
they sleep in (after putting on booties and wiping our arms down in disinfectant) and got to see the little 4-week old cub. She was precious – it was
just like playing with a little puppy that needs to stay in its little cage with newspapers lining the bottom. I went in and played with her and did not
want to put her down. The only reason why it was a bit easier was because I knew that tomorrow's rotation is with the CCF (Cheetah Conservation
Foundation)…which means we will be working with all of the cats and we can see her then…



July 19, 2006


Today was our last day of work. It was great to be situated for a period of time and have a bit of 'routine'. Though it would have been much better if
this routine did not require waking up at 6:30am for the past two weeks…

There is also something to be said about getting to truly know people from a different country. We felt at ease asking any questions that came to
mind when it came to their jobs, their culture and their country. I think all of us became so comfortable that it never even crossed our minds that
we were forging these new relationships and friendships literally half-way across the world. It still blows me away. But there is always the flip-side.
And the 'flip-side' here is that we had to say good-bye to everybody today knowing that the chances are very slim that we will ever see these people
again. So many people will go missed. One, in particular, is Mimi whom we all worked with on a daily basis in the kitchen in order to get the animals'
food prepared.

There was still work to be done…and this would not be any different just because it was our last day. As luck would have it, we would be with the big
kitties on this final day. We truly got spoiled in the morning as we were heading off in a truck, just minutes after the day started. Our destination
was the house that little baby lions call home. It was feeding time for them and Lori and I got to do the honors. I do not think either of us will ever
again be able to say "I fed a one-month old lion cub a bottle of milk while I held her in my arms." We appreciated every second of this feeding and
play time (even if Tribe did underestimate the sharpness of his teeth).

The rest of our day went like this…


We wheel-barreled sand over to the enclosures to do a shift-a-roo of the animals. The tigers had already been moved and now we had to put
new dirt in their old digs to take out the smells so that the cheetahs could move in. Then we did the same thing with the cheetahs' old home so


that the lion cubs can have a place of their own when they are ready to move in.




We raked all of the new sand throughout the enclosures.



I repaired some of the fence by nailing new pieces of wood into it. I learned a lesson to not be cocky as I celebrated with a little victory cheer
after I nailed the first piece in…only to have it fall out seconds later. I learned my lesson to be more humble after accomplishing such feats


and every piece of wood nailed into the fence was a success from there on out.



The cheetahs were brought into their new home. We got to be in there with them and the trainers for over an hour while they sniffed
everything out. By this point in our time at Cango, there was absolutely no fear about this. We would pet them and go right up to them as if


they were just household cats. Stupid? Maybe a little. But we also knew that there were people in there with us if something were to go wrong.




Work was officially over for the day and it was now time to get the last of our stuff done and ready before the braai that we were going to at Garth's
(the director of animal curators—or something like that) house. This would be yet another experience that we can safely say we will never
experience again. While going to braais is a common thing out here (as they are just about the equivalent of the American barbeque), this braai
would be more more…um…unique. Near the braai (i.e. BBQ) were two Siberian Husky puppies in addition to Humphrey, the baby hippo that lives
there. Yes, we were petting a hippo while the coals heated up. Never mind the fact that two lion cubs were in a room just meters away, as well.

We would also notice a few minor differences between braais and barbeques. The main one is that barbeques tend to be slightly early affairs. Not
braais. We heard that they were starting the fire at 6:30pm. Perfect, since we were heading over there at 7:30pm. Well, it ended up being 10:30pm
by the time the meat was completely ready. But this was okay as I came across a revelation during this time. I have acquired more than just a love
for the large felines of the world while being out here…I have also acquired a liking of beer. I know those words will be shocking to most who know
me. But it's true! No more wine at baseball games for me. No more wine at barbeques. I will now be able to drink beer at beer-type of outings. Huge.
Totally huge.

Sadly, we had to leave the festivities at 11:30pm as we had to leave at midnight for the bus. We received certificates for our fine work and said our
final good-byes to the curators and animal trainers that were in attendance. Oh yeah…we also said our good-byes to the puppies, hippo and lion
cubs…