Cairns: Our Hub
for the Great
Barrier Reef...

Across from the Esplanade.

December 7, 2006


We got into Cairns last night. This was when Ari would be introduced to 'hostel life'. Because of the expensive nature of this
country, there were going to be no hotels for us out here. When we checked in, it turned out that our beds in the 4-person
room had been double-booked. While I contemplated the 8-person room, Ari was quick to say that we would take the private
room that they still had available. Ari just narrowly avoided real hostel life…

I have to say that this place has a 'Melrose Place' feeling to it. Well, that is assuming Melrose Place had communal bathrooms.
Communal bathrooms where men are painting inside as you have to use a toilet. To be honest, it barely even phases me
anymore. I have become immune to stuff like that.

My main priority this morning was booking a snorkeling/diving trip for tomorrow. We did that and then headed out.

We found a great restaurant for brunch. Sooo delicious! We shared bruschetta with prosciutto, gorgonzola, hazelnuts and
poached pears and a salad with calamari, pomegranate seeds, roasted pumpkin, pieces of popcorn and a lime-palm sugar
dressing. Who would think we would find something like this in a beach town?

Sun was starting to break through and we were going to take advantage of this. But first thing was first – we would have to go
to Target to get a towel for Ari (she had no idea before coming here that she wouldn't be staying in places that would provide
such luxuries).

We headed to the 'beach' area which was more like a public infinity pool with sand and grass around it. Call me crazy but I
actually liked it. So did Ari.



December 8, 2006


I was stupid last night. I knew I should not have drunk so much wine. But I'm in Australia. It's what people do out here. Or at
least it's what Ari and I do out here.

I am normally very good about not drinking the night before diving. I know that it's important to be hydrated before diving.
Drinking wine is
not
going to bring about this much-needed hydration. Oh well. There was nothing I could do but drink a good
amount of water before diving…

We had about 1 ½ hours on the boat before we got to the dive site. There were three different categories of people on the boat:
certified divers, introductory divers and snorkelers. We all got briefed and I felt it was in my best interest to go with a guide
due to my lackluster navigation skills. If I can barely find a location on land how could I trust myself to figure out my way
around in the ocean? It didn't hurt that the guide was Paul - a Kiwi hottie.

The dive was great. The reef was great. I loved being able to swim and have reef walls on both sides of me. I just had to
concentrate a bit more on swimming in a straight line since there were times where I only had a couple feet of room on both
sides between me and the coral-lined walls.

We played with sea cucumbers, saw a massive cod and huge oyster-looking things that immediately clamped shut when Paul
went up close to them. Obviously there were tons of other fish. I am also happy to report that we found Nemo.

The dive went great…with the exception that I didn't see any sharks or turtles.

I snorkeled with Ari for the rest of the time that remained in this area.

After lunch on the boat, the time came to go diving again.

My brain didn't appear to be working during lunch. It was only when I was underwater that I realized how dry my mouth and
throat were. I had not drunk a sip of water since the last dive. I was now going to have forty or so more minutes underneath
the water of cotton-mouth (and cotton-throat, for that matter). I just had to put this aside…which was pretty easy to do since
my mask was on so tight that it was giving me a headache. I was too scared to adjust it in fear that I would flood my mask in
the process. I felt that a headache was the lesser of two evils in this scenario. We did see some great rays and some spotted
sweet lips (I only mention this fish because I absolutely love the name).

I was really bummed that we didn't see any sharks or turtles. This area was known for them. Bummer.

Sadly, when I told Ari that I was going to sign up for a second dive, she didn't realize that this was her cue to go snorkeling
again. When I was done and our boat was heading off again, that's when she asked me about her chance to go snorkeling again.
I had to tell her that her chance had just come and gone. We had a chuckle at her expense. At least she had some good sun-
bathing time, right?



December 9, 2006


It's amazing how sun and sea can wipe people out. We were pretty exhausted when we got off the boat but we weren't going to
let that spoil our last night together. We went to a nice restaurant on the pier and toasted our farewell with a bottle of
Sauvignon Blanc and some great food. Then we moved onto a bar. And then we finally threw in the towel.

Now I'm paying the price as I feel like hell. Not sure how Ari felt as she was half-asleep as I left the room. I am now waiting for
my van to pick me up for my Cape Tribulation excursion…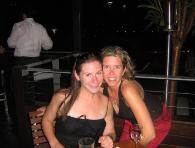 How far to ...???

Ari and I at dinner.